The Alpkit Fantom is a midweight insulated down jacket ideal for cold days on the trail or belay.
What we think of the Alpkit Fantom
The Alpkit Fantom down jacket is a relatively light-weight mid-layer we tested in the extreme cold of the Alaskan North Slope (where temperatures settled to around -38 C), and the less demanding yet still chilly wilds of an Northumberland. And the jacket performed well in both climates which is why we've added it to our list of the best down jacket of 2023.
Packing down small into one of the pockets, the Fantom takes up little space in a ruck making it ideal for pretty much everyone. Except for ultra-lightweight backpackers, because we know you like to go beyond minimal!
While there are no frills on this jacket – it's as near minimal as you can get – the features are just right for hikers and mountaineers.
Our testing results
In our opinion, the Alpkit Fantom is one of the best down jackets on the market. The team responsible for design and creation has taken a practical approach to insulation and the 290g of 650 fill power down is adequate for all but the very coldest of days (more on that later). In general, the jacket performs well, has a great fit, and incorporates minimal features which is a great way of deterring me from cramming unnecessary gear into a multitude of pockets!
There are a few adjustment options, which we love. Some outdoor gear enthusiasts can't resist the opportunity to tailor their equipment to the nth degree, but for us, the three simple points of adjustment are the perfect number.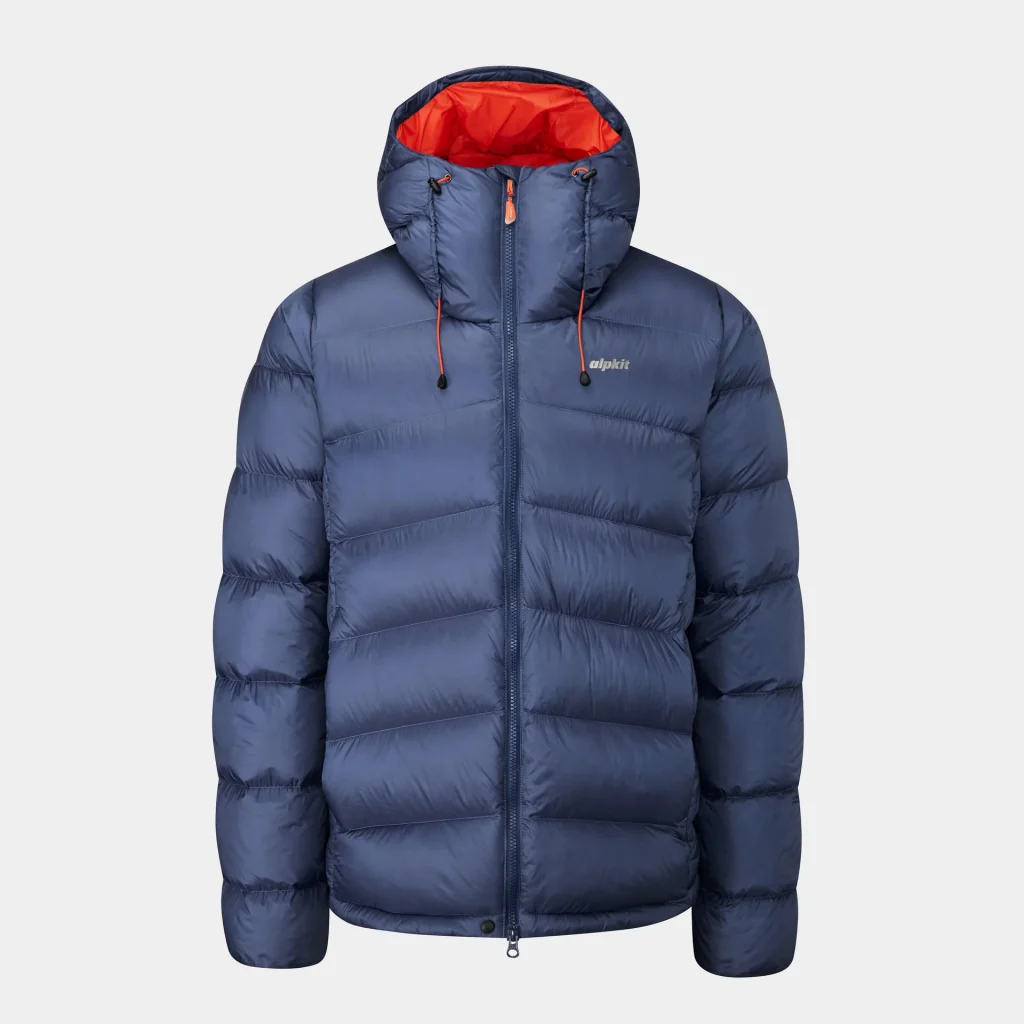 Warmth
Packed with 290 grams of 650 FP down, the Fantom has an excellent warmth to weight ratio which means it's good for all but the very coldest of days (and I mean cold… -40 C!). The fill in the large baffles is ethically sourced duck down – supplied under the RDS certification – which means excellent lofting qualities and heat retention.
This jacket tends to work best when static or moving slowly in cold environments. And I put this statement to the test on a recent visit to Alaska – my teammate and I were skiing the 600 mile width of the North Slope. At temperatures of -20 C, the jacket performed well above expectations by keeping me warm whilst moving at a slow pace. At -36 C I did notice some cold spots, but this was likely due to the jacket being compressed in freight for about two weeks. After a vigorous shake-out, the cold spots vanished!
A point to note: this jacket will not keep you warm for long if you're standing still in extremely cold conditions. It may seem unfair I chose to test it during an Alaskan winter, but its ability to retain heat was well above my original expectations.
Whilst not overly bulky, the Fantom will not sit well under a tight shell layer. This is important to note as you may find some restrictions in movement.
Worn as an outer layer, the jacket doesn't feel restrictive and fits well when you're wearing a pack or harness.
Weight
At 642 g (22 oz), this is not the lightest of jackets and it is heavier than the Rab Cirrus Flex hoody which is also classed as a lightweight layer. A significant portion of this added bulk comes from the 290 g of 90/10 Downtek™ PFC-free Hydrophobic RDS-approved duck down fill. If you want a good degree of protection from the cold you're not likely to find a super-light jacket that will give the same degree of protection as the Fantom.
A significant portion of the weight comes from the DWR-treated outer shell which also gives a good degree of moisture resistance.
By removing unnecessary components beyond the drawcords, elasticated hem, and cuffs, Alpkit has managed to keep this jacket well below the 1 kg mark, which is well below where my Carinthia G-Loft jacket sits.
Weather resistance
When the Fantom first launched in 2020 a number of buyers complained about its ability to keep rainwater out. Based on my experience, appears AlpKit has changed the shell material (and used hydrophobic down) to reduce the possibility of water ingress. Whilst on the North Slope, my teammate and I experienced a few warmer days during which snow melted on our gear and this jacket kept me dry for the whole time.
But the hard truth is this: at some point, likely during a torrential downpour, water will find a way in. Even GORE-TEX fails at times. For the best performance, use this jacket as intended – as a mid-layer, under a shell jacket, or on cold, dry days.
Before we move on, let's discuss windproofing. As mentioned earlier, at times I did notice a few cold spots, and this issue was soon cleared by shaking out the jacket to give the down fill and even spread. The hood and hem drawcords do an excellent job of keeping the wind out and the heat in and the only time I felt cold seeping in was whilst fixing the team tent in a howling gale where temperatures dropped to -50 C (with wind chill) – that was a cold 10 minutes!
The only recommendation I can make to Alpkit is this: add a larger baffle inside the main zipper to reduce draughts.
Comfort and fit
I'm a big guy with broad shoulders and a wide back so I chose the XL size which, in general, was a good fit. The main body provided plenty of room for additional layers of clothing beneath the jacket. And there was no restriction to movement. One of my biggest complaints about most jackets is when I extend my arms and the sleeves ride up, but Alpkit has this covered. Even at full extension, the sleeves ride up beyond my wrists as they have a good amount of extra length in them.
The hood is huge – it's been designed to accommodate a climbing helmet and I've yet to meet someone with a head that big! On the rear of the hood is a simple drawcord adjuster used for sizing according to your needs. Two more drawcords are located left and right of the main zipper. Adjustment can be fiddly if you're wearing gloves and I recommend you size your hood right before heading out into the cold or ask a friend to help.
Given the generous sizing, I was surprised to find the sleeves a little tighter than expected. The fit isn't uncomfortable, but I did notice a little tension after adding a couple of extra layers under the jacket.
Overall, the comfort and fit of the Fantom are excellent. But it's not super sleek! What I mean is this jacket is designed for proper outdoor use and therefore not a fashion statement.
Packing and compression
Given the size and weight of the jacket, you'd be forgiven for thinking it doesn't pack down small. It does. Maybe not as small as a jacket such as the Mountain Hardwear Ghost Whisperer/2, but you can compress it to a pretty small set of dimensions. What did surprise me was this jacket doesn't come with a stuff sack or compress into one of its own pockets – a feature available in many competitor offerings.
But this isn't a showstopper. I managed to squeeze it into a pretty small stuff sac measuring 20cm x 12cm x 12cm, then throw it into a larger bag until needed (which, oddly, is smaller than the synthetic Mountain Equipment Superflux, reviewed here). The use of high-quality down is what makes it so compressible, far more so than many of the synthetic insulated jackets available right now.
Features
The Alpkit Fantom down jacket is an incredibly simple piece of outdoor gear. The scuba diver-style hood features a wired peak that can be adjusted with ease. Three drawcords give a good degree of flexibility when you need to make adjustments, but some people may find the no-frills cords a little too simple!
Keeping the cold out is important and Alpkit has addressed this concern through the following design decisions:
elasticated cuffs provide a snug fit around the wrists to keep the cold out and the warm in;
two drawcords on the left and right of the hem can be tightened, or loosened, allowing you to control the flow of air into the jacket. At times, when you get warm, you'll need to vent some heat.
a long cut that helps keep you warm on frosty days.
The two hand warmer pockets are closed off with thin zippers and I didn't experience snagging in cold, icy conditions. I have to say these pockets are a life, or finger, saver as they were useful when I needed to warm my hands after a period of working in deep cold.
Inside the jacket are three more pockets:
two dump pockets – unzippered, these are useful for stowing gear for a short period of time, but should not be considered secure;
chest pocket – relatively small, which is good because you don't want the temptation of having a place to cram gear you can't be bothered to re-pack. For me, the only annoyance is this pocket is quite small and I have big hands. Very big hands. At times I found accessing the contents stored in here is a fiddly task.
Overall, I found the Alpkit Fantom to be an excellent jacket. Not 100% perfect, but more than adequate for cold days on the trail. And if Alpkit could make the inner pocket a little larger, and the sleeve a little less restrictive, this jacket would get a 10/10 grade. As it stands, I give it 8.5/10.
Summary
The Alpkit Fantom is 650 FP jacket crammed with 290g of RDS duck down. Designed for hiking, or belaying, on cold days it proved more than capable of keeping me warm during an Alaskan winter. A simple design keeps it relatively lightweight, although the lack of more complex adjustment systems may not be to everyone's liking.
Storage space – two external and three internal – is ample, although the chest pocket could be made bigger to accommodate large hands.
Weather resistance is good, but like most insulated jackets, water will ingress if you're in a torrential downpour.
Although the Fantom isn't designed to stuff into a pocket, it can be compressed to a small size by using your own compression sack.
Reasons to buy the Alpkit Fantom
You need a jacket that has a great warmth-to-weight ratio and packs down into a relatively small space;
You're a hiker in need of a jacket to keep you warm during breaks on the trail;
You'll spend many hours belaying in the cold
Reasons to not buy the Alpkit Fantom
You need a fully adjustable jacket;
You're traveling ultra-lightweight;
What other jackets should you consider?
If you're looking for a similar jacket with performance and price to match, Jake and I recommend the following you consider the Mountain Equipment Superflux (an excellent synthetic jacket I highly recommend), the Rab Cirrus hoody (a synthetic jacket), or the Montane Icarus. Each of these jackets has been reviewed by us and get top marks.