Destinations
A real throwback – a trip to the Western Desert
As those of you who follow me on twitter may be aware, I have recently moved house and, while unpacking, have been going through a load of boxes that had largely not been touched since I left school ten years ago. One of the more interesting items I found was something I had forgotten even existed. You see, some time in, I think 2004 I was lucky enough to go on a week-long Western Desert trip. We started in Cairo and visited the Pyramids, then travelled out into the desert sleeping generally in ad-hoc campsites, sleeping bags simply laid on the sand, and ended up in Luxor where we visited the famous tombs before flying home. The trip was incredible; times like sitting on top of a dune one evening and looking for miles out into empty desert still rank in some of my all-time most memorable moments. If I had done this trip now I'd have been instagramming and blogging the hell out of it, which is why I was so delighted to discover that it turns out I wrote a relatively comprehensive journal of the whole trip. Clearly I was a blogger at heart even then.
I couldn't pass up the chance to provide my readers with a Treksumo travel blog post from over a decade before Treksumo even existed, so here are some excerpts from the journal. The whole thing is too long, boring and illegible to reproduce here.
All the photos are ones I took on the trip. I took others, but I have no idea where they are right now – multiple changes of computers in the intervening period may mean they are lost. The only reason I have the ones featured here is that fortunately I had uploaded them to a social network that I have long-since stopped using, but which I was able to log back into!
Day 1
[After a description of the journey and airport that is as boring as the actual event must have been] Anyway, we stepped outside and were immediately staggered, as we had been when we first got off the plane, by the pollution. This isn't your everyday sort of invisible pollution, this is a genuine smog that obscures everything more than a few metres away and smells of car exhausts.
The same smog was present even at our 5-star hotel where we spent the first night. The intercontinental was huge and, it seemed, very pleasant. We didnt't stay long enough to really find out and anyway five star luxury isn't what I'm here for.
Day 2
Our first stop was not too far away and was the Great Pyramid at Giza. I didn't see it until it was right up close and filled the window, rendering it massively impressive. In fact, paradoxically, the pyramids are both larger and smaller than you expect. Larger, because seeing them for the first time cannot fail to be impressive and seeing them up close reveals their true size. Yet they also seem smaller when all you knew of them was pictures in books and awe-struck descriptions. Seeing that they are real shrinks them from those mythical proportions down to the status of just hugely impressive buildings.
[I go on to describe the people selling tat at the stalls around the pyramids, and their strange pseudo-English accents/slang. There was a lot of "come and take a shuftie at this" and "av a butchers at my stall mate". Then my disappointment at how the sphinx doesn't really live up to expectations, and finally a stop for lunch at a lake before the main journey into the western desert]
A five hour journey cramped into the land-cruisers. We kept ourselves amused somehow, partly with the aid of our Egyptian police bodyguard who joined our landrover at one of the rest stops and amused us by passing around his MP5.
Day 3
[Description of breakfast at the motel at which we'd spent the previous night. Delicious apparently.]
We left and drove a short distance to a museum of sorts. In fact it was little more than a warehouse with some of the 2500 mummies found in the area. Those that were too fragile to be moved to the Egyptian museum. Still, they are worth seeing I suppose. We also picked up the guide who was to accompany us for the rest of the day. A cheerful and amusing man who grew up at the oasis and talked at length about an irritating Italian woman who had been on one of his tours.
…we moved on to a couple of tombs. They weren't for especially rich people, as far as I know, but it was cool to actually be in one of these underground tombs with 6000 year old paintings on the wall. Like with most things in Egypt, however much you might have seen things in pictures and, being Egypt, you have of course, it's just not real until you're there, and then it's incredible. Of course, the flip side is that, even with my photos, no-one will understand what it's like to be in the desert at night or to be driving through the white desert in a 4×4, dodging between rock formations.
[We drove to some hot springs, and swam in them for a bit]
For the first time, when we got to the springs, we were in real desert. Amazing landscapes, where you can look out for miles without seeing anything but sand, rock and scrub. But when we left the springs we began to dive into some of the most incredible scenery I've ever seen. The black desert is a landscape of strange, volcanic mountains rising out of an otherwise flat landscape and littered with black volcanic rock that made the landscape look like something out of a sci-fi movie. After a while, this gave way to a completely different scene; the white desert where chalky rock shone bright white through clean, loose sand. Incredible, bizare rock formations poked through; mushrooms and high, conical mountains with spires teetering perilously on top. At one point the land cruisers began racing, and dodged in and out of these rocks at about 80-100kmph. Scary but cool.
When we arrived at our campsite we set up bedrolls and then explored some of the nearest rock formations before setting up round the campfire, where I chatted, drank tea and wrote my journal.
Day 3 – Night
When we went to bed, the moon was bright and bathed the strange features of the white desert in a pale light. Streaks of clouds mostly obscured the stars so, although I lay on my back watching for the occasional shooting star [editors note: shooting stars are not nearly as rare as people think, you just generally can't see them due to ambient light. In the desert, with almost total darkness, they are frequent], the view of the sky wasn't hugely impressive. I must have fallen asleep quite quickly but at some time in the early morning CG woke Frank and me because the moon and clouds had gone, revealing the most beautiful array of stars.
Day 4
[We drive to an oasis town and see 'some guys art'. I am judgemental about the art. We visit another hot springs. I enjoy lunch. We set off into the desert again for the next camp site.]
After lunch, we began the drive to our campsite for this evening. We passed at insanely high speeds through changing desert varying from the teetering rock piles of the white desert to the huge dunes that we would drive slowly up and then tear down on the other side. We stopped briefly to see some amazing volcanic rocks, smooth, but really hard and in amazing 3D star shapes.
When we got to the campsite, we climbed over a sand dune and looked out at an amazing view. The sand dune sloped steeply away and then the desert floor went off into the distance, punctuated by high rock walls which, when we shouted, caused incredible echoes.
We also had a lot of fun sliding down the slopes.
Day 5
Falafels for breakfast. You tend not to feel that great waking up in the desert: hot, sandy, probably lying at some crazy angle with sand in your sleeping bag. Still, it's definitely worth it for the silent night under the stars. If only it was a bit more comfortable…
[I describe a rest stop, sadly I think I was writing in the back of the landrover because this section is totally illegible. Then there is another visit to a hot spring, and lunch. If all the hot springs seem excessive, bear in mind these were the only opportunities we were getting to wash…]
We had lunch at the spring and then went on another long drive to a 10th – 11th century oasis town left in almost perfect condition. We saw several houses, shops and a place where flour was made. All the streets were cramped and thin and it would have been very easy to get lost if you didn't know the place. In fact, a lot of the passages were covered entirely making them very dark indeed.
The whole place was quiet, clean and peaceful. I wondered what it would have been like when inhabited. Perhaps as bad as London at the time, but perhaps not. If anyone knew how to keep their town quiet, clean and peaceful then it would be the Bedouin.
After the visit wound the city we went to our camp; a Bedouin-run camp made up of a few dozen huts made mostly of wood. We sat around talking and playing cards before supper and, after supper, we sat round the fire for some dancing. Some of the Bedouin played drums and, one by one, people got up and danced, jumped around or just wiggled in time to the beat. Until the end when everyone danced I mostly just sat and watched, but it gave me the chance to talk to a very interesting lady who was staying in the camp. She was a French-Canadian belly dancer, touring Egypt for several months with her young son who slept, wrapped in a blanked, on the edge of the circle while his mum danced. A very strange life but fascinating.
Day 6
It may not have been the proper desert, and the mattress may have been less than an inch thick, but at least I didn't wake up lying on my face in the sand, or with half a dune digging into my spine [editors note: as I recall, one of the worst things about sleeping on the sand is the way it moves. Wind will pile it up against your body while you are in one position, meaning that if you roll over you now have a pile of sand under you, which is not overly comfortable]. Actually, I had quite a good nights sleep and I even got a shower, even if it was freezing cold.
After breakfast we drove back into the desert to a Roman Fortress. It was near an oasis but it still looked weird rising out of the desert. The castle was made of mud bricks which impressed me in two ways. Firstly it was incredible how well preserved it was, and secondly it was interesting that, despite being made of mud, it was in a completely standard Roman style including the arches and vaulted cellars. This, for me, says something about the effectiveness of the Roman military machine. Clearly, despite being in a foreign land, they could adapt to use local materials but still create a castle which any soldier in the Empire could recognise and recreate.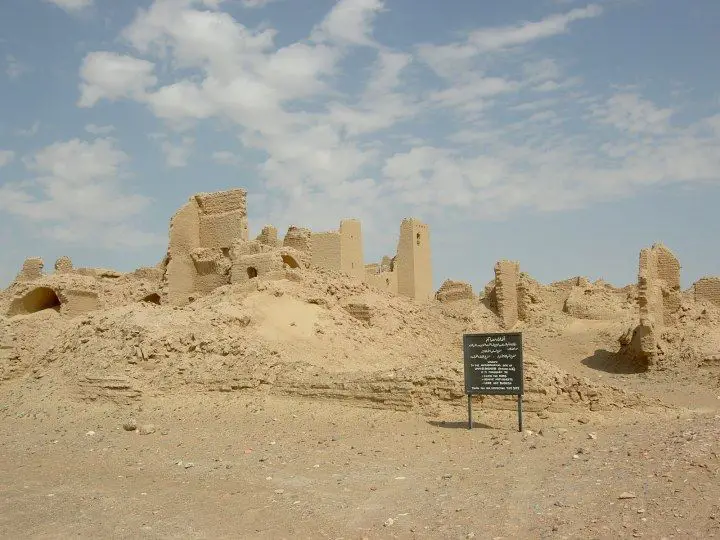 After lunch we drove a short way towards our camp site and then were left by the landrovers, who drove on ahead, so that we could walk the last few kilometers on out own. This was an incredible experience. For the first time it was possible to really get close to the desert as we trudged through it under the, mercifully, low sun. I don't know how long the walk took but it was thoroughly enjoyable. I like walking a great deal and, although walking in sand was hard work, the view more than made up for it.
[We do some dune jumping or, as I put it in my journal "you can stay happy for hours by jumping off a cliff into a pile of sand". Then I go to bed.]
Day 7
Last night was not great. The dunes were very exposed and a strong wind whipped up sand and blew it over me in a steady stream. By the time I'd thought of using my rucksack as a windbreak I already had sand in my eyes, ears, mouth and sleeping bag. Even with the rucksack there it was necessary to pull my head inside the sleeping bag  and close off the top as much as possible. This might then have been quite cosy were it not for the volume of sand in my sleeping bag and the fact that piles of sand had been blown around and under me, covering my sleeping mat entirely and making the ground extremely uncomfortable.
Still, the sunrise pretty much made up for waking up covered in sand from head to foot.
[We then had a very long drive to Luxor, arriving in time for a much needed shower and a beer before dinner.]
Proper food, at a table, with enough light to see what I was eating. The food in the desert, eaten round a campfire, was great but there's no substitute for civilisation and comfort.
I love the desert but I think that it takes getting used to, and four nights in the sand is enough for a first trop. The problem is mainly one of comfort; sleeping on sand is not as comfortable as you would imagine, going without a morning shower and shave gets boring after a while, eating food with grains of sand in, constantly fighting to keep sand out of your clothes, ears and mouth, all of these things that make a three star hotel in luxor a very pleasant prospect indeed.
Of course, for balance, it's only fair to list the experiences that will make me miss the desert. Sunsets, where the glow suffuses across the sky behind the rocky outcrops of the desert or streaks of cloud cut a lone across the sun like in movies, sunrises in the cooler air of the desert mornings, the views; countless varied landscapes so completely alien and beautiful, looking out for miles with nothing to see but rock and sand. And more, much more, but the desert cannot easily be described or recorded, it must be experienced.
[With that I shall wrap up this tale of our Western Desert trip. We spent another day in Luxor and saw the tombs which were fantastic and then a lot of temples which honestly got dull. I also went to a sukh where I bought a shisha pipe and a man tried to buy my trousers.]