Advice
Three great trail runs you can do from London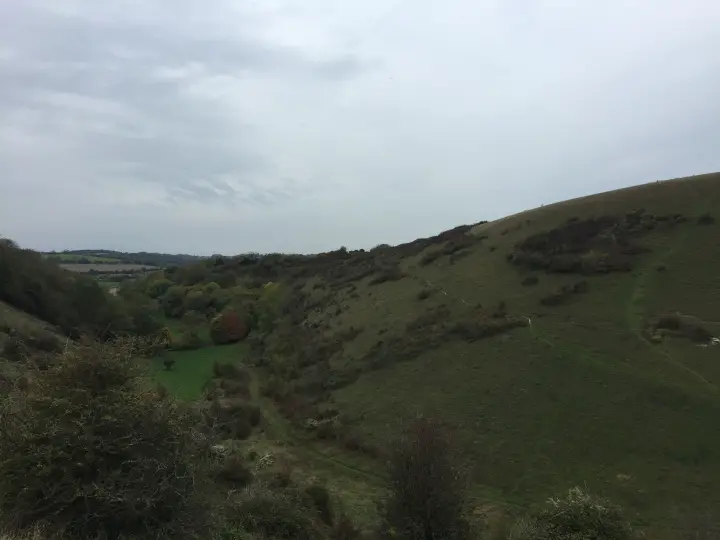 I lived in London for nearly a decade and, in that time, I got pretty used to the easily-accessible running routes around me; whether it's the perfect circuit for a little five mile jog, or an exactly 20-mile loop for a long run at the weekend. What they all have in common, though, is that almost all are on road and pavement, all are relatively flat, and all are affected by London's tendency to suffer from unpleasant levels of air pollution in the summer months. Sure, there are some nice runs along the river, and there are some good parks, but finding that beautiful all-day trail run that lifts the spirit and works the calf-muscles is tough for Londoners, and so many of us continue to plod along the embankment or dodge the crowds on our run-commutes, and never venture much further afield.
The good news, though, is that it's not actually that hard to do great trail runs from London, with all the benefit that entails: a softer running surface, cleaner air, better views, and some uneven ground and hills to strengthen key running muscles. Your best bet, at least initially, is to look for National Trails, all well documented on the National Trail website. They are generally well-maintained, well-marked (important when you want to just run, and not try to navigate as well), and specifically plotted to take you through some of the more beautiful areas of the countryside. Of course there are plenty of other trails that are not National Trails, and these usually also appear on OS maps and are marked with a consistent logo affixed to signposts and fences along the route, but they can sometimes be a little harder to find and to follow.
Either way, many such trails are easily accessible by train from London with stations either directly on or very close to the trail, making it straightforward to take the train out, run for as far as you wanted to go, and then get the train back home. Complex logistics and the need for masses of additional kit is kept to a minimum, as is time taken out of your day – although I do recommend giving a bit of thought to packing for a one-day trail run.
There are some considerations though; being well-prepared when running point-to- point on trails is vital as it can be hard to bail out early if you find you'd misjudged the distance or you pick up an injury. Few trails in the UK are so remote as to be seriously dangerous, but it could certainly be awkward if you twisted an ankle with ten miles to go to the next train station so it is important to at least take a phone, cash and warm kit with you. Being a greater distance from home also means you need to think more about kit and how to stay comfortable in all the various weathers and temperatures you may encounter as you run up and down hills, across 20 miles or more of countryside, over several hours.
Finally, many of the trails don't offer obvious opportunities to refill water, so some planning ahead is required. Whether you carry enough water to get you through, or look for opportunities to divert and buy a fresh bottle along the way, you need to have thought about it in advance.
If you need some inspiration to get you started, here are a few of my favourite routes on national trails, going to and from accessible train stations (some of which are slightly off route, but no more than a mile):
The Ridgeway – Tring to Princes Risborough – 15 miles
The Ridgeway runs for over 100 miles to the West of London, through Buckinghamshire and Oxfordshire, ending in Hampshire. It takes in the Chilterns Area of Outstanding Natural Beauty (AONB), and stays largely away from roads and towns. This particular route is easily accessible from London with Tring being a 45 minute direct train from London Euston and very close to the trail, and Princes Risborough just a 35 minute direct train back to London Marylebone. The run between the two is nearly bang-on 15 miles, which makes it a perfect mid-long run for someone looking to get started on trails, and it takes in some nice hills without ever being an absolute grind.
More to the point, it is picturesque and varied, with particularly spectacular views available from the top of Coombe Hill.
The North Downs Way – Farnham to Dorking – 23 miles
The North Downs Way runs along the south of London, weaving around towns like Guildford and Sevenoaks and ending up some 160 miles away at Dover. It might seem surprising to have a National Trail running through the less exciting bits of the commuter belt but the trail, although it admittedly takes in a few more roads and villages than the Ridgeway, is actually extremely picturesque and includes the Surrey Hills AONB (and all the cyclists that go with it – try to overtake them on the uphills if you can) and, later, some pretty countryside around Canterbury. It's easy to jump on and off at various points as it passes so close to commuter stations, but I chose this leg because Farnham is the official start of the trail and because Dorking has such frequent trains back to London. Both stations are accessible from London Waterloo in around an hour and the run between them is scenic and interesting with just one or two serious hills and some bits of great countryside to take your mind off the gradient.
The South Downs Way – Petersfield to Winchester – 28 miles
The South Downs Way runs the entire length of the South Downs, from Eastbourne to Winchester. It's a little harder to get on and off in between; although there are stations they are often a few miles from the trail itself, so some planning is needed. Petersfield is quite a good bet though, being an easy train ride from London Waterloo and relatively close to the trail. From there, there aren't many opportunities to get off again so you're pretty well committed until you arrive at the beautiful town of Winchester nearly 30 miles of glorious countryside and the occasional steep hill later. This isn't, therefore, a run for the faint-hearted but it is beautiful, incredibly satisfying, and almost entirely remote from any signs of civilisation.