As I mentioned in my discussion of the Presidential Traverse and the associated kit list, the Rab Baseline Jacket is a lightweight wicking fleece that is an absolutely central part of my kit list. In Rab's line (which is broadly comparable with that of many other outdoor gear manufacturers) this is basically the second-lightest of their Polartec® fleece midlayers, a clever blend of fabric designed to be wind-resistant on the outside and warm but wicking on the inside.
Your first midlayer is a particularly important bit of kit in my opinion, since after your base layer it is likely to be the upper-body item of clothing you wear for more of the day than anything else, and the closest to your skin. You therefore need something that is comfortable, and warm, but also breathable and wicking enough that you can wear it even when being highly active.
The Rab Baseline jacket fulfils these tasks perfectly. It's slim fitting and stretchy, making it so comfortable you barely notice it is there, never flapping about or getting in the way. It is unobtrusive and low on unnecessary features like stomach-level pockets, but has a single chest pocket for important items like a phone or compass. It also has thumb-loops which are neat for both avoiding exposed skin on a cold day, and for keeping the jacket in place underneath what might be an ever-changing parade of different layers hastily donned and doffed in different conditions.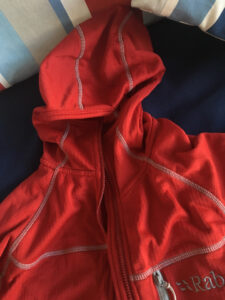 The hood is a really useful addition in my view. The importance of hoods on jackets is always up for debate – my brother is a fan of them on most jackets, I prefer not to have them on my warmer mid-layers as I loathe stacked hoods and would generally prefer to have a separate hat. However, they definitely have their advantages as they keep cold air off the back of the neck better than a hat, and can easily be added and removed without having to dig around in pockets. The hood on the Baseline is comfortable and close-fitting, designed to be worn under a helmet, which is particularly useful.
It's hard to objectively say whether a jacket is 'warm' or indeed whether it is 'breathable'. You wouldn't want it to be too warm, and it certainly isn't going to keep you warm for very long if standing still in temperatures much below 6 or 7 degrees C, though it all depends on you as an individual. What I'll say is that in the White Mountains where temperatures varied from around freezing to about 8 degrees, I needed only a merino t-shirt baselayer and the Rab Baseline for almost the entire day. For some brief and energetic periods when out of the wind and climbing a steep hill the Baseline was too warm and I went down to the tshirt, and for one very brief period in high winds and fog on top of Mt Washington I layered up with my Arc'Teryx Atom Lt, but other than that the Baseline was absolutely perfect for all-day hiking in cool and windy but not sub-zero conditions.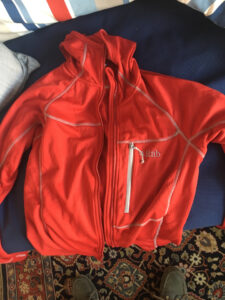 Equally, on a slightly warmer hike in the Brecon Beacons a year or so ago, I was in a tshirt for most of the time, and found the Baseline useful during brief stops, or for around camp.
It's worth comparing this to the Patagonia R1 full-zip jacket, a very similar product made from the same Polartec® Power Grid wicking fabric, and fulfilling a very similar purpose. I doubt there is a huge amount to choose between them, and in the end much of it probably comes down to personal choice and brand preference, but certainly something similar to these products is likely to be a vital part of any hiker's layering system, particularly if you frequently hike in climates or seasons where temperatures are likely to be around or a little above 0 degrees C.
Check out Rab's range of jackets at Amazon.