Hiking pants should be comfortable, breathable and weather resistant. As an added bonus, they'll make you look amazing when you're hiking! Over the years I've tested and worn many brands. My most recent purchase was a pair of Rab Vertex pants. I've been using them for about six months and to be honest I'm actually pretty pleased with them. But rather than try and sell them to you from the off, I'll let you make up your mind.
I won't go into any detail about Rab. Most of you already know this UK based outdoor gear manufacturer has a great reputation.
Rab Vertex Pants: The Details
Made from Matrix DWS, these pants are amongst the most comfortable I've ever worn. There's plenty of give and flex at key points: the knees, the buttocks and, in particular, around the thighs. I've been a particular reference to the upper legs as my thighs are quite large. Many of the trousers I've tested in the past I felt a little bit restrictive.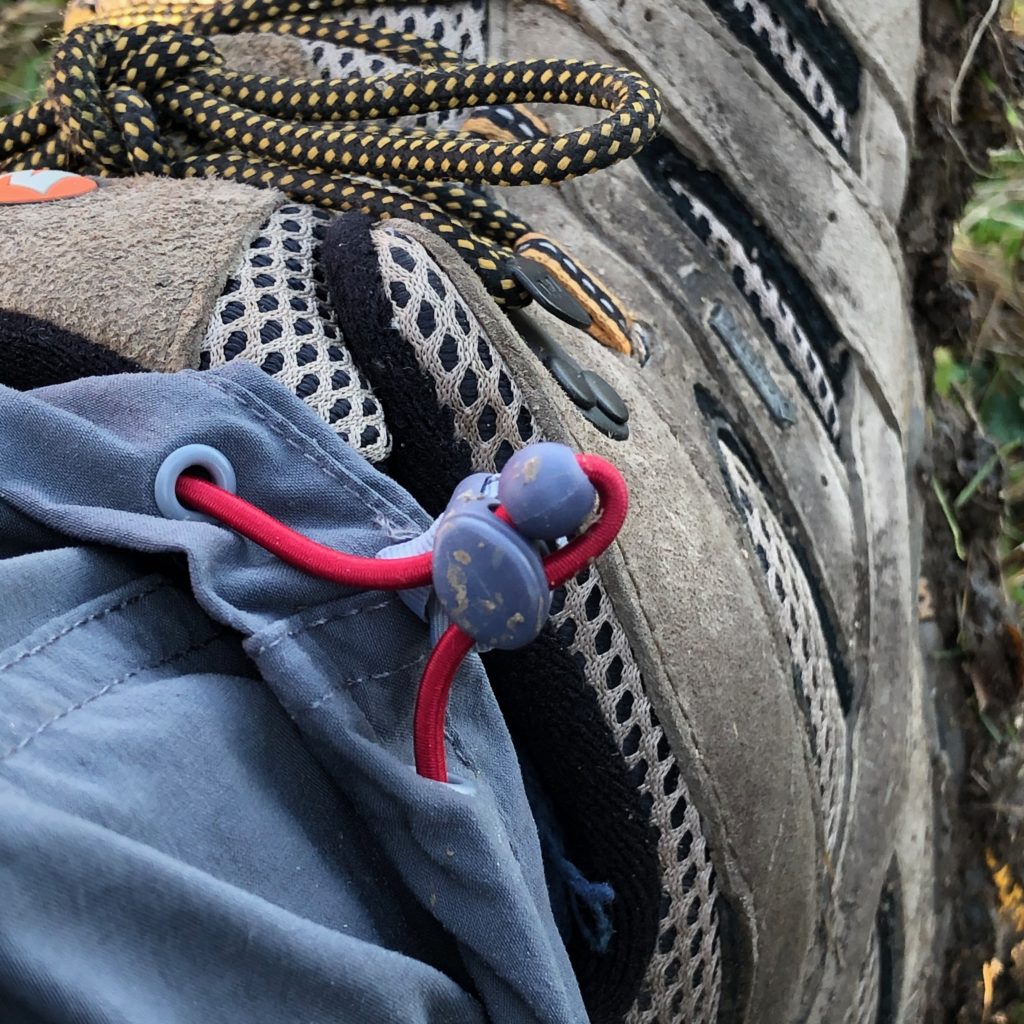 And they're super-light, weighing in at only 285g
The waistband sits just about the hips. Again, this makes for a comfortable ride when hiking. One thing I have noticed about these trousers is that I rarely feel the need to wear a belt to hold them up. There's a certain about clinginess in the material that helps hold them up when I'm hiking.
Like any good outdoor gear manufacturer, Rab give you the choice of sizes. This means you can almost mix-and-match between waist size and inner leg length. In the past I found that some gear manufacturers sizing can be a little bit off the cuff is too high or too low.
I have a 34 inch in the leg and the wraps sit on the cuffs of the legs sit in iPhone to be a perfect position. Right on my ankles.
Durability
The first time you try on the trousers you could be forgiven for thinking they're not gonna be as robust as some other brands. In reality, they are more than capable of withstanding some of the worst conditions your hikes can throw at them.
Here is a list of some of the locations I've worn these trousers to:
1. Across Dartmoor National Park, north to south.
2. Mont Blanc, on a crevasse rescue course.
3. Through the wilds of Northumberland.
4. Hiking in Greenland prior to the ski crossing traverse.
Each of those environments came with their own demands. Hiking those arduous places put a heavy strain on both me and my equipment. And these softshell trousers came through with flying colours.
One aspect of the design all material that has impressed me is the material isn't easily frayed or damaged. They've been worn through thistles, brambles and snagged on branches. Not once has material torn.
Construction
Double stitched along all the seams, the trousers are incredibly lightweight and very strong. And, equally, less stitching equals less rubbing and irritation.
The waistband is secured with two small press studs. These are easy to fasten and undo.
In total these trousers have three pockets: two handwarmers and one thigh pocket that's the perfect size for a map. The thigh pocket is the perfect size for a 1 to 50,000 scale map. I recommend you don't carry too much in the pockets as the relatively thin material doesn't protect you from being stabbed in the thigh by your broken pencil.
On the hem of each leg is an adjuster that allows you to loosen, or tighten, the material. I find this rather useful I find this feature of useful as a way of preventing small rodents from scurrying up inside my trousers.
Each of the pocket zipper pulls is quite small. I recommend you fit a small loop of cord to the tabs to make it easier to grip them when you're wearing gloves.
Comfort
These are a very comfortable pair of hiking trousers. The material has enough stretch so as not to restrict movement. At the same time the pants are constructed in such a way that, at times, it doesn't feel as if you are wearing any trousers.
When you click shut the double snap waist closure, you'll probably find the fit to be loose but comfortable. Although these pants were designed to be worn with a belt, I've never felt the need to.
In warm weather the Rab Vertex pants are comfortable to wear.
Performance
Rab's Matrix DWS material is showerproof. If you get caught in downpour there's no way they will keep you dry. They are breathable which makes them ideal for warmer hiking destinations.
They also wick away sweat. Great news if, like me, sweat floods from your body within minutes of exerting yourself.
Price
It's probably the key point most have you been waiting for. These trousers aren't be most expensive you can buy. The claim to that title has been taken by the likes of KAILAS – some of their pants cost over $300! Ouch!
Rab's Vertex trousers cost around £60 ($90 dollars). Given the features, comfort levels and durability that's actually a pretty good price.
Rab Vertex Pants: Are They The Best Pants for Hiking?
I've tried to be objective and failed! In my hiking gear lock up I have walking trousers made by Montane, Columbia, Craghoppers, et cetera. All have their merits. All of them have their weaknesses. I don't hate Rab, but their equipment seems to be everywhere. And having tried trialled these trousers for some time I can understand why.
They are durable, flexible and comfortable. The price is good and that makes me happy. When coupled with my Montane Alpine Endurance, the combo is perfect for lightweight backpaking.
Overall, these trousers get a rating of 8 out of 10. If Rab were to produce a similar design with decent padding in the pockets I'd probably raise this score to a nine.
That's all. I hope you found this Rab Vertex pants review useful. If so, please share on social media links on this page. Alternatively, you could link to this post from your website and let your followers know about it. Thanks, see you soon.