Gear Reviews
PreTents Ridgeline Review: a serious 2-person expedition tent
Introduction
PreTents is a new arrival on the tent scene, but with some serious pedigree behind it. Though information is currently fairly sparse online, the brand is a new venture between Hong Kong-based cottage outdoor gear designed Tara Poky and well-established Chinese tent manufacturer The Free Spirits. In the UK, PreTents can be purchased from Valley and Peak, who kindly loaned us the PreTents Ridgeline for testing and review purposes (it was returned afterwards, and neither PreTents nor Valley and Peak had any input into the content of this article).
The PreTents range is small but with a clear focus on lightweight, robust tents for serious hikers and trekkers. They are, in my opinion, remarkably elegant tents with a distinctive look and some design details that are both beautiful and functional. The range is fairly coherent and logical, with one, two and four-person free-standing 4-season tents for serious expeditions, plus trekking-pole-supported one-person tents for lighter-weight use and thru-hikers, and a couple of additional variants thrown in.
The Ridgeline is the free-standing, four-season, two-person tent in the line-up. In that sense it's probably the most flexible and generally useful to most people and would be an obvious purchase for someone who wanted a single tent that would do a lot of different things.
Testing conditions and criteria
I had the PreTents Ridgeline for two weeks, during which I took it on a hiking trip to Cumbria and used it wild camping in the hills around Sedbergh. From the point of view of writing a decent review, I was lucky to get some fairly horrendous weather during my testing including a night of near-gale conditions with driving rain and high winds.
I assembled the tent both alone and with my partner, and we both slept in it to get a decent sense of what it is actually like for two people.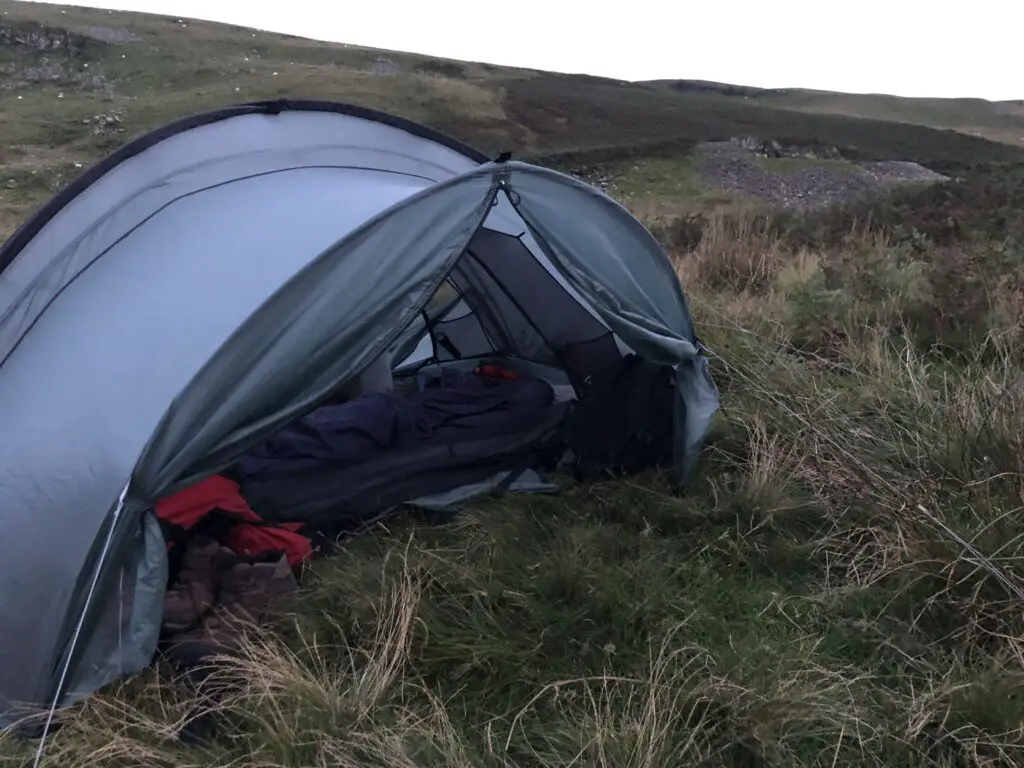 In testing a tent I am primarily interested in four areas, and I refer back to these for consistency when doing any tent review.
Weight and bulk when disassembled and stowed away.
How easy the tent is to put up and take down, especially in challenging conditions.
How easy it is to live in the tent – encompassing everything from size and space to features, ease of getting in and out, places to put things, and so on.
How well the tent stands up to weather, in the obvious form of wind and rain, but also warmth.
First impressions, and weight and bulk
The tent comes in three bags: one containing the main body of the tent, both inner and outer; one containing the optional vestibule/porch area; and one containing the collapsible poles and another small bag of pegs.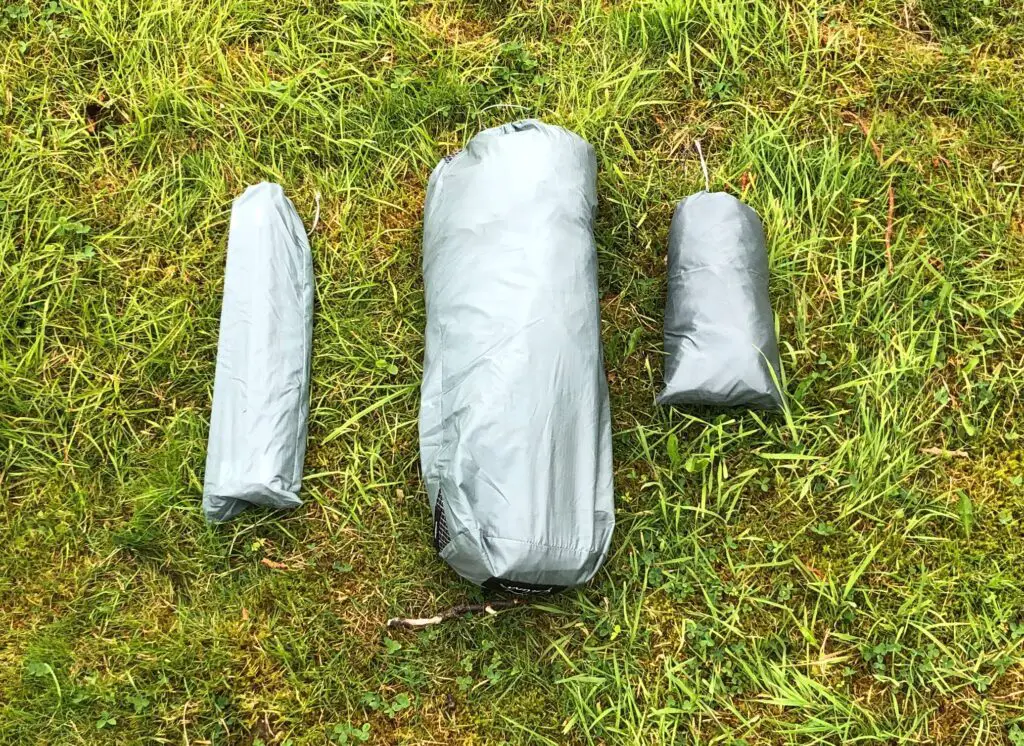 The total weight is just shy of 2kg – not 'ultralight' by anyone's definition, but a very reasonable weight for a two-person, four-season, free-standing tent. It's unlikely to be anyone's preferred choice for thru-hiking, but it absolutely would be my choice for, say, a multi-day trip to Scotland in anything but the balmiest of conditions.
Size-wise, the main body squashes down surprisingly small, making it very easy to stuff into a spare space in a bag. It's the tent-poles, even when fully collapsed, that are unsurprisingly the most awkward item to fit in a pack. That's just the nature of tent poles though.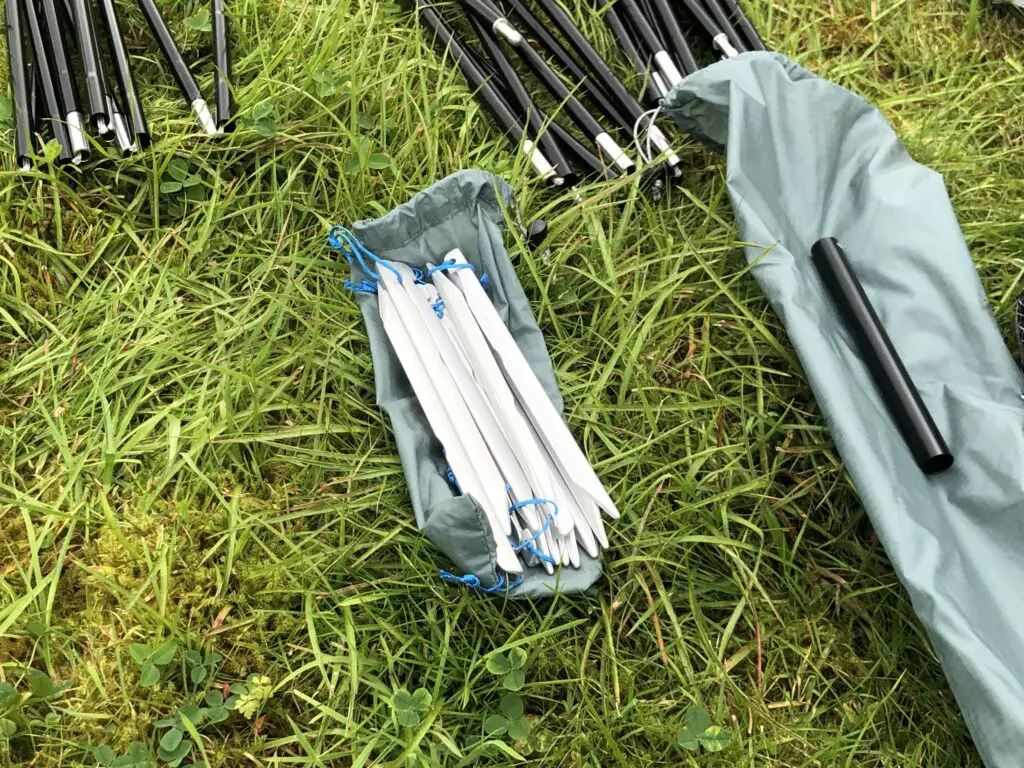 Both tent poles and pegs are made by DAC, meaning you can be pretty confident about the quality and that there is no extraneous weight. The poles are DAC NSL 8.5mm featherlite, and the pegs are aluminium v-best stakes.
PreTents Ridgeline Specifications and features
The PreTents Ridgeline is, at its core, a fairly straightforward freestanding dome-tent. It has a waterproof outer layer made of 30D ripstop nylon with a 2,000mm hydrostatic head. This is supported by two poles which go over the top of the outer layer, giving it extra strength and stability in high winds. That structure is entirely free-standing, and is then secured in the usual way with pegs at each corner and easily-adjustable guy-lines midway up each support pole, each line attaching at two points.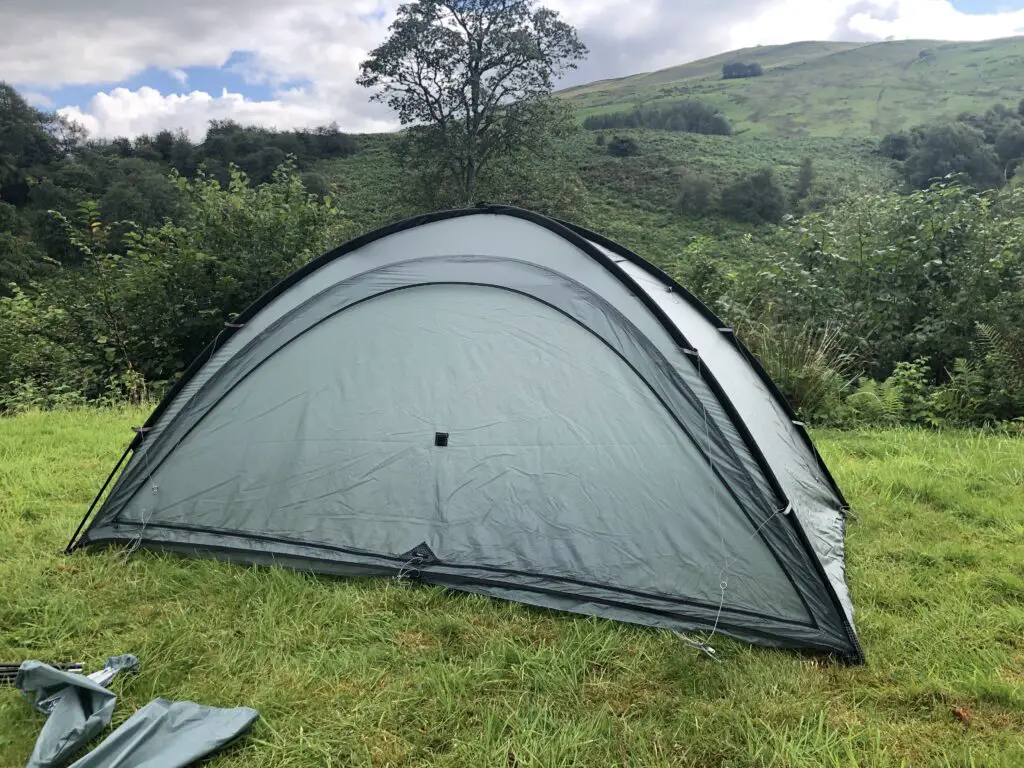 The main body hangs from toggles inside this structure, and clips into each corner. The base of it is made from the same waterproof material as the outer layer, while the rest is made from a 15D insect-proof nylon mesh.
The internal sleeping area is a very comfortable 220cm long, and a slightly cosy 120cm wide. It's 95cm high at its highest point, which is not particularly roomy, and the shape of the tent means that it slopes off sharply to both sides and ends, so it's pretty tough for two people to comfortably sit up in the tent with both doors closed.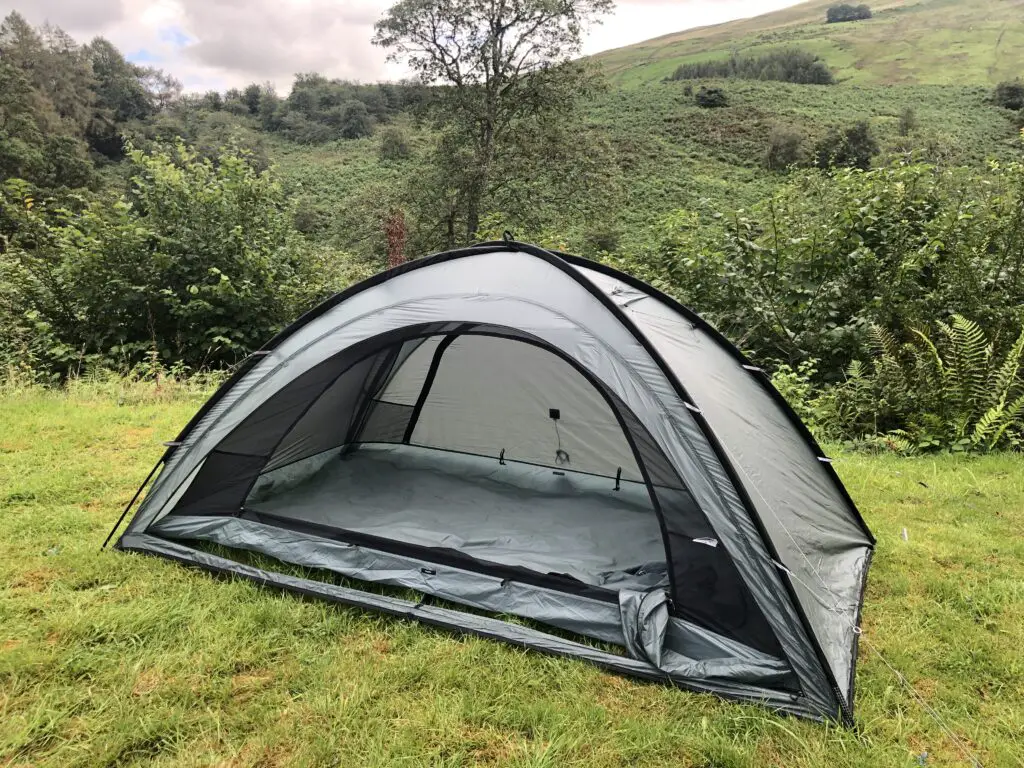 Finally, an optional large vestibule can be added to either side door using metal clips that hook into canvas loops up under the overlap between the outer sheet and the door. It makes for a very secure connection but it can be a little fiddly to do especially in the dark or wet and with cold hands. The vestibule adds a good chunk of additional space – more than enough for equipment for two people, or to cook in.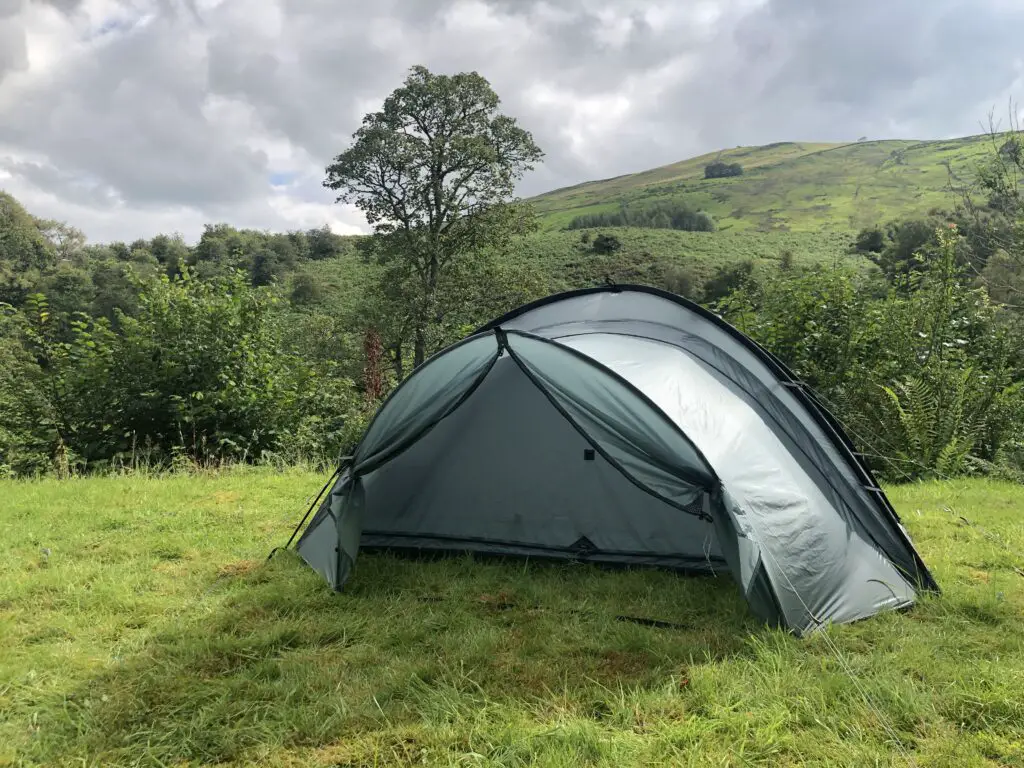 Inside the tent, there are some neat features. Adjustable openings at either side allow for plenty of ventilation if you require it, and I was particularly pleased with the little stretchy pocket at each corner – perfect for placing small items like a phone or torch close to hand but out of the way as you sleep.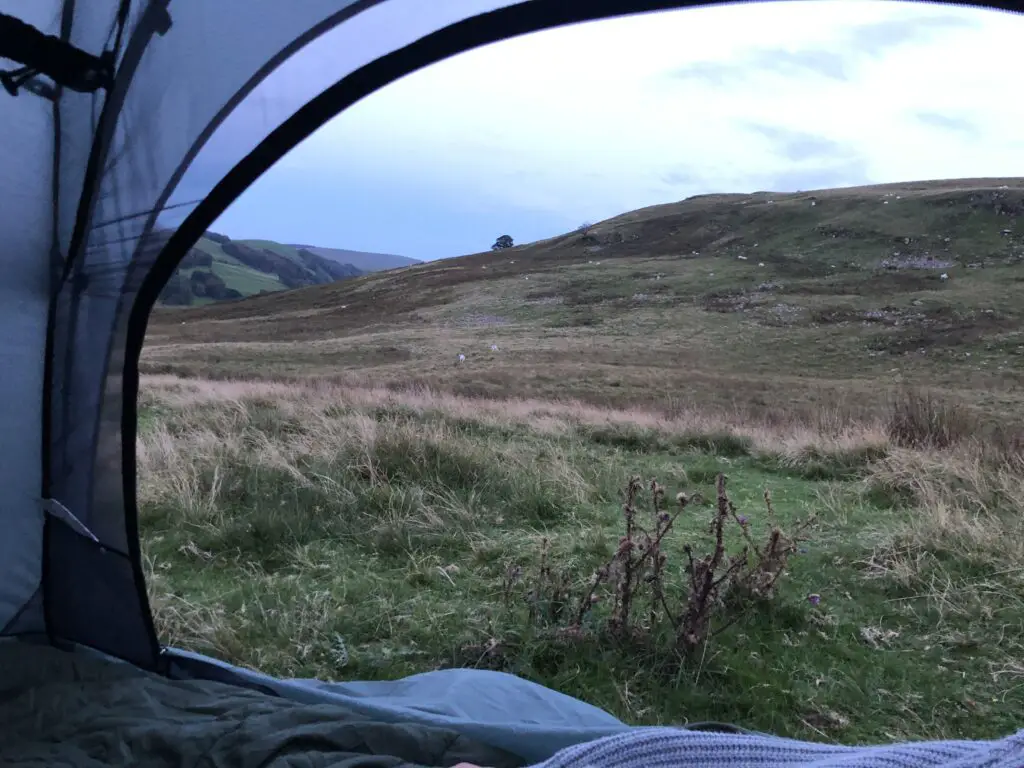 Probably the most unique feature with this tent, though, is the huge door on both sides. Almost the whole of both sides can be fully opened up, which primarily makes it very easy for both people to get in and out without disturbing each other. It also makes it much easier than in many tents to 'admin' yourself (taking boots off, dressing and undressing, getting bits and pieces out of your pack, etc) while still sitting within the tent but keeping wet or muddy kit outside of it. If it's not too cold or rainy, it also provides the only really practical way for both people to sit in their sleeping bags and sit upright, with their heads poking out of the door. And finally, with both doors fully opened the tent becomes a very neat little rain shelter in which you could sit on a nice evening while cooking or having a drink or just watching the view.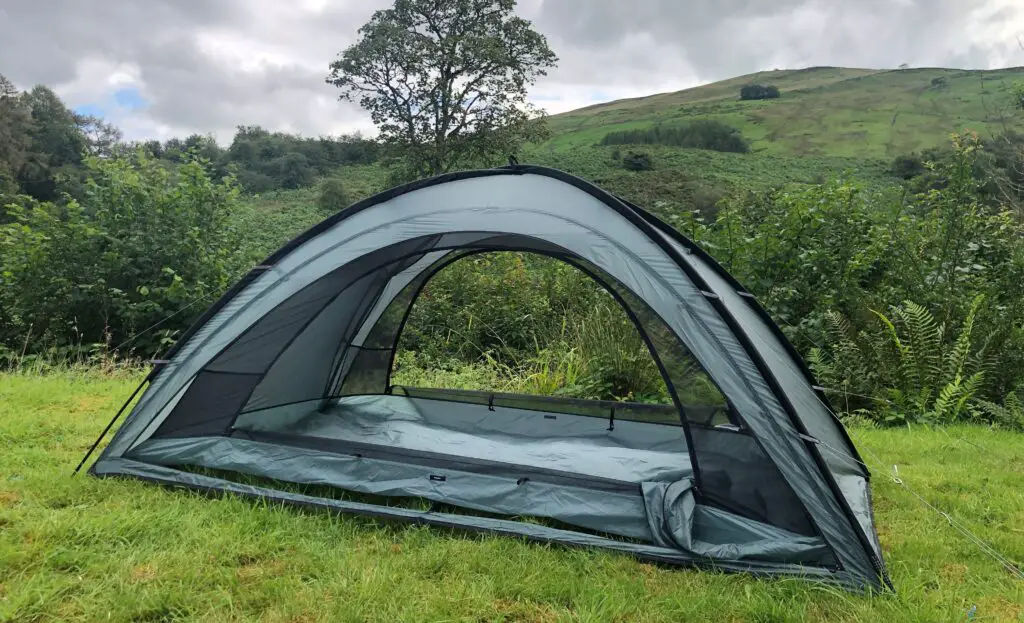 So, while it might sound strange to go on so much about the doors, they really are one of the unique selling points of the tent and worked brilliantly in practice both on a nice sunny evening by a river and while wild camping on a particularly wet and windy hillside.
Putting up the PreTents Ridgeline
Interestingly, the tent I was sent didn't come with any instructions for putting it up. Perhaps the assumption is that anyone buying this tent can probably figure it out for themselves and, if so, I'd honestly endorse that view. I found it extremely straightforward and logical to put up and the first time it took me (working alone) no more than fifteen minutes, including adding the vestibule and stopping several times to take photos. The next time, on a hillside at twilight and with my partner to assist, it was even quicker.
One of the real benefits of the way this tent goes up is that you end up with a waterproof shelter almost straight away and, if conditions were particularly unpleasant, it would be perfectly viable to get the outer up, and securely pegged and guy-lined, and either put your gear in it to stay dry while you sorted the rest of the tent out or sit inside it yourself if you were just desperate to get out of the rain.
Comfort and usability
The first thing to say about the PreTents Ridgline is that, if you use it for two people as intended, it is not spacious. Two people can certainly sleep comfortably enough side by side in it but that will be about all there is room for with very little left for kit, and really no room to sit up, chat, or do much of anything except lie down. That's not a criticism – this is intended as an expedition tent, not one in which you're going to be hanging out and playing cards – but I certainly wouldn't recommend it as a casual camping tent; it just lacks the space and headroom to live really comfortably in.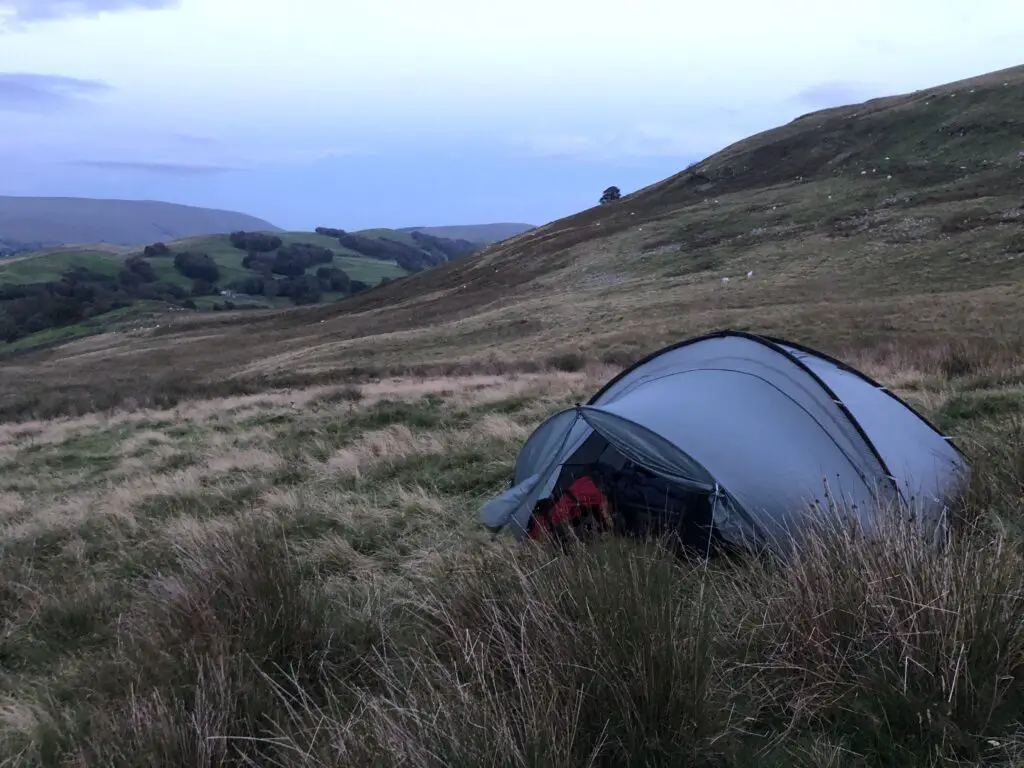 That's the only real negative out of the way though, as in all other respects I found this tent brilliant to use in practice. Many of the reasons I have already touched on above when discussing the features but, to I'll go over them again here anyway.
The large doorways make it easy both to get in and out of the tent, and to sit in the tent while sorting your kit out, cooking etc. If you do choose to add the vestibule, this provides a frankly enormous space to keep all your kit dry, as well as to cook in, and to remove boots even or get entirely changed out of wet/muddy kit if needs be (and if you're fairly flexible…). It also provides the interesting option of leaving the door to which the vestibule is attached open, creating a lot of extra breeze on a warm night, without compromising on rain-resistance. This, along with the air vents, makes the tent relatively comfortable on a warm night.
Otherwise, features inside like the little pockets are an absolute godsend, and I honestly don't think I'll ever entirely be satisfied with another tent that doesn't have these.
PreTents Ridgeline Resistance to weather
One of the key reasons you would buy the Ridgeline, given that it's neither the cheapest nor the lightest tent out there, is that it should be highly resistant to bad weather – something you could rely upon in expeditions in the worst conditions. Testing that is always tricky, especially in a limited period of time, but I was fortunate that the second night I spent in it ended up with a pretty serious gale: driving rain almost the whole night, and howling winds.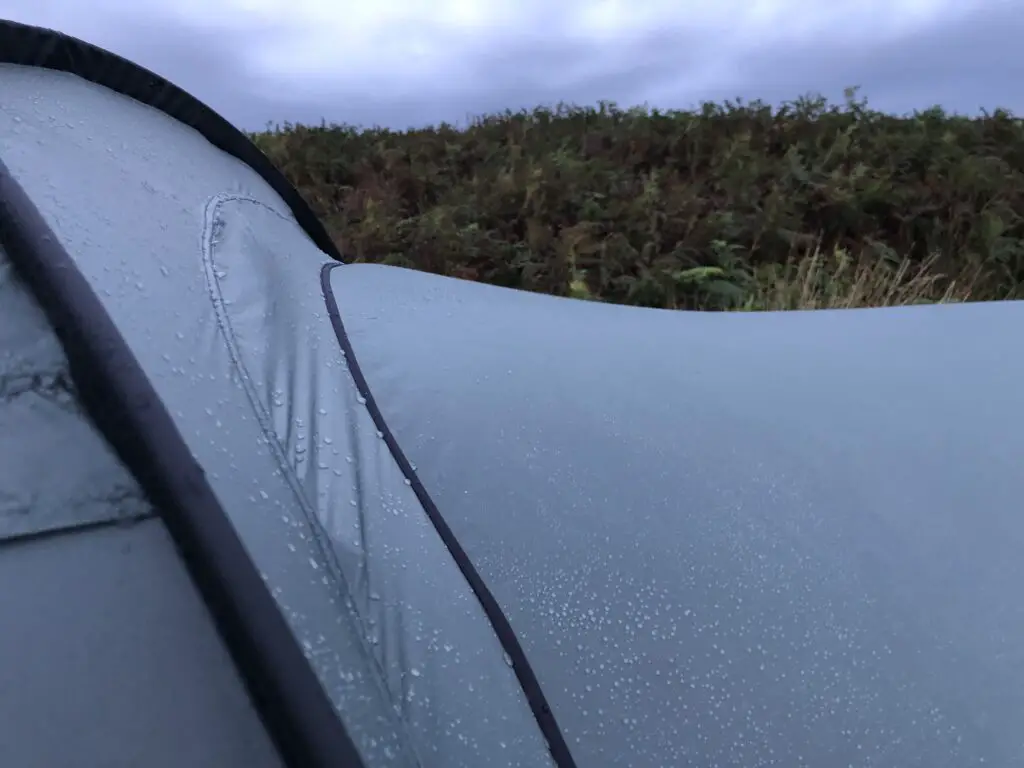 Even for a tent that I knew was supposed to be highly weather-proof, I was really impressed by how the Ridgeline performed. It shook the wind off without issue and didn't budge an inch, and the inside was bone-dry in the morning. It's hard to really know a tent's limits without testing it to the edge of destruction and that's not something I was willing or in a position to do, but that experience left me feeling very confident that I could take it out in certainly the worst weather the UK has to throw at me and be quite happy that it wouldn't have any problems. In fact, I was so impressed that I'm giving serious thought to buying one of PreTents's one-man tents for myself so that I have a really bomb-proof, reliable shelter to go on some solo adventures in the UK this winter given the present difficulties with overseas travel.
Summary
Although I reviewed this too late to include it in James's roundup of the best two-person tents of 2021, this would definitely be a strong contender for that title, and I'd absolutely consider buying it myself if I was in the market for a two-person tent for wild camping in the UK. It's robust, reasonably priced, pretty light for what it offers, and designed with usability and practicality in mind.
Buy the PreTents Ridgeline if:
You want a tent that can stand up to tough weather conditions.
You want a tent that's flexible and can be used in different configurations for different purposes.
You want something that's practical and usable, and has features to make your life easier.
You're hiking with a lot of kit and need to be able to stow it out of the rain.
Don't buy the PreTents Ridgeline if:
You want a comfortable tent for a few days at a campsite.
You want a super-light tent for thru-hiking, especially in milder weather.
You're very tall and want to be able to sit up in the tent.