This week I will be reviewing the Montane Extreme jacket. It's a soft shell outer layer designed for working in extreme cold environments. This is a recent addition to my outdoor gear wardrobe, bought on the advice of my teammate before we skied, or didn't ski (a long story) across the north slope of Alaska. And I'm glad I took his advice.
When first looking at the tech specs (more on those later), I found myself sceptical. But my doubts melted away a short time after I stepped onto the North Slope.
Enough reminiscing, time to dig deep and show why this soft shell jacket is ideal for pretty much any activity where the temperatures are low enough to make your eyeballs freeze solid!

What is the Montane Extreme jacket?
I've touched on this already, but now let's go a little deeper. Montane designed this jacket for mountaineering at very high altitudes. The aim was to build a shell layer that would provide ample protection from high winds and excellent insulation. Even when not moving.
For me, the jacket is a good compromise between the traditional hard shell/fleece midlayer approach to staying warm. And it works well, as I found out in Alaska.
The usual approach of adding and removing layers as I skied went out the window. Instead, I vented heat by opening the main and underarm zippers (pit zips). Even when the thermometer dipped to -50C I was warm.
One piece of advice I have is to not use this jacket if you're not going to be hiking, or trekking, in cold environments. It is a very well-insulated piece of clothing.
Construction and materials
Pertex forms the outer layer of the entire range of Extreme clothing. The shell isn't waterproof, but it is windproof. Super-windproof! I wore the jacket in wind speeds of 20+ MPH and have to say it excelled at keeping the chilling effects at bay.
I've not had the opportunity to test the Extreme at higher wind speeds. But I do feel confident it will continue to give the necessary protection you'll need on your journeys into the wilds.
A storm flap over the zip does help to keep most of the wind at bay. That said, if I were re-engineering this jacket, I'd make the flap a little larger as, at times, the famous sideways lash of wind managed to give me a cold tummy.
The jacket's inner lining is a luscious, dense expanse of fleece. And it's here that things get a little more interesting. As mentioned earlier in this post, this jacket will keep you warm on the very coldest of days. The Extreme also does an amazing job of wicking away sweat. There is a tipping at which you'll need to vent some of the excess heat. For me, this came about an hour into hauling a 100+kg sledge on snow with no glide. Hard and sweaty work. Up until then, the combined fleece and Pertex layers were more than capable and moisture soon wicked out.
In addition to the overall breathability of the jacket, Montane have added two interior vents to aid rapid venting. And they work exceptionally well. Like I said, if you're hauling or carrying big weights you'll probably need to open the main zipper at some point, which is no big deal.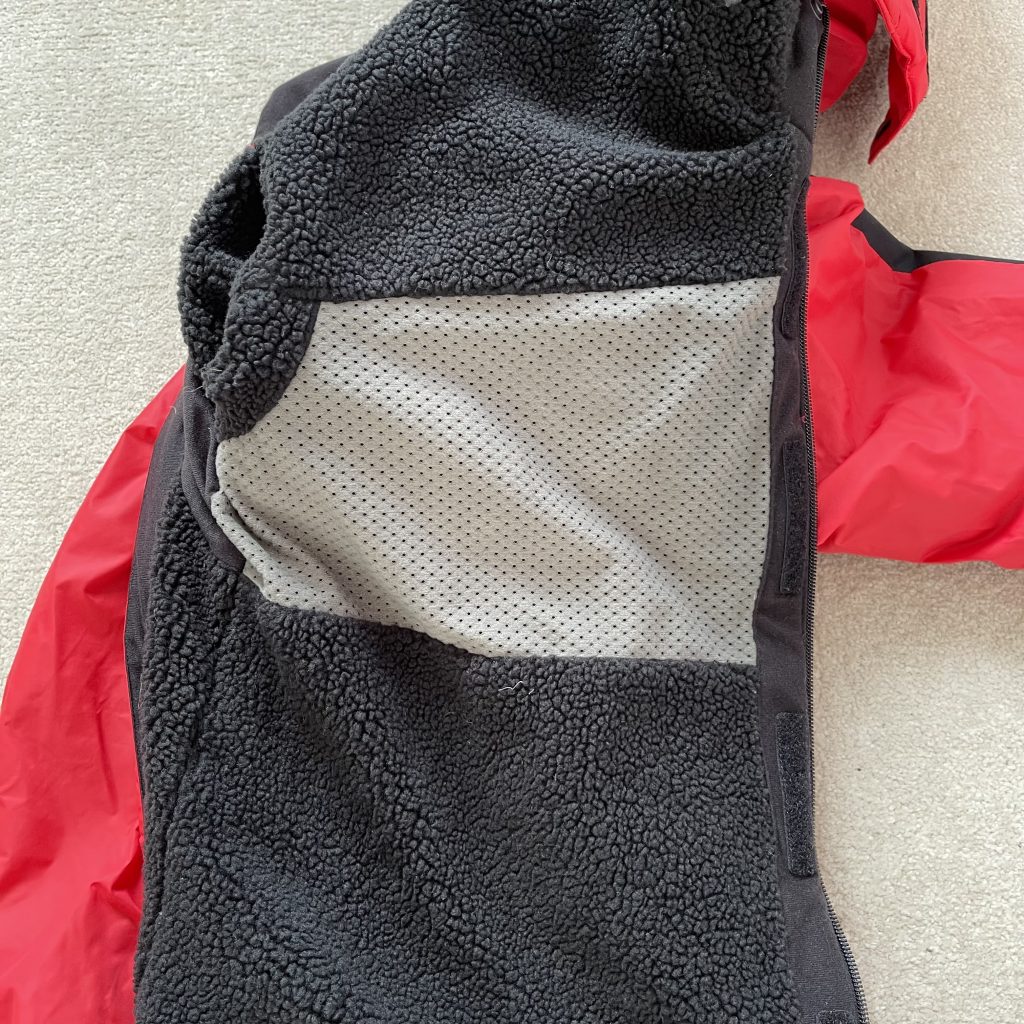 My last comment may leave you about being drenched in sweat. Don't be. The fleece lining doesn't hold moisture and excess will soon run off. Even if some rain gets through the Pertex shell it will soon shed.
One feature that's kind of 'meh' is the helmet-compatible hood. I'm not a mountaineer and have no plans to scale vast, freezing peaks. Far too high and scary. But those of you brave mountain climbers will find the hood provides ample room for a helmet. If you intend to use the Extreme for hiking, or treks, I recommend you adjust it down to a snug fit before you set off. Why?
Because the adjusters are small. Trying to adjust them whilst wearing heavy mitts is frustrating work. This is another design feature I'd change.
Elbow pads add a layer of protection for one of the most abused parts of the Extreme. Useful as they are for mountaineers, I'd like a version with no pads as I can't see a use for them on my hikes and expeditions. If anyone has any further thoughts on this, then let me know via email.
Whilst we're talking about sleeves, let's take a quick look at the attachment clips stitched about halfway up the forearm (see the above image). They are useful if you need a way of securing mittens. Rather than having to stuff them under your arms, or into one of the hand warmer pockets, you can let them hang loose without worrying about them being snatched away by a high wind.
It's also pretty bulky. If you're going to carry it in your ruck use a compression sac to reduce the amount of storage space needed.
The hood is removable. In the past, I've vented some of my irritation of detachable hoods, but only when it comes to commenting on waterproof shell jackets. In the case of the Extreme, I'm happy to say I like this feature as it gives me the flexibility to adapt to changing weather conditions. Let me back that up: if you look at the image below you'll see a ruff stitched onto the hood. When the winds are up the ruff will at some point get snatched by a gust and I feel the slap of Pertex and fur as the hood whiplashes in the wind!
One last point to note before we move on: the weight. At over 1kg, the Montane Extreme jacket is no lightweight piece of hiking gear. And should never seen as such.
Fit and comfort
I love the fit of this jacket. There is one consideration you need to make before buying – the size. Given the level of insulation, you don't need multiple layers. If you feel the need to use a mid-layer buy a jacket a size larger.
In Alaska, I wore a merino wool base layer and there was little room for anything else. Kinds of proves how effective the Extreme range is at keeping you warm.
Now, with this in mind, you might think the jacket lacks flexibility. Not so. The Pertex flexes as you move giving a huge range of movement required in some outdoor activities. Articulated sleeves provide the coverage and protection needed when extending your arms. A very useful feature for climbers and skiers.
The cuffs have a snug fit which is perfect if you're wearing mitts as they slide over the cuff with ease. Nothing more annoying than having your sleeves bunching up!
Montane has engineered the jacket with a pile-free hem. This was useful for me as the reduced bulk made it comfortable when securing my sledge harness. Not everyone is going to strap themselves to a huge sledge, but this point is worth considering if you're wearing a rucksack with the waistband around your waist.
Storage
Montane have kept it simple with three exterior pockets. One, set high on the chest, is mesh-backed and ideal for storing small items you need easy access to (I put a small 'token' in there whilst travelling). The two lower pockets are vast chasms of warmth designed to keep your hands warm on those extra-cold days. And they do! During a pause in activities, or movements, dip your chilled fingers into the depths and you'll soon find them glowing warm!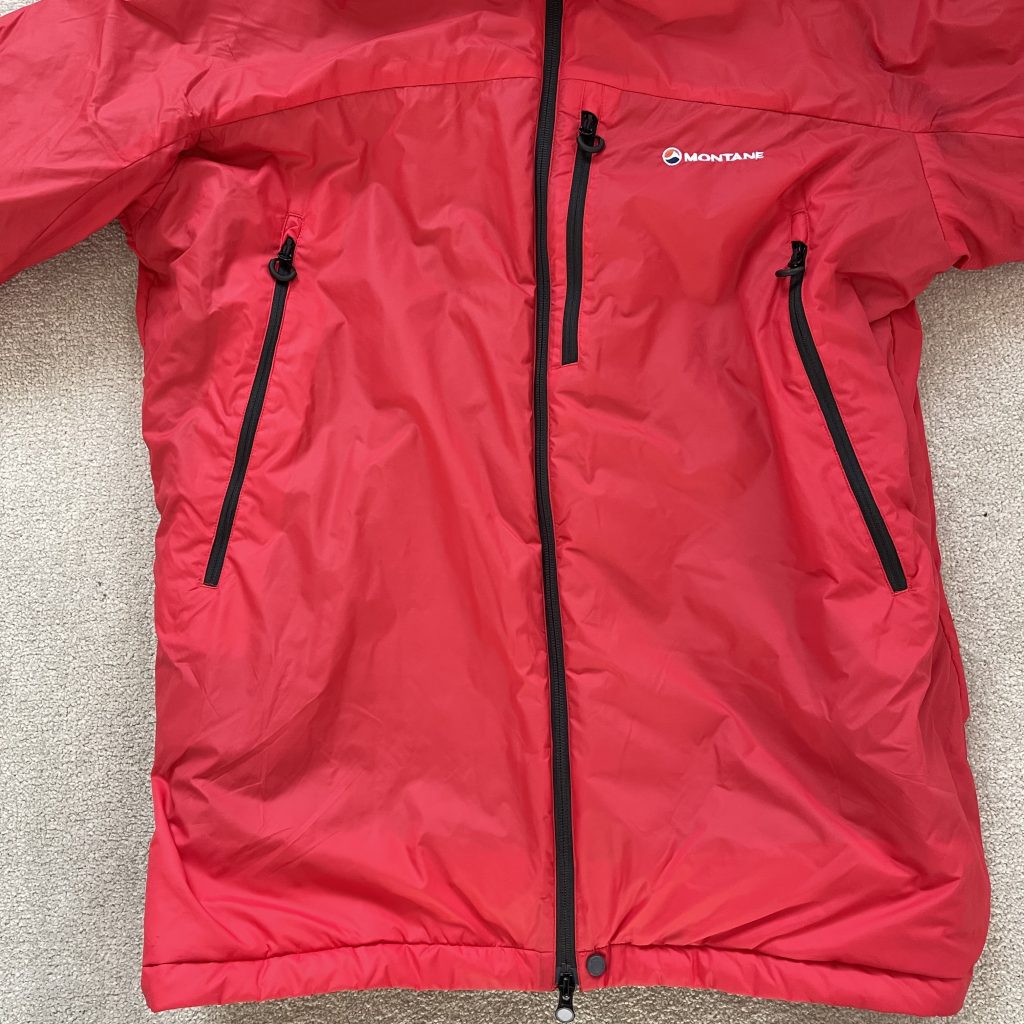 For some reason, Montane opted to not add an interior pocket on the Extreme jacket. The size of the mesh vents I mentioned earlier takes up so much space that it's hard to add in a large storage compartment, so I can understand their design thoughts. That said, if you feel the need for internal storage there is enough space to stitch in a homemade pocket. I'm going to do this for smaller items I want to keep warm ( like my compass, which froze solid on the first day!)
Price
For what you get, this jacket is not expensive. On average, it'll cost you around £120 (~$160) which is good given that some alternatives cost twice, or more, the price. Do a little searching on the web and you'll find prices as low as £80 (~$105). Not bad for a softshell that delivers on the promise of keeping you warm, no matter what the temperature.
Summary
I like this jacket. I like it a lot. If it had a beating heart I'd marry it! It's a versatile softshell. The price is good. And I have almost no quibbles.

Buy this if:
you need a softshell jacket that will keep you warm, even down to the minus 50s;
you're a mountaineer looking for a simple, functional shell;
you are confident you need only two layers to keep you warm.
Don't buy this jacket if:
you're going to be moving in temperatures above 0C;
you need a lightweight shell;
you have too much money and you really want to spend it.