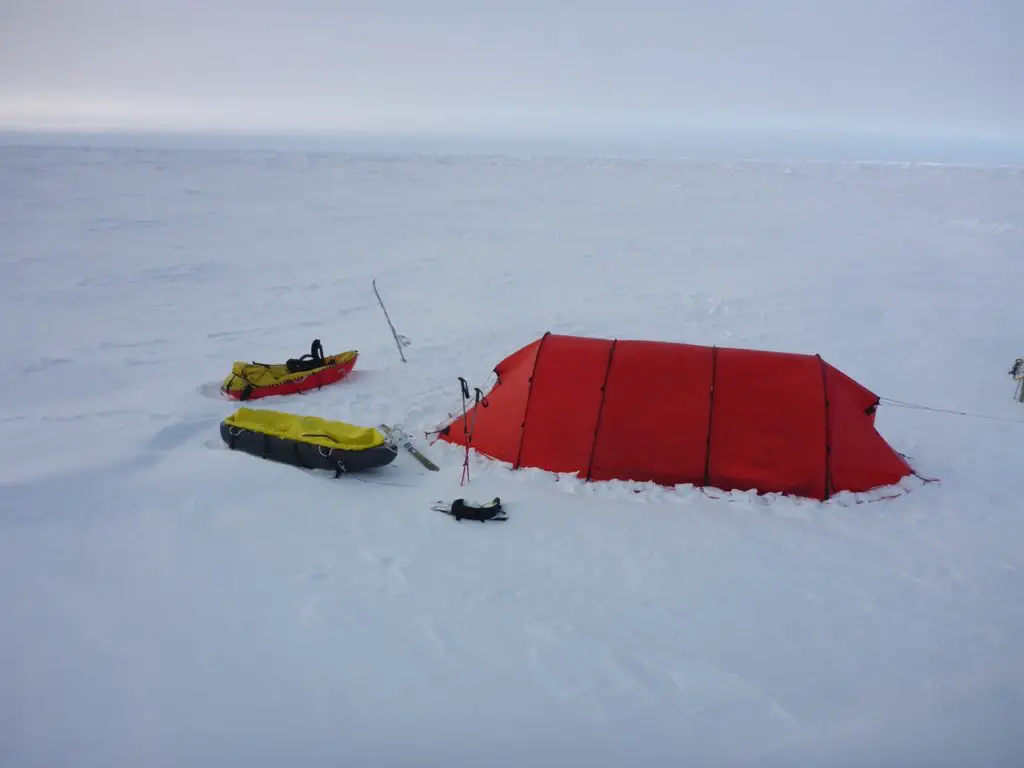 Are you looking for the best 2 – 3 person tent (check these)? One that can stand up to the fury of Mother Nature at her angriest? Then look no further – you have found the answer. Anyone who has heard the name Hilleberg will know that the tents they create are top-notch gear. The attention to detail and quality of build is phenomenal. This Hilleberg Keron 3 GT review will help you decide if this is the right decision for you.
I've owned various Hilleberg tents for the past four years. They've joined me them on many trips including a ski to the North Pole and quite a few long-distance UK hikes. I've also used some other tents, but none of them matches the GT for its performance in extreme environments.
Part of the Hilleberg Black label range, the Keron is, I am sad to say, now discontinued. But that doesn't mean you can't get hold of one.
Many outdoor stores still sell this model. They're also available on eBay and from outdoor gear exchange groups on Facebook. Before I go into this review all I can say is I recommend you consider buying one of these tents.
Okay, let's take a deep dive into the Keron 3 GT.
How Much Does The Keron 3 GT Weigh?
It's not the lightest tent you can buy, and it's not intended to be. But the Keron has been made to withstand some of the harshest environments on Earth. Hilleberg's tents are both rugged and resilient. As a consequence, the weight of the Keron is a little higher than your average two or three-person option.
Weighing in at 4.2 kg (9.3lbs) it's quite heavy. The weight you'll carry depends on the configurations and accessories you pack. It's possible to get the weight down to 3.4 kg (about 7.5lbs). Choosing smaller, lighter pegs and poles will drop as much as 0.5kg.
Leaving items such as the tent, pole and peg bags at home will further reduce the weight. Especially on a long trek, or expedition.
Using only the inner will further reduce the weight by about 3lbs.
Note: the Keron 3 GT inner makes a great single layer tent in warmer, dry climates. If you choose this option, you'll need to buy extra poles.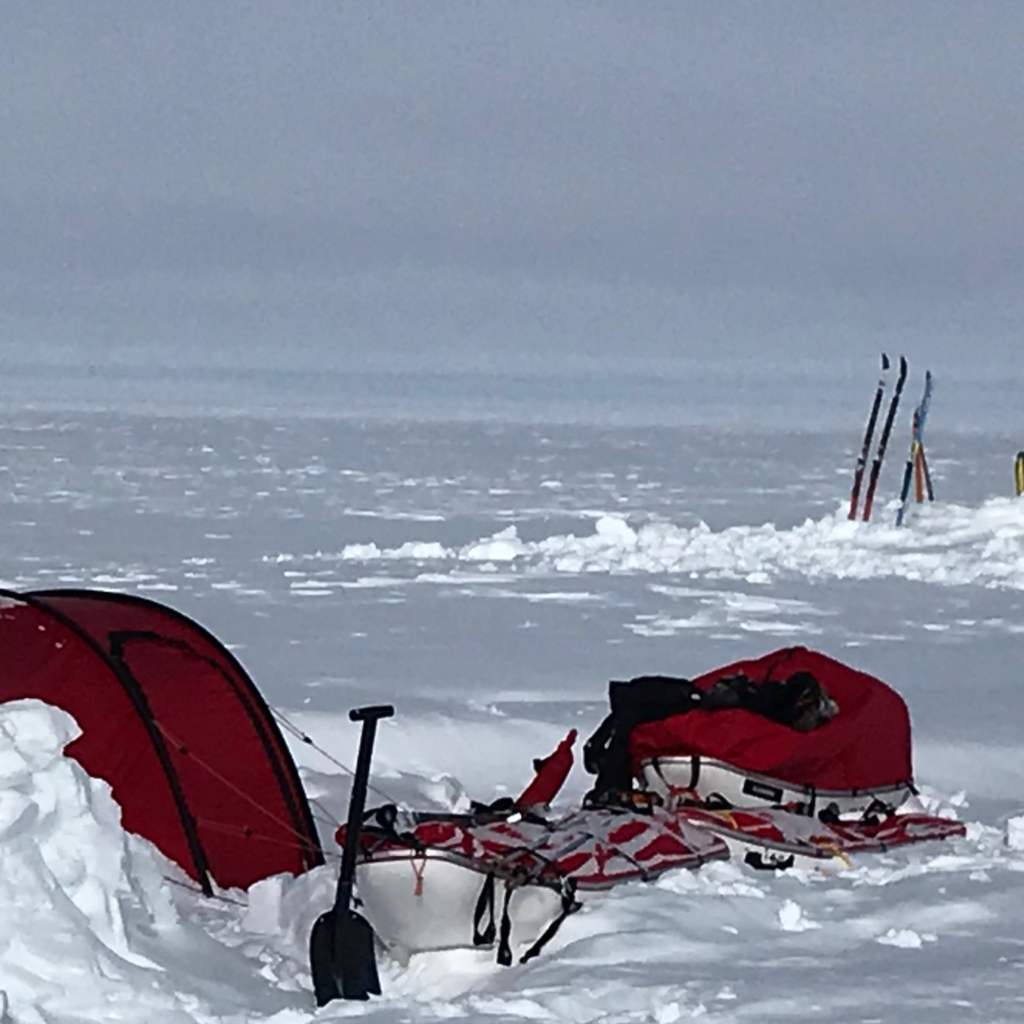 Construction Of The Keron 3 GT Outer
If you're looking for a really tough guy in the family of expedition tents, then you've found it!
The Keron 3 excels at standing up to what nature, and careless humans, can throw at it. Heavy duty nylon – Kerlon 1800 – used to construct the outer tent gives it a tear strength of 18kg (40lb). This means it's more than strong enough to resist a force 10 storm in which wind speed can exceed 65Mph (100Kph).
Note: Kerlon 2000, used in the Blue Label range, is the equivalent of having a portable nuclear shelter to hang out in!
The sleeves for the poles are also made from Kerlon 1800. Over the years my Keron 3 GT has taken a real battering. I've experienced snapped poles in Greenland courtesy of 120 mph. The outer had ripped and guy lines were broken. And it's still going strong. 
Webbing for each of the peg loops is heavy duty nylon. The loops, like the sleeves for the poles, are double stitched to the flysheet.
The guy lines are woven 3 mm Vectran & polyester. They are incredibly durable, don't absorb water and are resistant to stretching. Also, Hilleberg has created a rather clever tensioning system (aka line runners).
Note: if there are twists in your line runners the system doesn't work.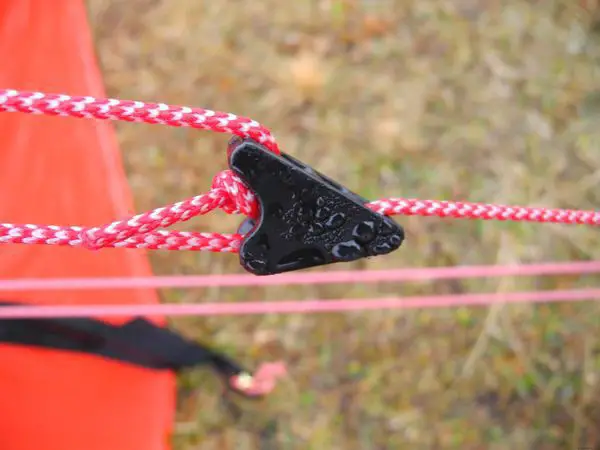 Hilleberg has thought about nigh on every scenario you will experience. I like their response to the question of ventilation and removing nasty 'hiking odours'. Two vents, one at either end of the tent (on the front and rear vestibules) allow air to flow through.
Made with two layers, each port fastens with a zipper. The vents angle down to prevent rain, wind and snow from getting into the tent. Wire loops maintain the shape and prevent them from collapsing in high winds.
The Keron 3 GT Inner Tent
The bathtub floor is hard wearing and, when cared for, completely waterproof. In the four years since I bought my current Keron 3 GT I've never experienced any water seepage.
TIP: Buy a footprint for your tent as it will help extend the life of the tent and cut down on condensation ingress. 
The tent inner connects to the outer using toggles and loops. Each toggle connects to a small strip of shock cord. This allows for flexibility and movement when the weather is battering your tent. Or when the 'tent rhino' thrashes around!
The inner is windproof and features a small see-through panel in the top half of each door. Both doors, front and rear, have mesh backed panels. Both panels have zippers which means they can be opened, independently of each other.
Closing both panels keeps the interior draft-free. For travel in warmer climates, the outer panel can be left open. The mesh panel can be zipped shut to act as an insect screen. 
One minor irritation I've discovered is that the zips can be quite sticky. In extremely cold climates the teeth of the zip can clog up with ice and snow making it difficult to operate.
Depending on your needs, extra enhancements can be made to the Hilleberg range of tents. If you're going to experience weather extremes, you have to find a way to keep the weather out.
In this case, you could ask Hilleberg to stitch valances to the bottom edges of the tent outer. Valances are skirts of material. When you set up camp, pile rocks, earth, snow, etc onto the valances. This will help will prevent gusts of wind from whipping between the flysheet and the inner.
At this juncture, and before we move on, I'd want to acknowledge that the GT model might not suit everyone's needs. For me, the large vestibule that differentiates the GT from the smaller and lighter Keron 3 is a must.
The extra space is useful for storing gear away from the harsh elements. It's also useful as a cooking area when the weather outside is too cold or wet. Whilst we're on the topic, here are a few tips to help you pick the best lightweight camping stove.
Note: always site the vestibule downwind. I made this mistake in Greenland and almost paid with my life.
Different sizes of poles are available from Keron. The most common of the options are 9mm and 10mm diameter poles. 9mm is suitable for anyone who wants to lighten the load AND will be hiking in a temperate environment.
Pole diameter is proportionate to the tent's ability to resist high winds. This is a key consideration for all your trips. If you're going to be travelling anywhere in which you can expect to experience wild weather then buy 10mm poles. They're not cheap, but they might mean the difference between life and death!
10 mm poles are my preferred option when embarking on extreme expeditions. 
You know, I haven't often come across a tent manufacturer that gets it right straight from the off. Sure, there are plenty of other companies that make robust tents. But Hilleberg seems to have got the construction right. The minor niggles, like the zips, are trivial when you consider the quality and strengths of the Keron 3 GT.
The Vestibule
The vestibule is the main selling point of the GT version of the Keron 3. For me, this component of the tent is invaluable. It's also a weak point in the construction – one that is susceptible to damage by strong winds.
Hilleberg always, always recommend that you site your tent so that the vestibule is downwind. You'll understand why reason will become very clear when you erect the tent.
Part of the tent's resilience comes from pole diameter and spacing when slotted into the sleeves. These factors give the tent give a certain amount of rigidity and strength.
Due to its design, the vestibule is weaker than the main body and you'll notice that in storms and high winds. If you don't site the vestibule downwind, it can distort and the poles snap in storm conditions.
Ease Of Construction 
This is an important consideration when choosing any tent. I've experienced a couple of emergency situations and managed to put the tent up in double fast time. Being able to build a very basic shelter out of your tent can mean the difference between life and death.
I'm not going to tell you how to put up a tent because that would be insulting. What I will do was make some recommendations based on personal experience:
1. Always travel with the inner fitted to the flysheet. This one simple step will massively reduce the time taken to erect the tent.
2. Always have our pegs fitted to the guy lines, even when packed away.
3. Leave the poles inserted into the sleeves, with about 2/3 of the pole length visible and folded down. When you collapse the tent, roll the poles up into the outer. Take a look at the image below to see what I mean:
4. Allows leaving the inner attached to the outer to save time when pitching.
5. When erecting the Keron, stake out the rear peg loops before you do anything else. This will help prevent the tent from being blown away in strong winds.
6. Secure all the guy lines. Properly. Heavy winds can damage or destroy your tent, especially if it's not tensioned.
Features And Functionality
Hilleberg's design team have created a robust tent that has a good size-to-weight ratio. 
The inner of the tent has a useful drying line (which is an extra request). There are also four storage pouches, one in each corner.
The double-skinned doors are useful in warm environments. They allow you to ventilate the tent whilst keeping out biting insects.
If you're travelling to warmer climates you can use the inner as a standalone tent.
Weather Resistance
By the time you feel that the Keron 3 GT has failed to protect you from the extremes of weather, you'll already be knee-deep in water. Or snow. Or blown away by a monstrous gust of wind.
Hilleberg tents will keep you dry in all but the very heaviest and prolonged rainfall. And the windproof Kerlon 1800 material will hold back those flesh-chilling winds.
As mentioned earlier, the bathtub is very effective at keeping you dry.
Comfort
Hilleberg designed this tent to fit three people. Which is fine if you don't mind stray elbows cracking the bridge of your nose during the night. Or having the nocturnal warblings of your tentmate's congested sinuses ringing in your ear!
My own experience of this tent suggests it is more suited to housing two people only. This allows more space for admin tasks and, in my opinion, is far more comfortable. What's more, with only two occupants there is no arguing about who gets the warm spot in the middle of the tent.
As this is a tunnel tent there is no room for standing. At best you'll find there is room for stooping only inside. If, like me, you're on the tall side get used to walking with a 'widow's hump'. Larger than many expedition tents, the Keron 3 is still only 106cm high.
Value For Money
This is a tough one. If you're after a tent suitable for temperate climates only then you should find a less expensive option. At around £1300 new ($2000), it's a pricey buy. This tent is for anyone whose heart races at thought of the most inhospitable places on the planet.
It's not cheap, but it is tough.
Conclusion
A tough tent for hikers and trekkers who want to explore the most extreme places on Earth. It's my favourite tent for two-man expeditions and, if Hilleberg still made this model, I'd buy it over and over again.
I hope this Hilleberg Keron 3 GT review has been useful. If you did then please share on social media, or link to this page. Thanks, see you all soon. Happy trails.