Gear Reviews
Keen Targhee iii Review: a waterproof mid boot for all seasons
Is the Keen Targhee III the best waterproof mid boot for hiking? Let's review them…
The Keen Targhee III mid hiking boot is the latest version in a number of iterations (three, to be exact… but you know this already) since the boot was first launched back in 2005 and each version has seen significant improvements over the previous model. Before we move into this review, the first point to note is the Targhee III is not a technical boot and whilst it can be used for short durations of scrambling over rugged, rocky ground or carrying heavy loads for short distances, it's more suited to day hiking and short multi-day hikes (2 – 3 is the limit).
Let's get into this review and find out why we think these are one of the best walking and hiking boots for your money.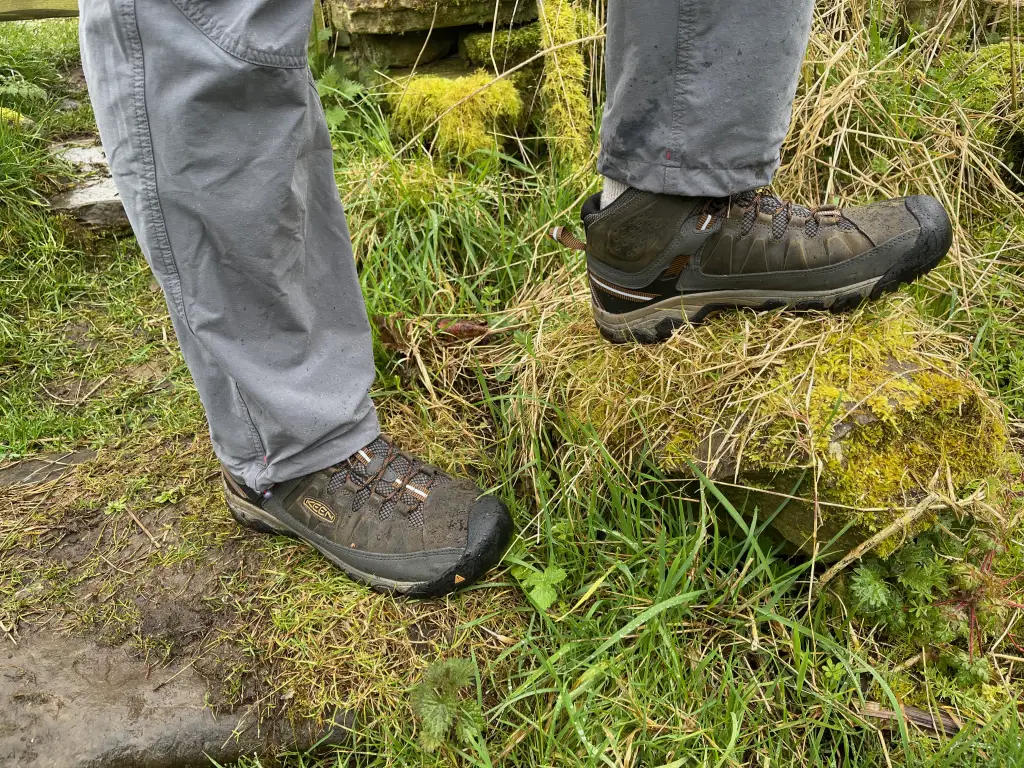 I love these boots. They have a plush comfortable ride straight out of the box, something I discovered during a 3 hiking trip in the north of England and the fit was near perfect and my feet didn't blister.
Quick view
| | |
| --- | --- |
| Weight | 2lbs 2oz |
| Comfort | Excellent fit, a little wider than standard in the toe box. |
| Traction | Good, but not suitable for technical terrain. |
| Waterproofing | Good. Internal 'bootie' made from Keen.Dry. |
| Durability | Little wear on soles after several long hikes on gravel trails. |
| Rating | It's a 'buy' from us. |
Comfort
One of the big plus points these boots have is the overall level of comfort, right out of the box which is a quality I appreciate as long periods of breaking in any kind of footwear is a dull and painful experience. One of the components that add to the comfort is the very plush insole found inside the boots – it simply feels like a quality addition and provides plenty of cushioning from jagged rocks and uneven ground. Top marks to Keen for adding this footbed.
The ankle cuffs are pretty dense and provide plenty of support without feeling restrictive, an issue I've found in some other boots.
We'll look at the toe box soon.
Looking at the Keen specifications you'd be forgiven for thinking these boots are designed for people with slim feet. Even those of you with fairy princess-like feet will find the Targhee and a roomy and accommodating boot – plenty of room for an extra layer of socks.
Construction and Performance
Fit
Keen has classed them as a slim boot, I'd say they are more of a wide-fit pair of hiking boots. Don't let this put you off – like many other wider-fitting boots, the Keen Targhee III can be worn over several pairs of socks to provide more cushioning and protection for your feet.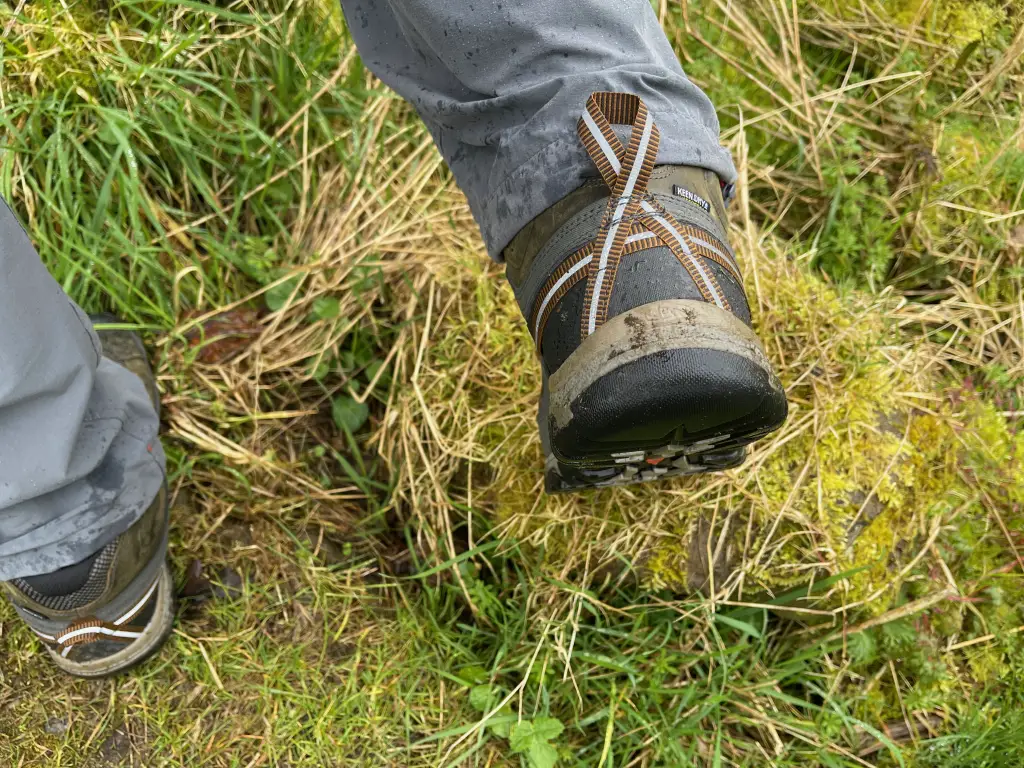 Toe box
As previously mentioned, the III is billed as a slim fit boot, but the toe box has plenty of room for all but the biggest of feet. If you have slender feet you may well find the toe box is far more generously proportioned than imagine. The only downside with a large toe box is, after a long period of time hiking, you might find the extra space and accompanying slippage uncomfortable.
Weight
The IIIs weigh in at a rather dainty 2 pounds 2 oz (1 kg) which puts them in the lightweight hiking boot category. To an ultra-lightweight hiker, this weight might seem excessive but Targhee III is a boot you can thrash around in all day long without feeling the inevitable fatigue that comes with lighter boots. What's more, they don't have that stiff, clunky feel found in heavier, activity specific boots. 
When compared to my all-time favourites, the Merrell Moab 2 (2 lbs 5 oz) they stack up well. Likewise, they compare favourably to the Salomon X Ultra 3 Mid GTX (£130/$165).
Traction/Grip
A number of companies have moved away from using Vibram and for some hikers, this was a loss. But, not in the case of the Targhee which features an outsole made from proprietary rubber that gives a high degree of traction of all but the most technical terrain. I scrambled over wet, mossy rock and up relatively steep slopes without noticing any slippage.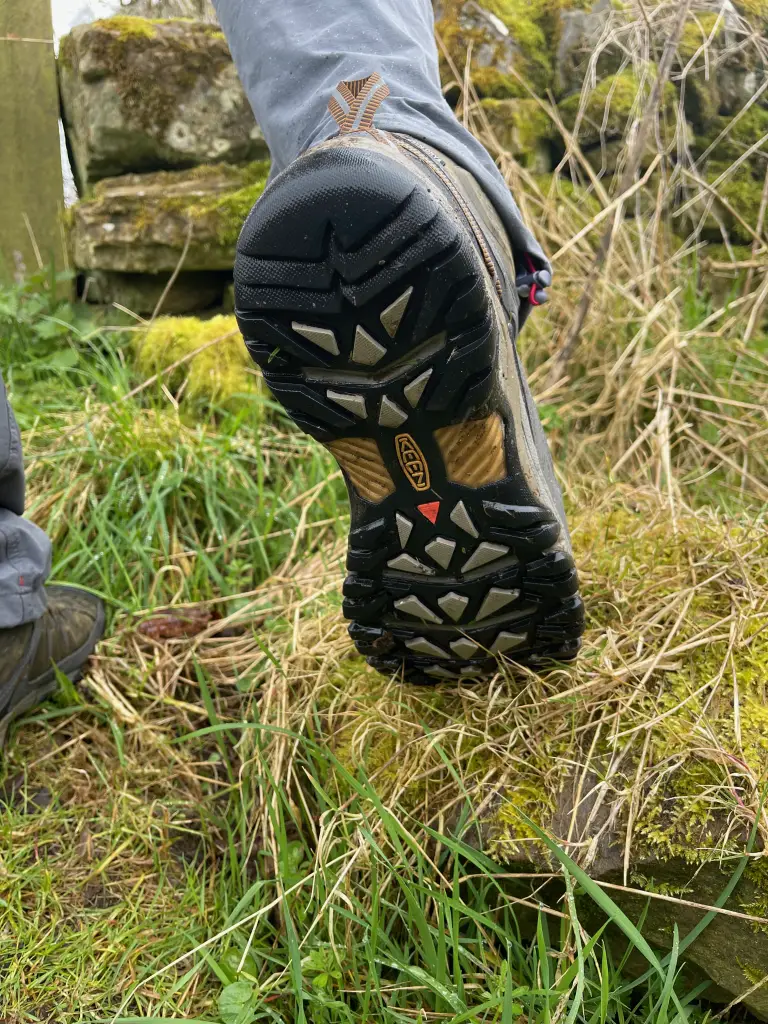 The lugs have been updated from the previous version of these boots – they're now multi-directional – and provide plenty of traction. They're also easy to easy and don't easily clog up with dirt and gravel which further improves grip on loose terrain and in wet conditions. 
But, as you've guessed, there are some minor negatives. Unlike some hiking boots, the Targhee doesn't have rigid cuffs and I did slip a few times but this was due to the lower level of ankle support that comes as a consequence of removing much of the unnecessary weight from the boot.
Putting aside that last, minor, point – use the Targhee III hiking boots on trails and non-technical terrain and you'll have almost no loss of traction.
Stability and Support
Support is adequate if you use these boots where they were designed to live, but they still lack that 'wow' factor that comes with boots such as Salomon X Ultra 4 GTX. If you used the Keen Targhee III on easy to moderate trails and terrain you won't have any issues with either the stability or support. Take them on heavy rucks, or up steep rocky trails and your ankles will not thank you.
Weather resistance/waterproofing
As you know, GORE-TEX is expensive and a number of outdoor gear manufacturers have created alternatives that, whilst not as water resistant as GORE-TEX, are far more affordable. Keen Dry (or Keen.Dry, I'm not quite sure) is a membrane fitted inside the boots and acts like a waterproof bootie. But how effective is it? I used the Keen Targhee III mid boots during a number of hikes during a very few weeks in early Feb and experienced no water ingress through the material. Yes, some water did lap over the top (the river was deeper than it looked…) but that's part of the joy of the hike.
The most obvious difference between the two materials is Keen's offering is less breathable and you experience damp feet on long hikes. This isn't an issue for me as I know these hiking boots are not only designed for shorter hikes, but they dry out fast.
Protection
The toe cap of the Keen Targhee III mid has a fairly heavy rubber strip that is more substantial than that found on my old favourites, the Merrell Moab 2 mid GTX. The cap also provides a greater range of protection as the cut of the rubber wraps over the tops of your toes and runs down to the base of your toes.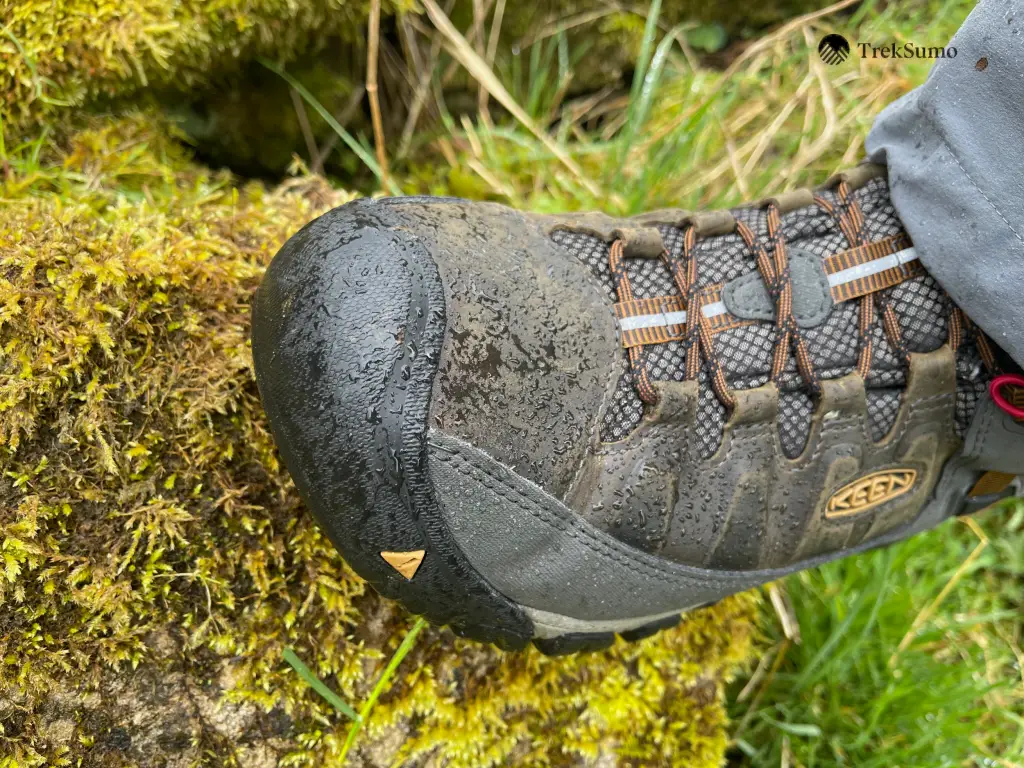 The ankle protection built into the Targhee III consists of a band of thick padding which wraps around your ankle when the boot is laced tight. During my first few hikes, there was a small amount of friction when the cuff sat against my ankle, but no hot spots formed and the rubbing soon eased off.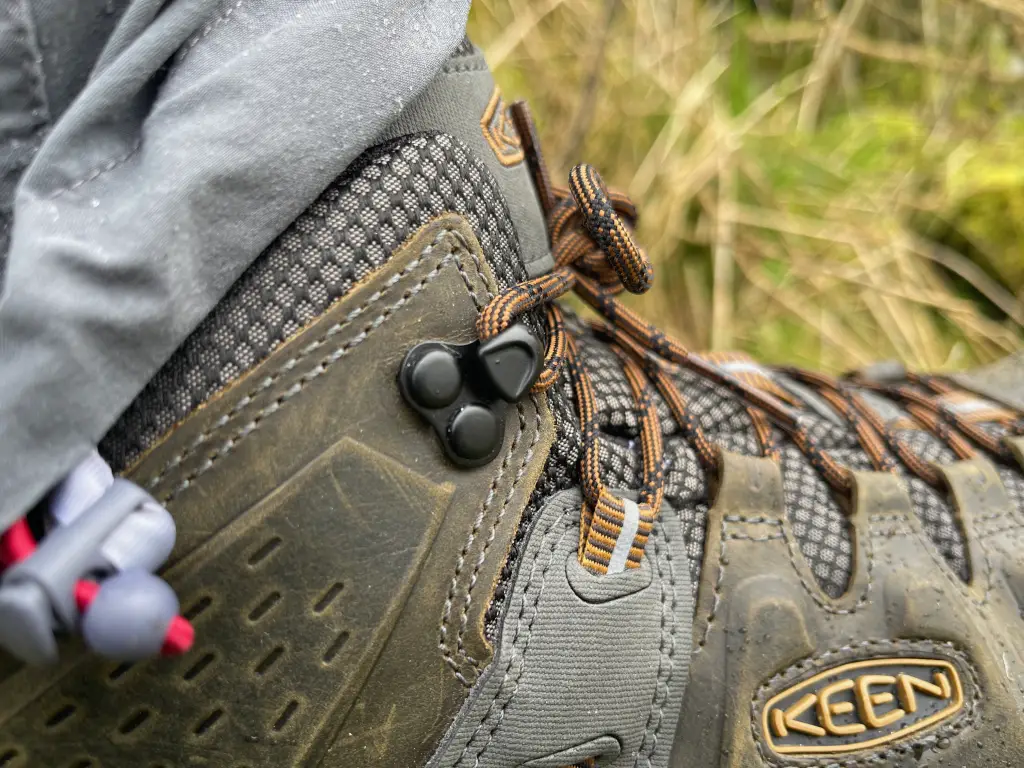 Materials
The IIIs are built with:
Upper: a combination of leather and mesh which helps to reduce the overall weight of the boot. All-leather boots tend to be heavier and take longer to break in. The lining is treated with Eco Anti-Odour to reduce the odours that rise up after a long, hot hike;
Waterproofing: a bootie made from Keen.Dry membrane is built into the Targhee III and the leather is treated with PFC-free DWR coating;
Midsole: is formed from EVA to make the boots light and well-cushioned.
Insole: made from a dense layer of PU, the insole is removable and provides good arch support.
Other waterproof hiking boots you should consider adding to your gear list
Other waterproof hiking boots Jake and I have reviewed and recommend include:
Merrell Moab 2 mid – for a long time this was my preferred hiking boot. In fact I used it for just about every imaginable outdoor activity. Sadly, my Moab 2s are now with the great cobbler in the sky, but I will be trying out the next version, the Moab 3 really soon.
Salomon X Ultra 3 Mid GTX – reviewed by Jake, these boots are lined with GORE-TEX, about 6 oz lighter and more breathable than the III and they're his go-to boots for long hikes although he does feel they offer less cushioning which can translate to aches and fatigue over long distance hikes.
FAQs:
Does Keen make Targhee hiking shoes?
Yes, Keen does make hiking shoes which, like the boot, are designed for trails and day hikes through to short multi-day hikes. The key difference between the boots and shoes – aka the Targhee low-top is the lack of full ankle support in the latter. They're also a little lighter than the boot, weighing in at 2.26 lbs.
If you're looking for a lighter version, the low-tops come with the option of doing away with Keen.Dry in favour of what is known as Vent. I've used shoes with similar materials and they're not as waterproof as even proprietary membranes and three-layer systems. The only real advantage I can see in the Vent models is the price difference which is about £10/$10 less than shoes with a Keen.Dry lining.
What's the difference between Targhee 2 and 3?
The Targhee II has a wider fit than the III and the sole is stiffer. Hikers with wider feet tend to find the Targhee II the more comfortable of the boots.
Are Targhee III waterproof?
Yes, the Targhee III is waterproof. The material used to create the water-resistant membrane is Keen Dry, a similar material to GORE-TEX albeit less breathable.
Is Keen Targhee true to size?
Most hikers agree the Keen Targhee is true to size even though they're marketed as a slim fit. But the toe box is a little wider than that found on other boots and this is an important consideration you need to factor in when choosing these boots.
Free flow thoughts on the Keen Targhee III mid hiking boots
Where to start? Well, the Keen Targhee III is a comfortable hiking boot, comfortable and robust enough for multi-day hikes and with a good degree of water resistance (the latter thanks to Keen Dry), both of which are plus points. Rarely do I come across a pair to boots that can be pulled out of the box, slipped onto my feet and not cause blisters or fatigue on a 20 mile hike, one-day hike, but the Keen Targhee III delivers exactly this.
Keen Dry, whilst not the most breathable of materials does a superb job of keeping water out but you may find your feet getting a little sweaty on longer, harder hikes. But that's a fair trade-off when you consider how much more expensive GORE-TEX boots are when compared to own-brand breathable membranes.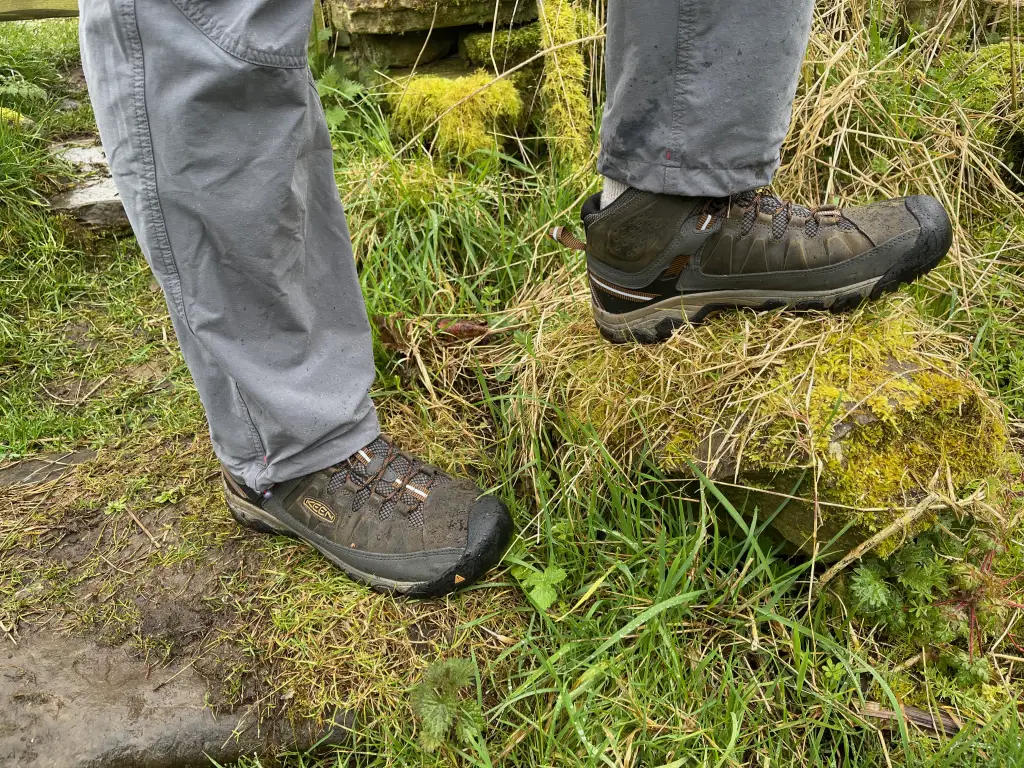 Personally, I like Keen's approach taken with the Targhee lineup of mid hiking boots. Sure, the early models left a little to be desired but they were, and still are, a great addition to your hiking gear list.
I'm a convert to Keen. For many years, my go-to boot was the Merrel Moab 2 which survived thousands of miles of hiking, including a 400 mile winter run/hike/ski over the frozen surface of Lake Baikal in temperatures hovering around -18C. And not once were my feet cold, which is pretty impressive. I'm looking forward to trying out my Keen Targhee III boots in the same location when life settles down again.
One question we've noticed on a few forums is this: are the Targhee IIIs suitable for backpacking? Well, that all depends. As I mentioned earlier, these boots are pretty lightweight and you're not likely to experience much, if any, fatigue from wearing them for long periods but if you're carrying a heavy backpack there is a low risk of minor ankle strain. That said, keep your backpacking weight light, the daily distances moderate and remain off difficult terrain and you should be fine.
Buy the Targhee III if:
you loved the Targhee II and want another well-built and comfortable boot you can pull on right out of the box and you don't want to break them in;
Solid build, rugged and, well, a pretty good-looking pair of boots;
keeping the price down is important to you – at £130/$150 these boots are definitely at the lower end of the price scale when you consider the quality and build. If you're in the UK, check out Go Outdoors and Ultimate Outdoors, as they often have deals on these boots with prices as low as £85.
Don't buy the Targhee III if:
your hikes take on you onto very rough or technical terrain and the overall stability may result in injuries;
you wear slim fitting boots as, unless you wear at least two pairs of socks, you may experience slippage;
you need a truly waterproof that keeps your feet dry and vents well. Whilst the Keen Targhee III boots are highly water resistant the Keen.Dry ventilation is not as efficient as GORE-TEX.
Name
Forest Night Evening Primrose
Name
Forest Night Evening Primrose