Gear Reviews
Halite Overbag Pro review: an effective overbag?
The complete Halite Overbag Pro review
Overbags are a great addition to your packing list. If you're heading into extreme cold regisions they give you extra precisous degrees of warmth. Used in temperates climates, they can act a standalone, which means you don't need to buy a full price sleeping bag.
Halite are a Norwegian company whose expertise has spread across the globe. Notable contenders for the crown of 'Overbag Emperors' inlcude:
Coccoon over bag. Lighter and cheaper than the Halite Pro, it apparently adds an extra 14C to the rating of any sleeping bag. But I'm not convinced!
Big Agnes Farrington. A reasonably priced overbag that is pretty basic. The extra 7C it adds to your sleeping rating isn't enough if you're heading into extreme cold environments.
PHDs thinsulate overbag, an exceptional piece of gear with an exceptional price tag of $595/£471. I'd consider this as an option if I was uber-rich (I'm not, yet!). The only quibble I have is that it adds just 10C to you rated sleeping system, which isn't great when you consider the hefty price tag.
Okay, let's do this review!
Overview
The halite Pro is a lightweight overbag that adds an extra 14C to any sleeping system. Lightweight and packable, it's the perfect additional layer of protection on very cold nights.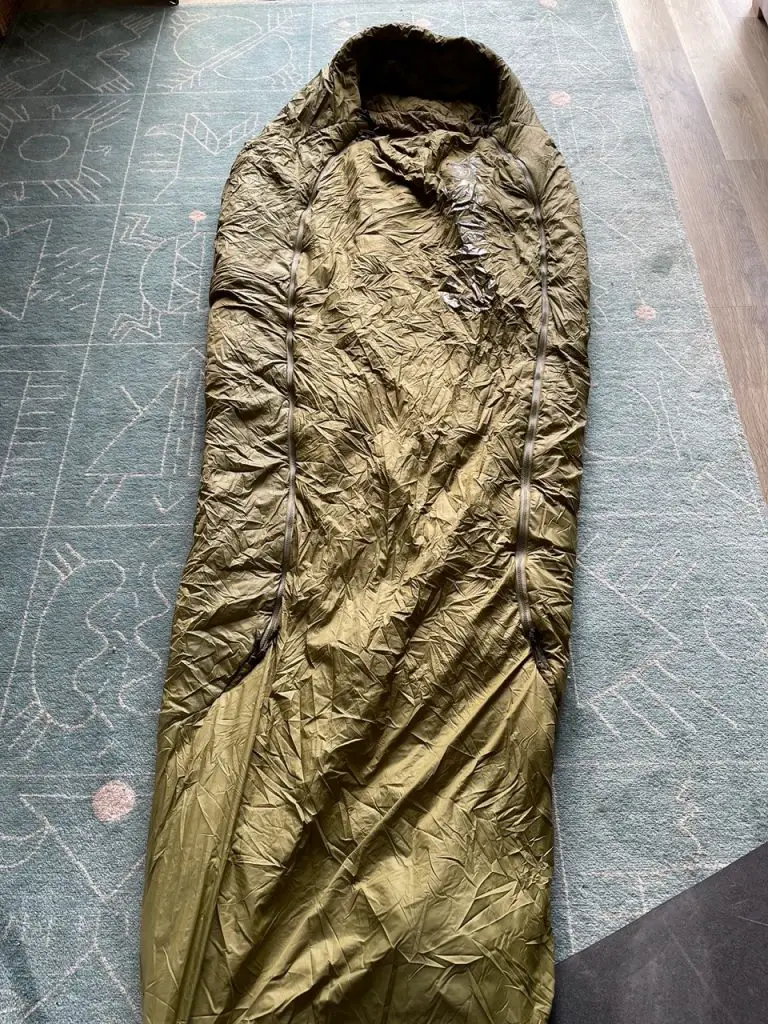 Halite's intention was to create an extra layer for 3-season sleeping bags used in extreme cold weather. And they have done a supreme job (more on that soon…)
As I touched on a short time ago, this overbag makes a great alternative to a sleeping bag as it provides a good degree of protection even when the weather is extremely cold.
Construction and insulation
The first point to note about the Halite Pro's construction is it's a very spacious bag, as you'd expect. And even when you slot a bulky sleeping bag like the Mountain Equipment Redline inside, there's still room for movement. If you're worried this extra space leaves room for cold air to ingress, don't! Once you're zipped in and and pull the hood drawcords tight you'll be snug as a bug.
The angled foot box is a nice touch. There's nothing more uncomfortable than having your feet forced into the 'coffin position' when you're in your sleeping bag. By adding a 60° angle to the bottom of the Pro, Halite provided room for movement and a more comfortable sleeping position.
What about the hood? If you look at the details on the Halite site you'll notice this description: 'Anatomical shaped adjustable hood'. For me, this is irrelevant. As long as there's room for my giant cranuim I'm happy.
And there is!
The hood is super-spacious and comes with a nice extra touch: a pillow sleeve! Yep, one of the key luxuries of home whilst on the trail. It almost feels too homely!
Packed into this over bag is a double layer of Climashield APEX in the top and hood, and a single layered panel of Climashield® APEX to base. But what does that really mean? It's an amazingly warm extra layer.
Used as a standalone, the Halite Pro is rated to a maximum and very chilly -11C! For me, this makes it an excellent alternative to a lightweight sleeping bag.
Materials
Like any good mid to high-end piece of outdoor gear, this over bag is made with quality materials.
The outer shell uses Pertex Quantum, 47 g/m2, 30D Nylon;
The fill is Climashield® APEX with Aquaban® DWR technology;
The inner lining is formed using Pertex® Quantum, 43 g/m2, 30D Nylon;
And the zipper is a coarse YKK #8 Vislon 1-Way, 142cm on both sides.
Right now you're probably looking at that list and thinking, 'What does any of that even mean?'
A lot.
What you get for a moderate amount of your money is a super-warm warm over bag guaranteed to keep you warm in cold temperatures. The outer shell is water resistant so even if you punch a hole in your tent, or your tarp blows away in a storm you'll stay warm and dry. And the two huge zippers are pretty much full length making getting in and out from either side, or doubling up layers with your sleeping bag, easy.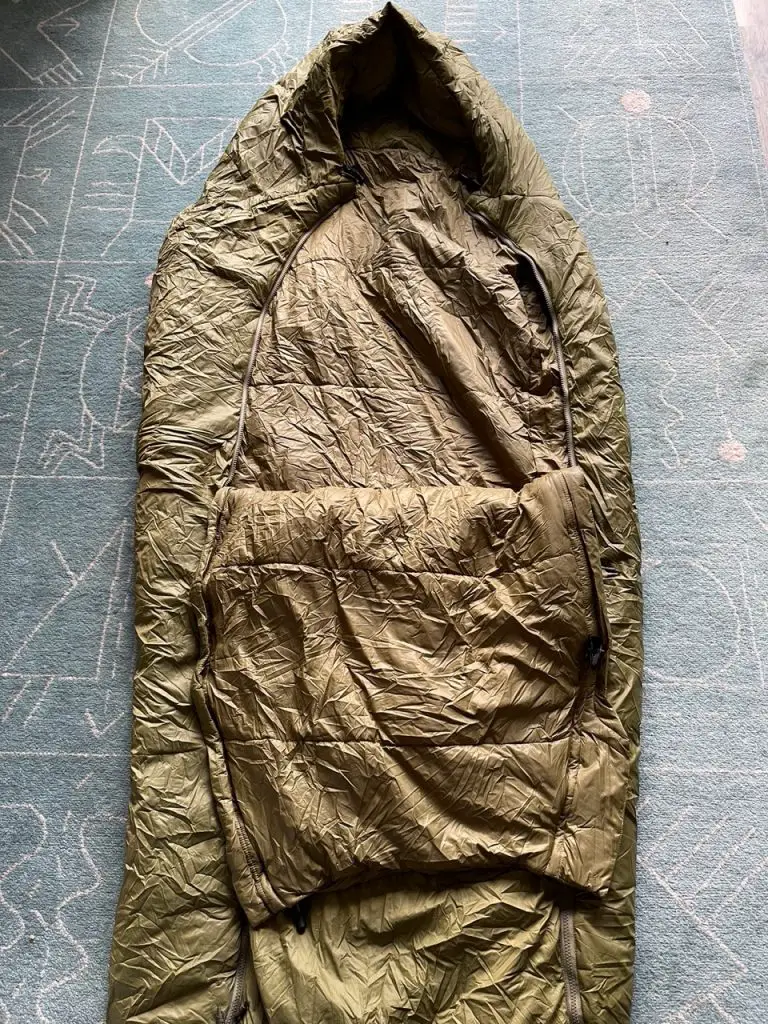 The APEX fill is an interesting addition. Like hydrophobic down, this DWR synthetic fill repels mositure rather than absorbing it. And it's this aspect that makes the Halite a viable alternative to a full sleeping bag as it does a great job of moving sweat and moisture away from your body, venting into the night (which sounds rather poetic, don't you think?)
For so many years, an over bag was nothing more than a layer of insulation, and you left hydrophobic qualities out of the equation. So Halite solved the issue. Nice touch!
Ultra lightweight hikers eyeing up the Halite are probably wondering, 'How packable is this over bag?' It packs down super small: 19cm x 26cm.
Let's put that into perspective… here's my foot photographed alongside my Halite Pro: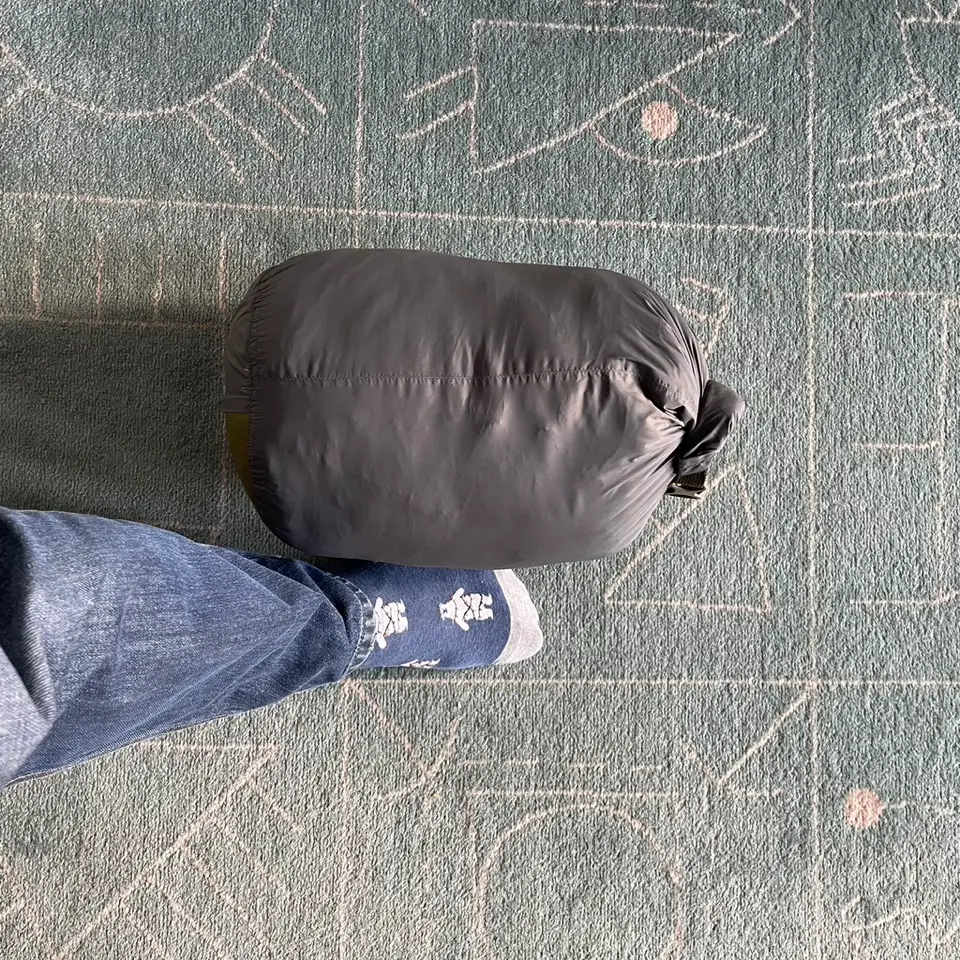 Weather resistance
Cool, so now you know the fill is hydrophobic and the Pertex shell claims to be weather resistant, but how effective is it at keeping the weather at bay? Well, the Halite Pro is near the top of the water resitant tree (as it should be – ex-Special Forces soldiers own and design Halite gear.)
Now let's do a quick waterproofing test: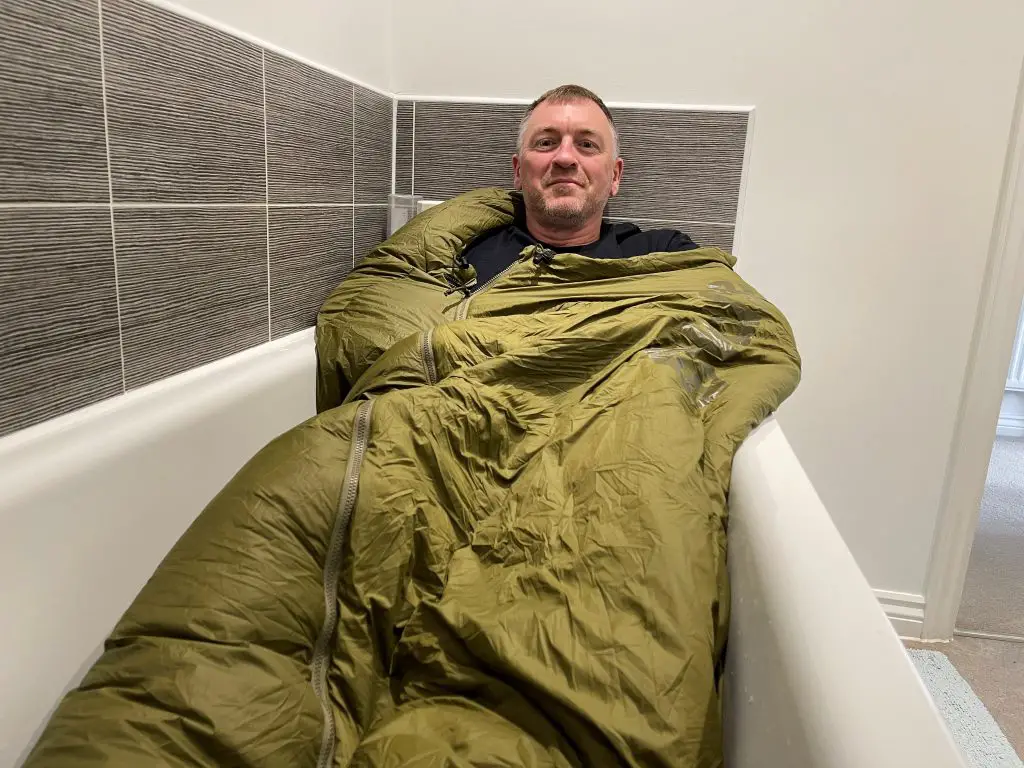 Yes, that's me wrapped in the over bag and sat in the bath!
How wet did I get? Just a little, and that was after I sat there for a full 15 minutes.
And here's a shot of my buttocks after the test period elapsed: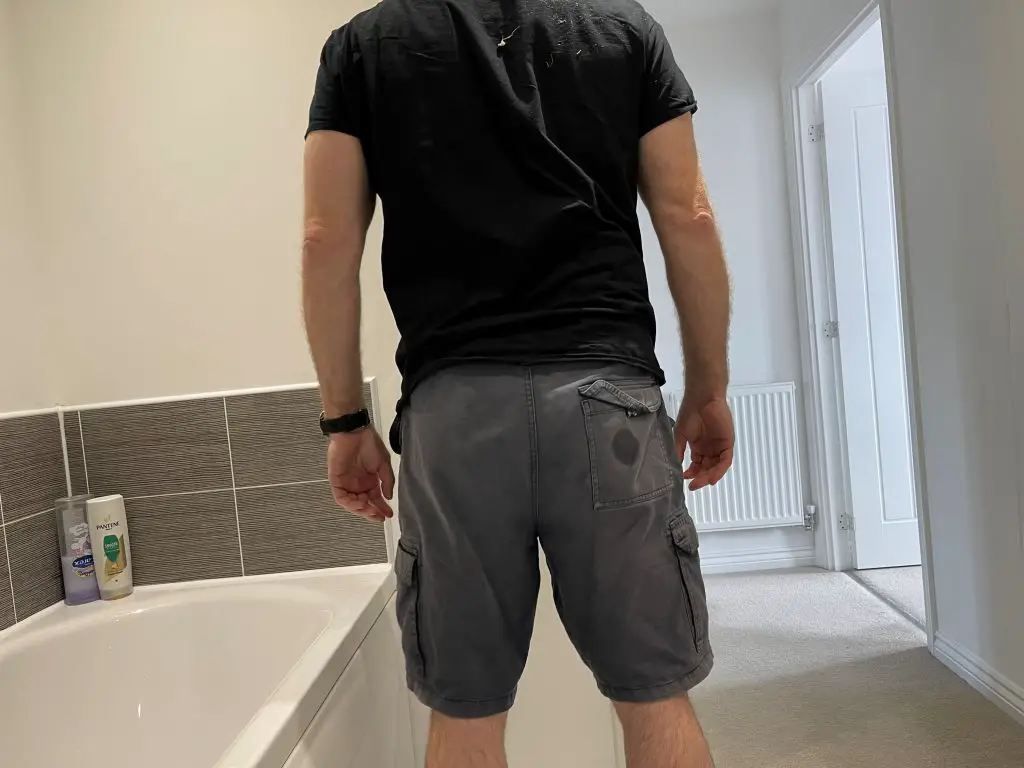 And the outside of the bag:
Not quite as dry as the Sahara Desert, but I'm happy!
Some moisture did ingress into the bag, but this wasn't really a fair test as the water was about 8 inches deep. Looking at the image of the water pooling on the shell rather than being absorbed, it's fair to say this bag has what it takes to stand up to torrential downpour, and keep you dry.
Temperature rating
Like a sleeping bag, the Halite Pro has a temperature rating ranging for 7°C (comfort) to -11°C (extreme). What this means is it will keep you snug and warm in spring conditions where temperatures hover above 0°C.
I've recently used this over bag on a wild camp where the thermometer dropped to 5C and the bag kept me warm all night!
Halite Pro features
Used on its own, the generous sizing makes it a great ventilated choice for a goodnight's sleep in warmer climates or as a standalone shelter on shorter, warmer trips.
The other major benefit is and overbag protects the innerbag from moisture and condensation.
Shaped to fit over expedition down sleeping bags;
2 long ¾ length zips on each side with 3 zip-pullers to allow for venting if you get a little too warm in the night;
Wide & angled foot box for extended comfort;
Side wrap construction with zippers on top to prevent heat loss and cold spots through zipper on innerbag;
Drawcord adjusters on the hood;
Sleeve inside hood for pillow insert for that home from home vibe;
Oversized stuffsack for smooth stuffing in the field;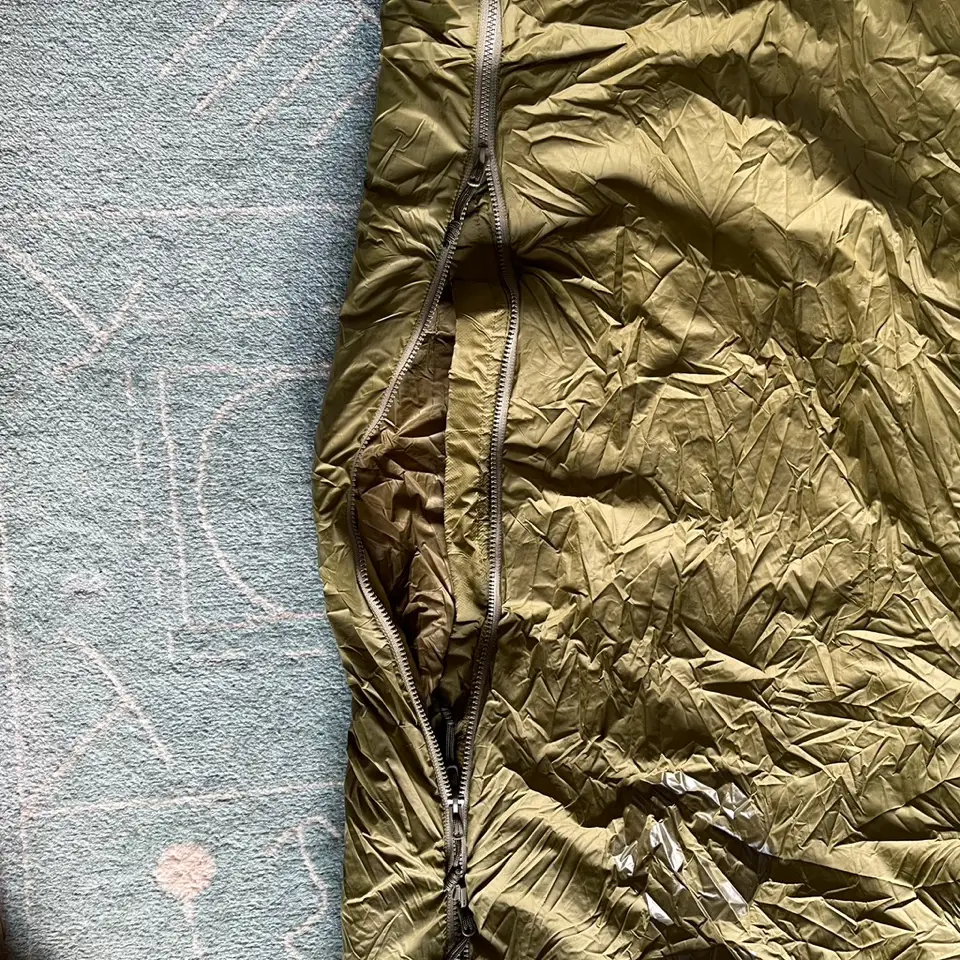 Pricing
As you've probably realyd guessed, teh Halite Pro is not a cheap option for anyone considering, or needing to buy an over bag that is both waterproof and warm.
Current price for this version is $319/£260.
It's not eyewatering, but it's definitely an investment you need to consider. Before dashing out to buy one of these over bags, or not, ask yourself these questions:
do I need an over bag?
what temperatures will I be sleeping in?
do I want an over bag that can double up as a lightweight, but incredidly warm sleeping bag that works well in cold temperatures?
are there competiting products that can match the Halite Pro's perfomance, but with a lower price tag? (I've done the research – it's a 'no'!)
The Halite Overbag Pro review: a fast and furious summary
it's light and packs down small which leaves more room for expedition and hiking essentials in your rucksack, or pulka.
the weaterproofing is excellent – as near waterproof as you can get without sleeping inside a plastic bag. Don't try this – it's not fun and you'll reek after a few days!
I've used this bag as a standalone on cold nights in the UK and it kept me toasty warm and snug.
the generous cut give plenty of room for even the largest, bulkiest sleeping bag to slot inside. And still have room for movement.
finally, I'm picky about the gear I take on my trips and, to be honest, the build quality of this bag is exceptional. I have a feeling it will be many years before it starts to wear out, or lose thermal efficiency.