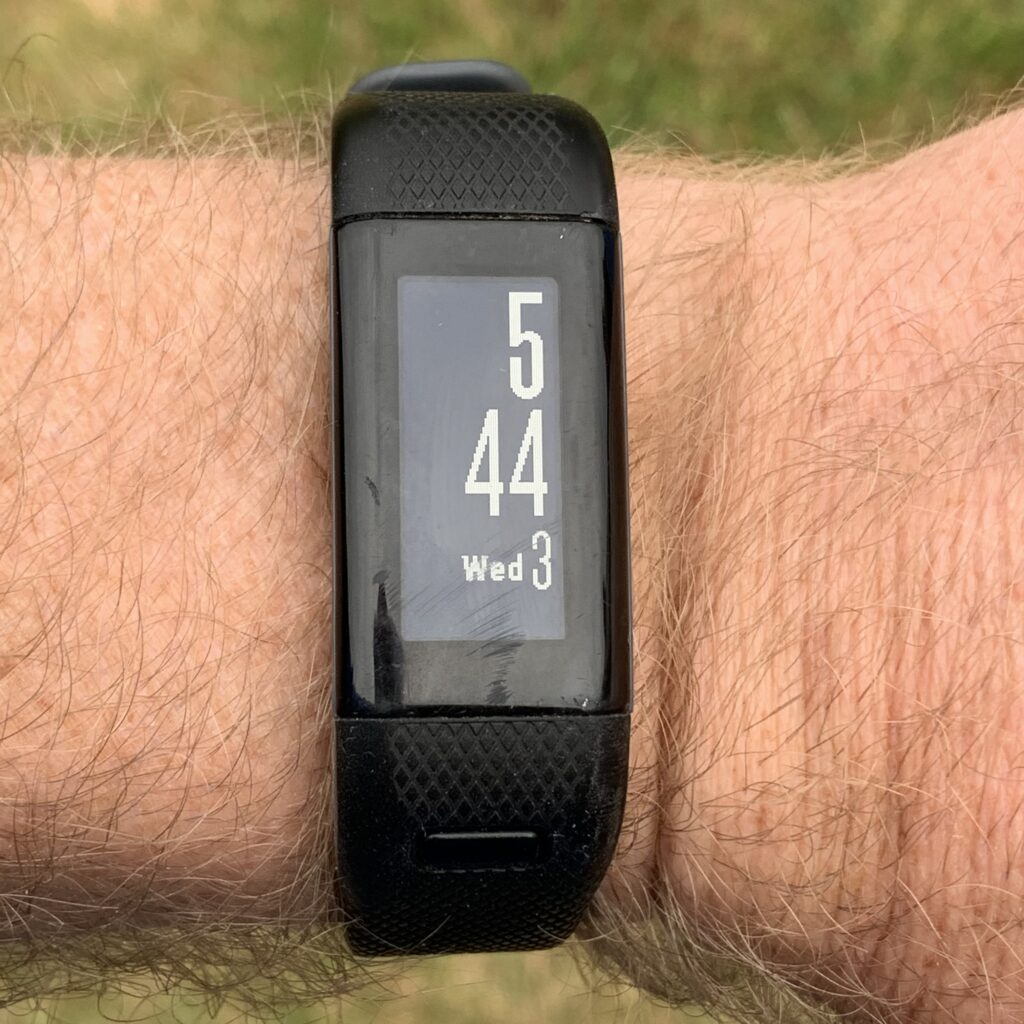 General: a small, but very capable sports watch. Rugged and reliable, the Garmin Vivosmart HR+ is a great option for outdoor enthusiasts looking for a relatively low cost GPS-enabled fitness tracker that's ideal for more than just hiking or running.
The Vivosmart HR+: General Information
One of a long line of capable devices, the Vivosmart HR+ has been around for a few years now. That's because it works and it works well. When it comes to buying a low cost fitness tracker or hiking/running watch it's worth pausing to look this one over.
I have to admit to really liking the HR+: the GPS tracking is great and there are plenty of applications that just work with it out of the box (more on those points in a while). And the price point is a good one – right now you can pick one up for about $100/£100.
When it first launched back in 2016, the Vivosmart HR+ was relatively expensive. Over time the price has dropped to a point that it's an easy purchase decision.
Okay, let's get into the heart of this Garmin Vivosmart HR+ review…
The Big Vivosmart HR + Review: From The Trenches
Garmin have designed this watch to be incredibly simple. Made from a combination of heavy duty plastic and silicon, the case is rugged like no other watch I've used. I've owned this watch for about 2 1/2 years now and over time it's taken some serious knocks, none of which have compromised the integrity of the case.
Compared to some more modern smart watches, such as the Fenix 5, the Vivosmart HR+ is fairly chunky. The body is approximately 15mm high with a relatively narrow body of 21mm. I have to admit that when I first strapped this watch to my wrist it did look a little bit out of place, but over time I got used to it.
The watch strap comes in three different sizes: small, medium and large. The table below shows the recommended sizing for your wrist size.
Wrist Diameter
Medium 136 – 192mm
Large 180 – 224mm
Whilst we're on the topic of the wrist strap I have to say it's one of the most durable I've ever come across. Over the years I've owned a number of activity trackers and some of the best hiking watches money can buy and have found that the strap is normally the first thing to break. Now 2 1/2 years on and having been on some pretty epic journeys such as crossing Greenland and running up Lake Baikal, Russia, the original strap it is still fitted and going strong.
The display, although small and monochrome, is easy to use and see. For some people the minimalist approach might be a little bit too, well, minimal, but for me the Garmin Vivosmart HR+ encapsulates what it truly means to be simple yet highly effective. There are a couple of settings that can be customised to suit your individual needs but for the most part the watch display is not configurable.
Personally I don't find this a big issue. Having used a Garmin Fenix 5 for a number of journeys I found myself spending more time trying to configure the watch than actually getting out into the outdoors!
So let's take a step into the display and look at the Vivosmart HR+ menu system.
Vivosmart HR + Display and Menu: Beautifully Simple and Easy to Use
Take a look at the image below: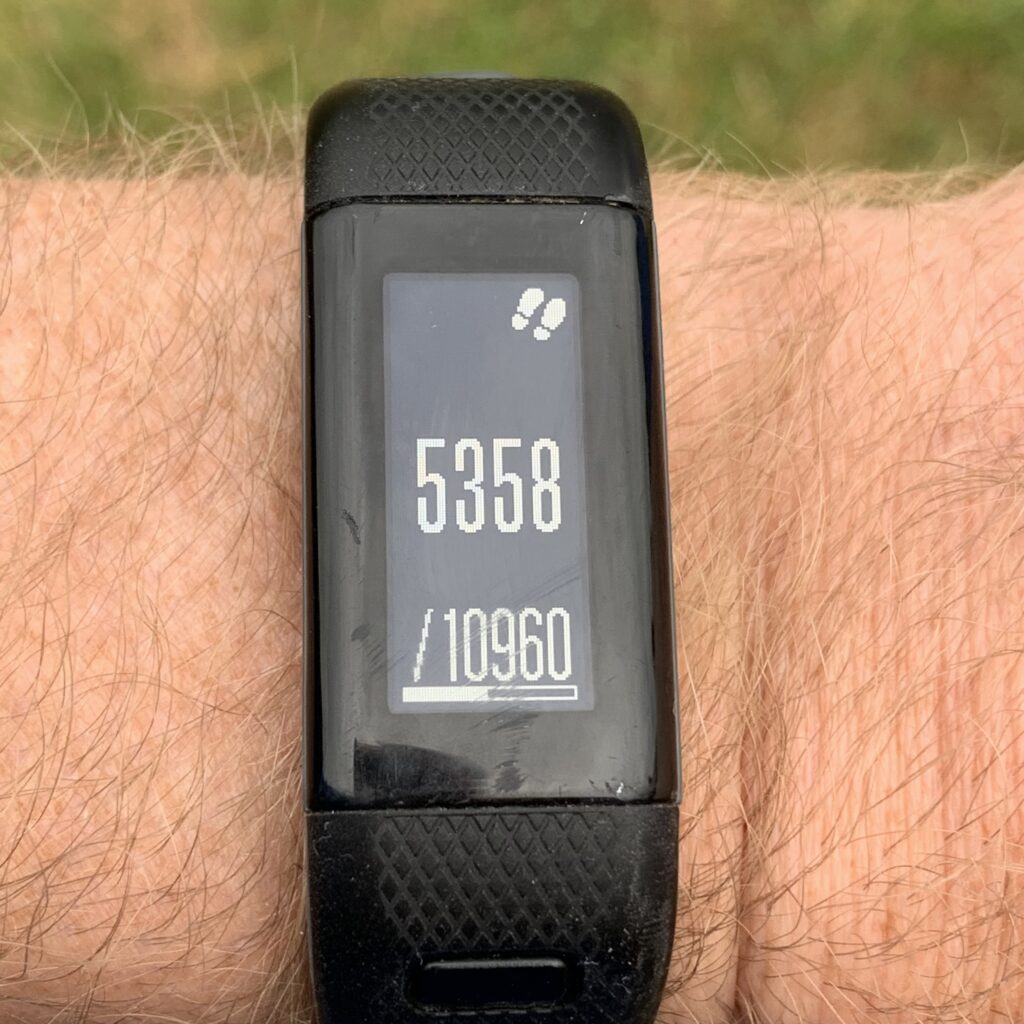 Is there not beauty in the simplicity of the design and layout? Okay, maybe I'm being a little too generous, but you have to admit that the Vivosmart's display lacks the clutter found on some higher end hiking watches.
All the basic information you need is available: time and date are visible when not running in activity mode. When sports mode is enabled the display shows you various stats (heart rate, mileage, speed, etc)
Even though the default setting makes the display easy to read in bright and low light, you can still adjust the backlight to meet your personal preferences.
To be honest, it's hard to get confused by the display and it's one aspect of the watch I really like.
Durability
Like early man's desire to explore, this watch is highly durable! In fact, I'm sure our distant ancestors would appreciate what the tech could do for their meanders across the surface of our beautiful planet. Let's get back on topic.
Rolling With The Hard Knocks
The silicon coating adds some shock resistance to the watch. As you can see in the image below, mine has taken a number of hard knocks over the years, with the rubber-like jacket protecting the tiny, beating electronic heart from severe damage.
Underneath the silicon shell is a hardened plastic body. I couldn't find the exact material Garmin have used in the manufacturer process. So, given my comments above, it's fair to say they've used some form of hardy, shock-resistant material.
It's a tough watch!
How Tough Is the Display?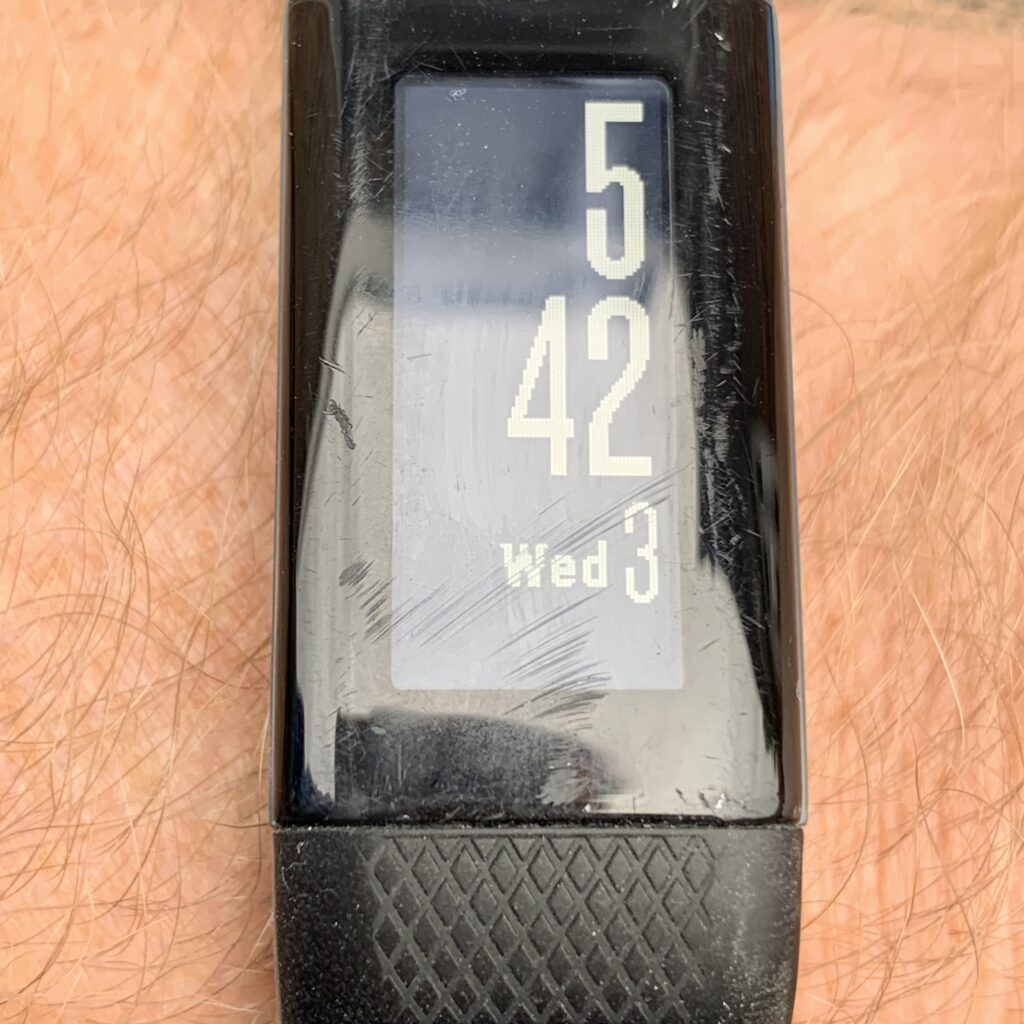 Made from thick acrylic, it's super-tough!
Can you see what appears to be a little scuff on the screen of my watch? The impact that caused the damage was far from 'minor'. On the last leg of a 600km ski across Greenland, my team needed to descend through some tough terrain in order to reach our designated pick up point.
During the descent – on a route that took us through jagged outcrops of ancient volcanic rock – I stumbled, fell then rolled down a steep incline. A particularly large rock put a jarring stop to my circus acrobatics. My left arm flailed and connected with the rock, sending pain lancing up my forearm.
The feeling of 'blimey, that's rather painful' was accompanied by the impact of watch against what was once molten magma spewed from Mother Earth's fiery heart. I feared for my watch.
Imagine my surprise when I looked down and saw only a small scratch on the display.
Battery Life
With GPS Running
As you can imagine, the GPS is the biggest power hog built into this watch. The Vivosmart specifications page of Garmin's website states that you'll get up to 8 hours battery life when the GPS is switched on. Over the course of the past couple of years I've used this watch a lot and I can say the figure is accurate.
One point to note: my Vivosmart HR+ is nearing its third birthday and there seems to be little, if any deterioration in battery life. That's pretty impressive.
No GPS
But what about when the GPS is switched off?
If I'm lucky, it'll keep going for a maximum of 4 days, which is pretty good considering it's now nearly 3 years old. When the GPS is switched off the watch continues to track your daily steps, although the power drain in minimal
Although 4 days might not seem like a big deal, it's pretty good when you consider only high-end watches give more, but at big ticket prices (cough Fenix).
How Does Temperature Affect The Vivosmart HR+?
How does a battery life of 3 days in temperatures as low as -16C sound?! After the GPS, the next biggest drain on battery life is the cold. Left exposed to the elements, the Vivosmart battery will drain faster than if covered up.
When you switch off the GPS the watch continues to track your daily steps, but the draw on power is minimal. For optimal performance in the extreme cold I recommend you use your shell and base layers to insulate the watch.
In terms of general functioning, the cold weather I've experienced had little to no impact on the watch.
The only failure I've seen caused by extreme temperatures was when the strap retaining band went brittle in the cold, then snapped. But I repaired it…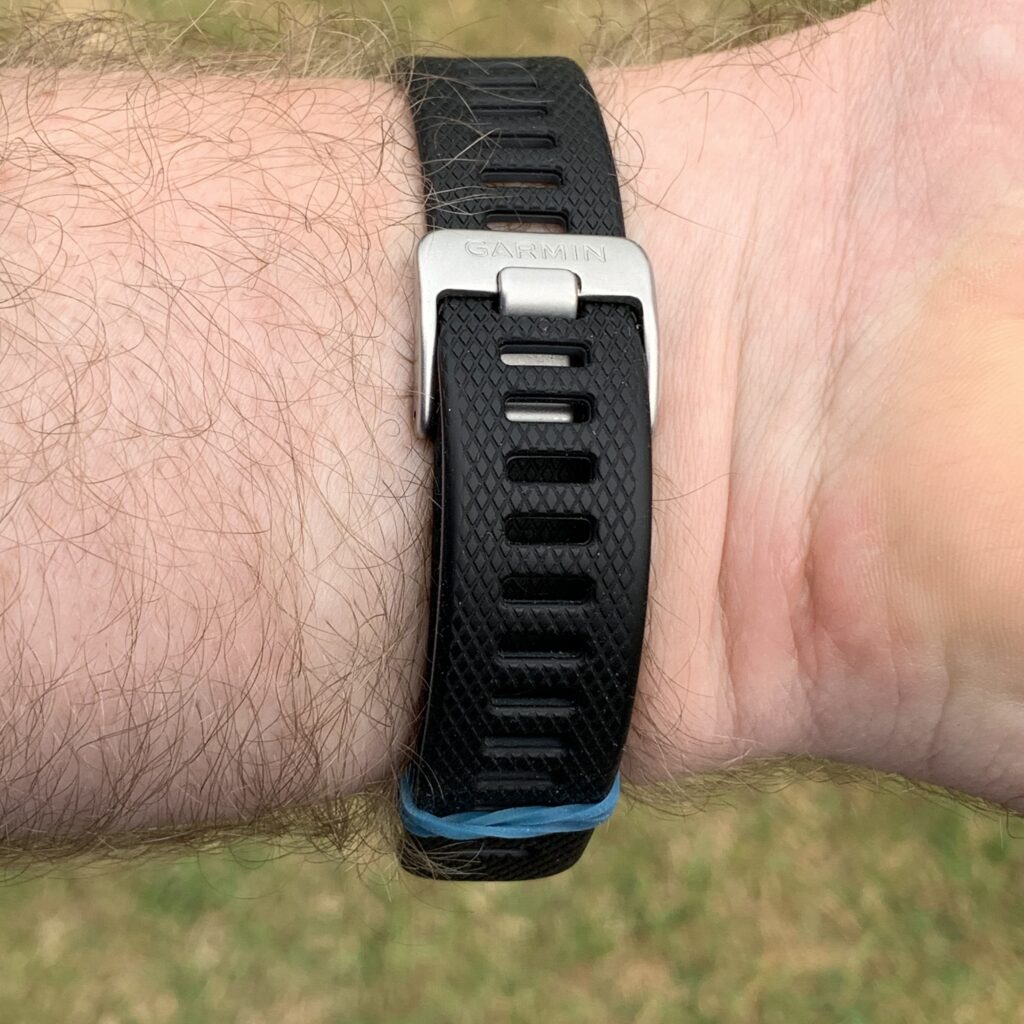 Application Integration
This sports watch is supported by plenty of applications. For the best results in terms of collecting and displaying routes, health stats, etc I prefer to use Garmin's own products. In fact, many of the smartphone apps that work with the Vivosmart HR + do so by connecting to Garmin Connect and pulling data.
Here are a few thoughts on what I consider to be the best two apps to integrate with this watch.
Garmin Connect
The easiest way to visualise Garmin Connect is to think 'Strava' without the social features. Alternatively, you could just look at the image below to get an idea of the features.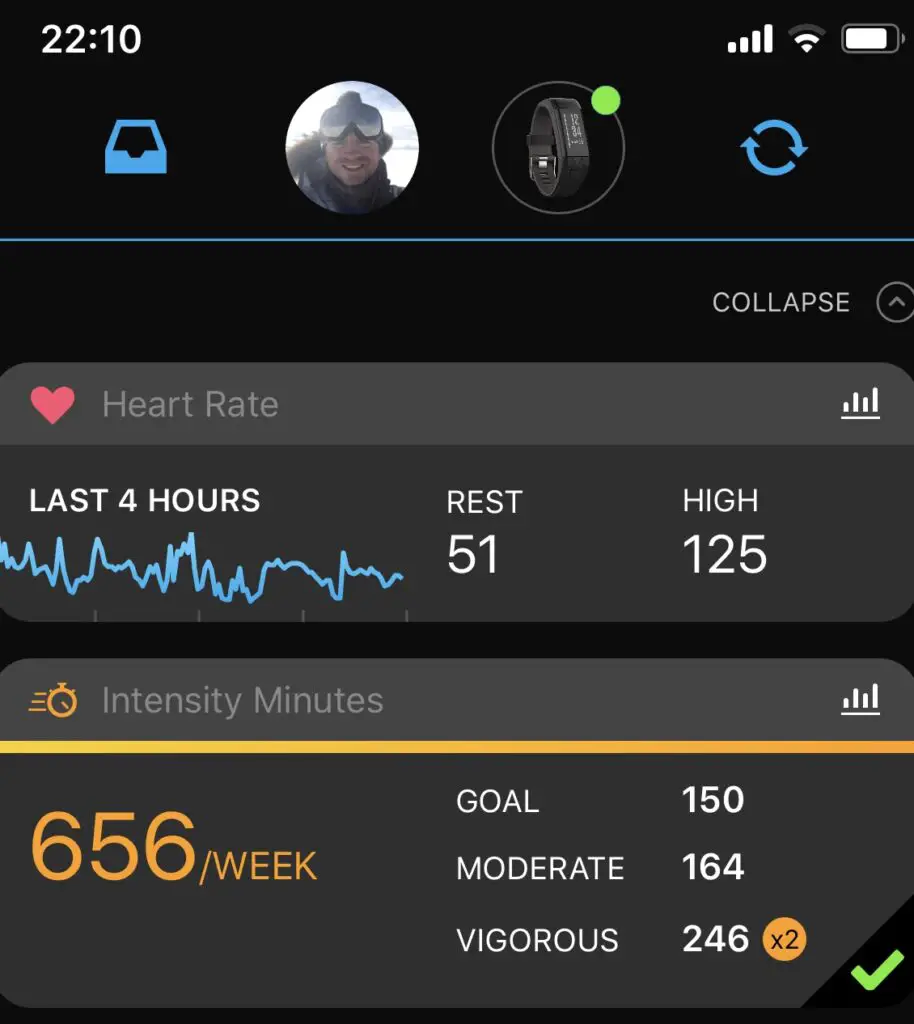 What's really great about Connect is, like many apps, it's free. But there are no up sells, or periodic recommendations for you to pay for a subscription that tells you're getting fitter! With some careful planning and a little leg work you can get just much data on how you're improving by using Garmin Connect to it's fullest.
In fact, I'm going to put together a tutorial that shows you how to best leverage Garmin Connect as a way of getting ultra fit. What this space (and sign up for my newsletter – it's awesome and funny).
Strava
Strava has become the FaceBook of the fitness apps. Not only does it track your health and mark out your route, but it also gives recommendations on who should be your new running buddy (which might be a little disturbing if that person is someone who became your mortal enemy after trashing your fifth birthday party).
Oh, and it allows you to post pictures that you've taken when out training… which means you have to periodically pause your training session in order to take a selfie.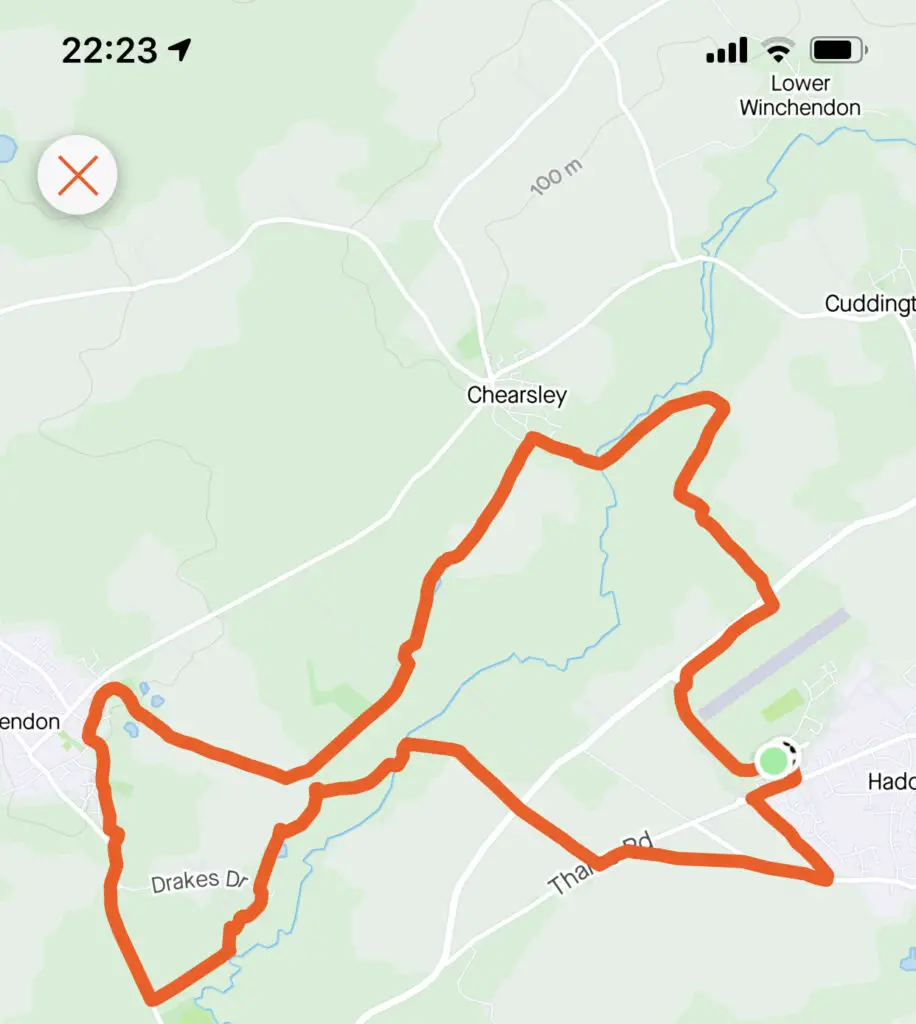 Image xxx. Strava connected my Garmin Vivosmart HR+
When it comes to being a vanity app, Strava gets top marks. But there is way more underneath the very distinctive orange bonnet. Like Garmin Connect, you get to see your health stats visualised in a way that makes them easy to understand.
Building virtual relationships and offering encouragement for your fellow athletes is achieved through the giving of 'kudos' (basically, an electronic thumbs up).
One useful feature found in Strava is the ability to record a route without the need to take a GPS-enabled sports watch. Whilst you don't get the usual health stats (heart rate, calories, etc) this function is great for creating routes you can later go back to whilst wearing your HR+.
Rather than go through all the ins and outs of Strava now, I'll come back to them in a later post. Needless to say it's a pretty good app and supports Garmin products.
Other Apps?
There are plenty. As mentioned earlier, most will gather stats from Garmin Connect so you're unlikely to run into support issues.
In all honesty, I've tried a number of different apps and for me the winners are Connect and Strava. Whilst I'd never try to sway you away from personal preferences, I will say that most other apps are okay – they do the job – but are usually lacking in some way.
Is The Vivosmart HR+ Waterproof?
Garmin have made this one tough cookie. A rugged silicon layer makes the watch resistant to water ingress, and Garmin state that it can withstand up to 5 ATM of pressure. What this means is that you can use the watch for swimming and up to a depth of 50m underwater.
I've worn the Vivosmart on a number of expeditions into cold, wet climates and not once has moisture penetrated the shell. To my mind, the claims are backed up by the watches performance.
How accurate is the Vivosmart HR+?
Garmin don't give out any figures about the accuracy of the GPS built into the Vivomsart HR+. As it's a fairly modern device it would be fair to assume +/- 10m. And given periodic use of the watch as a backup to my Garmin eTrex 10 I'd say that's a fair estimate.
But it's not all plain sailing. From time to time you will notice some discrepancies and many of these can be put down to poor reception to the satellites. Mostly, the GPS inside the HR+ is nearly as good as dedicated handheld navigation devices (what I mean is, don't 100% rely on the Vivosmart HR+ to save you from poor navigation skills – instead use an etrex 10!).
Distance calculations can sometimes be off, especially when the GPS functionality is turned off. The built-in pedometer will add some steps to your overall count and whilst it's nice to think you ran 15 miles, when in reality your route covered 10 miles, in an hour, this does nothing for your training plan.
Okay, I'm joking. The pedometer isn't that inaccurate, but it can add 50 – 60m extra to every 10km covered. Also, 'certain' arm and hand gestures can also add a few false steps to your daily figure, so lose the road rage.
Does the Vivosmart HR + track sleep?
Yes, but I've struggled to find any real value in the sleep tracking feature. The basic idea behind sleep tracking is that, once configured, the watch monitors your movement during the hours you are asleep. Once uploaded to the app, you can view various metrics such as number of hours slept, movement of your body, sleep levels, etc.
For some people, it might be useful to know how long you were in the land of nod. Personally, I use my alarm clock.
One note to add: the Microsoft Band 2 is a far more effective and useful device for tracking sleep. Although sadly discontinued by MS, you can still buy these brilliant watches on places such as Amazon and eBay.
What is the difference between Vivosmart HR and Vivosmart HR+?
The main difference between the Vivosmart HR and Vivosmart HR+ is the addition of a GPS in the latter. Garmin tweaked the HR+ a little further by adding additional running features include Auto Pause, Auto Lap, and a Run/Walk function.
Conclusion
I like this watch (or fitness tracker, if you want to use Garmin's terminology). It's been on a number or pretty extreme adventures and plenty of smaller, yet demanding, hikes and has come through with flying colours.
Granted, it doesn't have the same prettiness of products like the Fenix 6, but you need to ask yourself if paying over 3 times the price of the Vivosmart HR+ for a little extra functionality is worth it.
Overall, I give this watch 8 out of 10. It's a cracker.
If you're looking for something a little more capable than this watch, but one less expensive that the Fenix 6, or Coros Apex, check out our Garmin Vivoactive 3 review.
Thanks for dropping by. If you've found this Garmin Vivosmart HR+ review useful then please share on FaceBook, Twitter, etc. I'd really appreciate your kindness. See you soon.