I wrote a fast and furious Fjern Aktiv down jacket review… but how did it fare?
The review process and why you should trust us
Jake and I have a combined lifetime of hiking and expedition experience under our belts and we've trialled gear all over the world. When you read one of our reviews you know you're getting the truth and not some information scraped from the internet.
Okay, let's take a look at the Fjern Aktiv jacket and see what you get from you your money. More importantly, we'll tell you if it's worth considering buying for your hikes.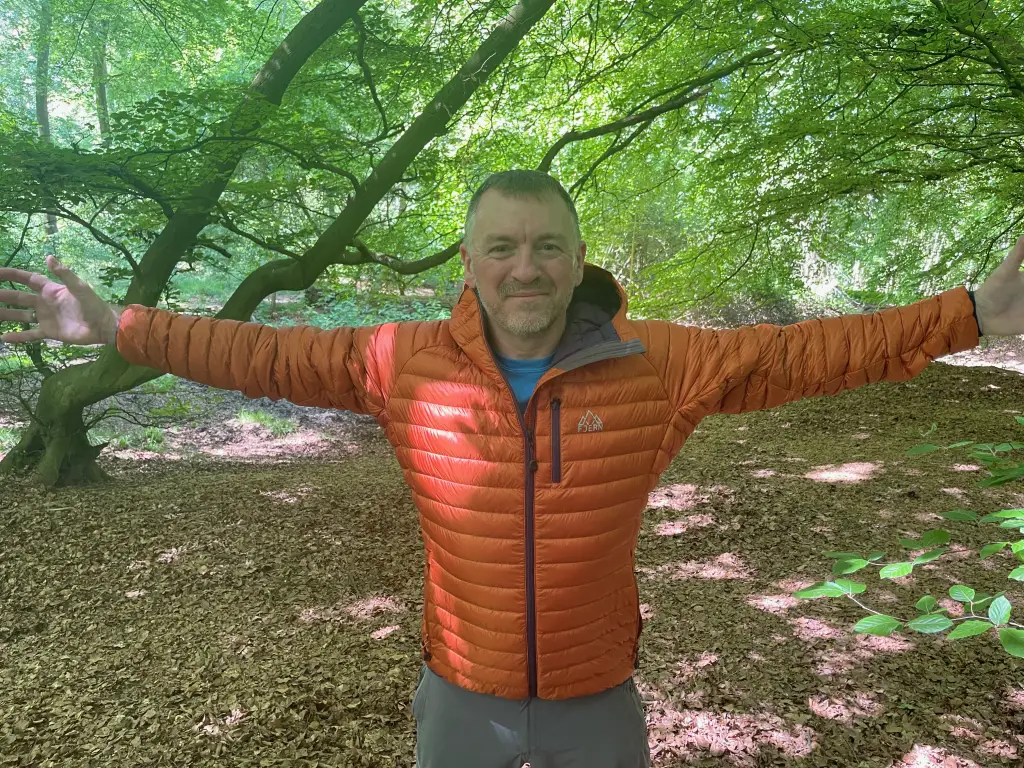 Getting into the guts of the Fjern Aktiv
Before we get into this jacket review, I have an admission to make – I don't like gear manufacturers using trendy wordplay to describe their products. To my mind, it's 'Active', not 'Aktiv'. But I'm getting older and grumpier by the year so this might explain my irritation.
Rant over. Let's take a look at the Aktiv (Urgh) and get a feel for what it's all about.
Construction
Made to be a slim athletic fit (the kind that makes you look good when you're out with your hiking pals), the construction doesn't initially feel robust but don't be fooled…
Weight
The first thing that I noticed about the Fjern Aktiv down jacket was the weight. I was impressed an insulated mid-layer could weigh so little (153g for a large size). For me, the weight alone puts the Aktiv firmly in the lightweight, if not close to ultra lightweight, category of mid-layers and insulated jackets.
Hood
This jacket doesn't have a wired peak on the hood and probably for very good reason. When Fjern designed the Aktiv they placed focus on making a lightweight jacket that's suitable for cool days, or for wearing when static in the evening time when the temperature doesn't dip too far below the 0°C barrier.
What this means is you're unlikely to be wearing this jacket in windy conditions, and this removes the requirement to have a wired peak.
One more point to add regarding the hood: it's pretty roomy, but I don't feel it has quite enough space for a helmet, which means this probably isn't the best option for anyone looking for a belay jacket.
The peak is semi-rigid – the material feels stiffer than that used to make the rest of the jacket-and does a pretty good job of keeping the wind out of your face on days when it's very breezy.
If you need a peak that will stand up to severe winds then this isn't a jacket for you. In fact, if you need a mid-layer that can stand up to extremes of weather then this definitely isn't a jacket for you.
Let me reiterate: this is a lightweight down jacket for those hikers and other outdoors, people who want a protective mid-layer to keep them warm when they're standing around on cool days, or want to slip on one inside the tent.
Pockets
The Fjern Aktiv has three main pockets: two hand warmer type pockets set close to the waist, and one chest pocket, which is accessed via a zip on the outer of the jacket.
When you open the jacket, you'll see that the pockets have been stitched in as separate components and this gives you an additional storage space a little bit like a poacher's pocket. That storage space is not zippered and I use it for items. I'm not too worried about if I lose for example snacks.
The only grumble I have about the pockets on this jacket is the chest pocket zipper is fairly short, and I have big hands which can make it a little bit difficult for me to get my hands inside when I want to extract gear that I've stored in there.
All three external pockets have a course zipper, which will help the zip from becoming clogged up with dirt.
They also have toggles attached to the zip to make it easier to open and close when you're wearing gloves.
Zipper
The Aktiv has a single, full-length coarse zip.
It's a simple course, one-way zip, which, like the pockets, has a plastic toggle for use when your hands are cold, or you're wearing gloves.
At the top of the zipper is a small strip of soft, felt material which helps reduce friction and irritation on your chin when the zipper is poured fully closed.
I know that these features are pretty much standard nowadays, but I have seen a few jackets constructed using fine zippers without the full strip to protect your chin and face.
Adjusters
The Aktiv has only one means of adjustment and that's stitched into the hood. As I said, this is a fairly basic jacket designed with a minimalist approach in mind, and it makes sense for it to not have too many options.
What I do like about this jacket adjuster is that, unlike some other heavier down jackets, the adjuster cord isn't fully enclosed by the material of the jacket.
If for some reason the cord does break it's pretty easy to replace it.
Fill Power
Although it may not feel like it, the Aktiv down jacket is constructed with a pretty impressive 700 full power down, but the jacket still remains incredibly lightweight and very packable. Although Fjern does say the fill power is enough to keep you warm on a frigid day I'd like them to be very specific about that phrase; this jacket definitely wouldn't cut it when worn as a standalone layer it in -15° C. But, as an additional layer to keep out the chill, it's superb.
Cuffs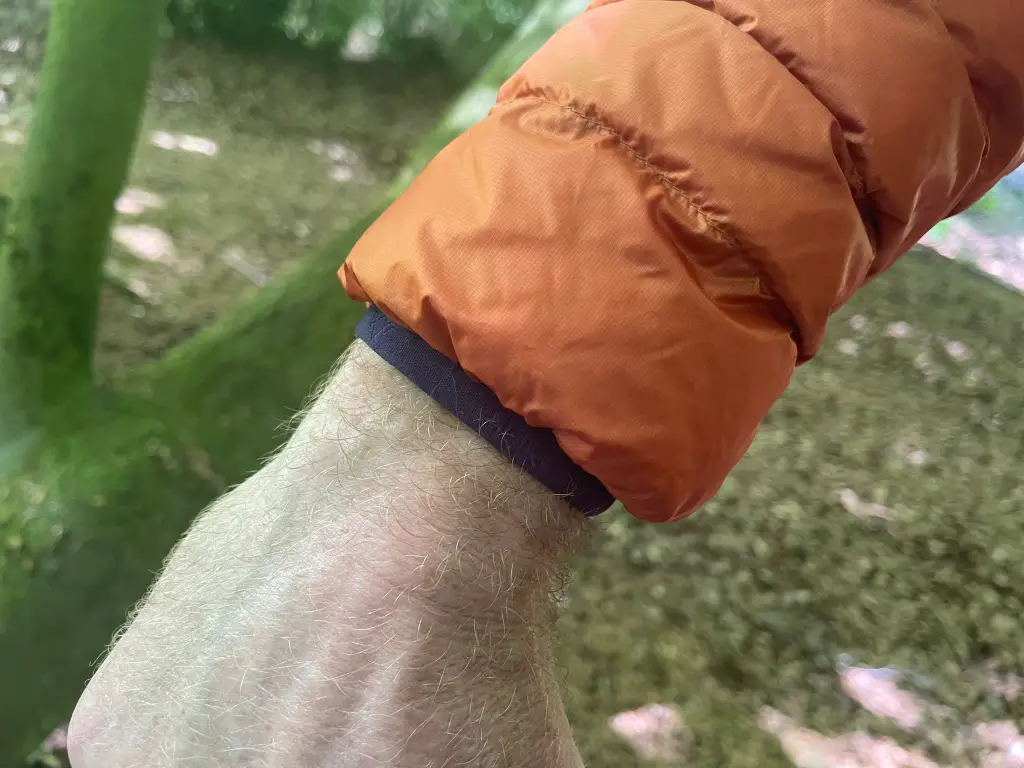 The cuffs on the Fjern Aktiv are elasticated and not adjustable. What I do like about them, is that the arms have a good reach i.e. by that I mean, when you extend your arms, the sleeves don't pull halfway up your forearms. At first, the elasticated cuffs might feel a little bit restrictive, but you'll soon get used to it, especially if you're wearing the Aktiv whilst hiking or only using it to keep yourself warm and the evening time.
Hem
The one aspect of this jacket I'm not so keen on is the elasticated hem. Most jackets I own have a fully adjustable hem – they have toggles fitted to allow you to adjust the waist width to exact dimensions. The Aktiv doesn't provide this functionality, instead, the elasticated hem simply grips your waist. To be fair, after a while, I didn't really notice the tension of the cord around my waist, but it's one to be aware of. If you want a jacket that has a fully adjustable hem cord don't buy this one.
Price
The Fjern Aktiv retails for around £200, which is actually pretty expensive when you consider it. There are many other options out there that, in my eyes, have more flexibility in terms of customisation.
Obviously, the more popular colours of this jacket are more expensive! That's one aspect of buying directly at stores that irritates me, but I'm not gonna comment on that today. If you want an absolute bargain you can head over to a site like SportPursuit where you can pick up some of the less popular colours of the Aktiv for as little as £70.
I went for the burnt orange which didn't seem to be selling too well. Bargain!
At the end of the day if you're gonna be wearing this jacket underneath the shell layer you're not really going to notice. However, if you're looking for a fashion accessory for ambling around town on cool to cold days then you can expect a little bit more for this down jacket.
If you're in the UK, take a look at Sport Pursuit. This site sells gear at ridiculously low prices and the offerings are well worth checking out.
Weather Resistance
Waterproofing
Although the jacket does have a DWR coating (and Teflon coating applied to the good down fill), it can't be classified as totally waterproof. Earlier in the year, when the English weather was its usual cold, wet self, I took my jacket out into the woods and tested the water resistance capabilities. To be fair, it did hold up for a reasonable amount of time before liquid started seeping into the inside of the jacket.
At the end of the day, this is not designed to be a fully waterproof lightweight down jacket; it's a mid-layer designed for Cool to moderately cold days.
The techie bits:
The outer shell is constructed with nylon Ripstop fabric;
A DWR (Durable Water Repellent) coating is applied to the Aktiv – you'll need to reproof from time to time;
The down fill is proofed to provide an additional layer of resilience in wet weather.
And although this can be worn alone (it has DWR, naturally, but also Teflon treated water-resistant 750 fill goose down under the Ripstop nylon) it is compact and streamlined enough to tuck under a shell if the elements are really having a go.
Windproofing
Having a windproof jacket that can either work standalone, or as part of a layered system, is incredibly important for me, especially when my expeditions take me into places where it's freezing cold, and the wind is howling.
As I've mentioned before, this is not an extreme cold weather jacket, but it does do a really good job of keeping the wind out. The Ripstop fabric and combination of thin down lining do an excellent job of keeping the wind at bay. On the inside of the main zipper is a baffle which further helps insulate you from the effects of wind.
Overall, the Fjern Aktiv is a pretty good jacket and I'd highly recommend it to anyone who needs something that is, whilst not designed for extremes, more than capable of handling moderate weather conditions.
Hiking or casual jacket? What would we use the Fjern Aktiv for?
Free-rein thoughts on the Fjern Aktiv
Overall, I was very impressed with this down jacket – it's an incredibly versatile insulated layer useful for all but the most extreme conditions.
It's very packable, kept me warm on a chilly at night and, when bought through SportPursuit, is a very cost-effective addition to your outdoor gear packing list.
As you can see from this, review the Aktiv has a couple of minor irritations on my part, but that's mainly because I have big hands and I don't like clothing that feels in any way restrictive, unless I'm in really cold conditions, in which case I want all hems and cuffs to be tight to prevent subzero wins from making the way inside my clothing.
Buy the Fjern Aktiv if:
You need an effective mid layer for hiking that can be added as extra insulation when you're static or in a tent.
Don't mind an elasticated hem that might feel a little bit restrictive.
You're a super lightweight backpacker.
Don't buy the Fjern Aktiv if
You need a down jacket that will keep you warm in temperatures down to about -15° C
You have really big hands.
Do you want plenty of storage space inside your jacket?
The alternative: lightweight synthetic jackets we recommend
I have to admit, that I have to find it difficult to judge the quality of lightweight jackets for the simple reason that I'm used to heavier jackets which are packed full of down. Lighter weight brands and models often seem to feel a little flimsy to me, but as I've come to learn this isn't the case.
Jake has written some excellent reviews of the best lightweight synthetic jackets he owns. We recommend you check them out – if nothing else, they'll give you an idea of how the Aktiv stacks up against models that don't have a down fill.