Roundups
Best lightweight synthetic insulated jackets for men – 2023
If you're planning some outdoor adventures for next year, especially over the spring or summer, you might be thinking of adding a new lightweight jacket to your gear wardrobe. The best lightweight synthetic jackets can be the most versatile and flexible item in your kit. They're ideal for active use, for layering under a waterproof shell or heavier insulation, or for throwing on to keep warm on a summer evening. And, because synthetic insulation performs better than down when wet, you can get away with wearing them in a wider range of weather conditions.
Most of the top outdoor gear manufacturers offer something in this area and, while it can be difficult making direct comparisons between different brands, we've done our best to compare like with like, and give you a decent idea of what the best lightweight synthetic jackets are for 2022.
Rab Cirrus Flex – Best budget buy
Read our full review of the Rab Cirrus Flex Hoody
Weight: 360g (without hood)
Insulation: 100g of 3M featherless*
Breathability: side panels of Thermic stretch fleece
Cost (RRP from manufacturer): £115 (without hood)
The Cirrus Flex has the styling of a traditional down jacket, with insulation sewn into rows which does prevent movement but risks creating cold spots. That said, in my testing I found this a wonderfully flexible jacket for one of those hikes where conditions varied from hot sun to cold fog, freezing high-altitude winds, rain, and just about everything in between – all in the space of ten hours. Its slim cut makes it perfectly wearable under a rain shell, although the baffled insulation is a little bulkier than others in this roundup. The jacket is breathable enough that it doesn't get uncomfortable when hauling yourself yourself up a steep hill. Although it's not billed as waterproof, it performed surprisingly well in a heavy shower.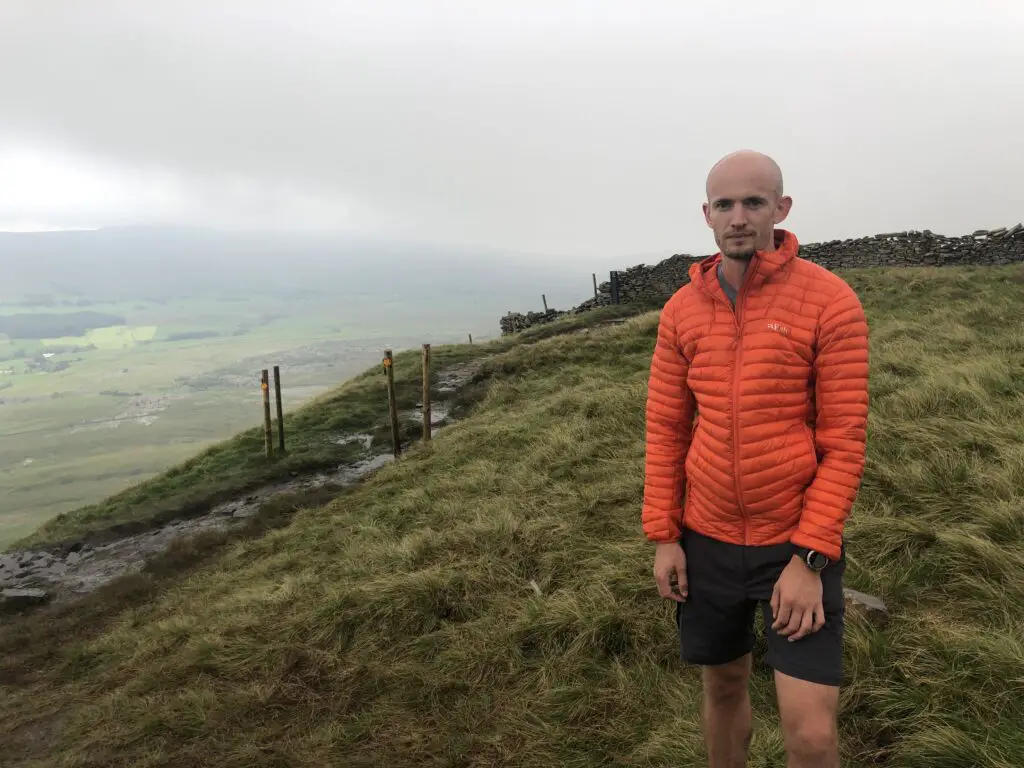 This is one of the cheapest jackets in this roundup and, given the superb performance, almost certainly offers the best pure value for money.
Buy the Rab Cirrus Flex on Amazon
*This is the insulation weight provided by the manufacturer, and I have been unable to determine what the weight /m² is, meaning this may not be directly comparable to other products in this roundup.
Arc'teryx Atom Lt
Read our full review of the Arc'teryx Atom Lt
Weight: 345g (without hood)
Insulation: 60g/m² Coreloft™ Compact
Breathability: Stretch fleece side panels
Cost (RRP from manufacturer): £200 (without hood)
A more contemporary 'sleek' style without sewn insulation panels, which is a look that you may or may not like, but also makes this extremely lightweight jacket very easy to wear underneath a rain shell or other insulated layers.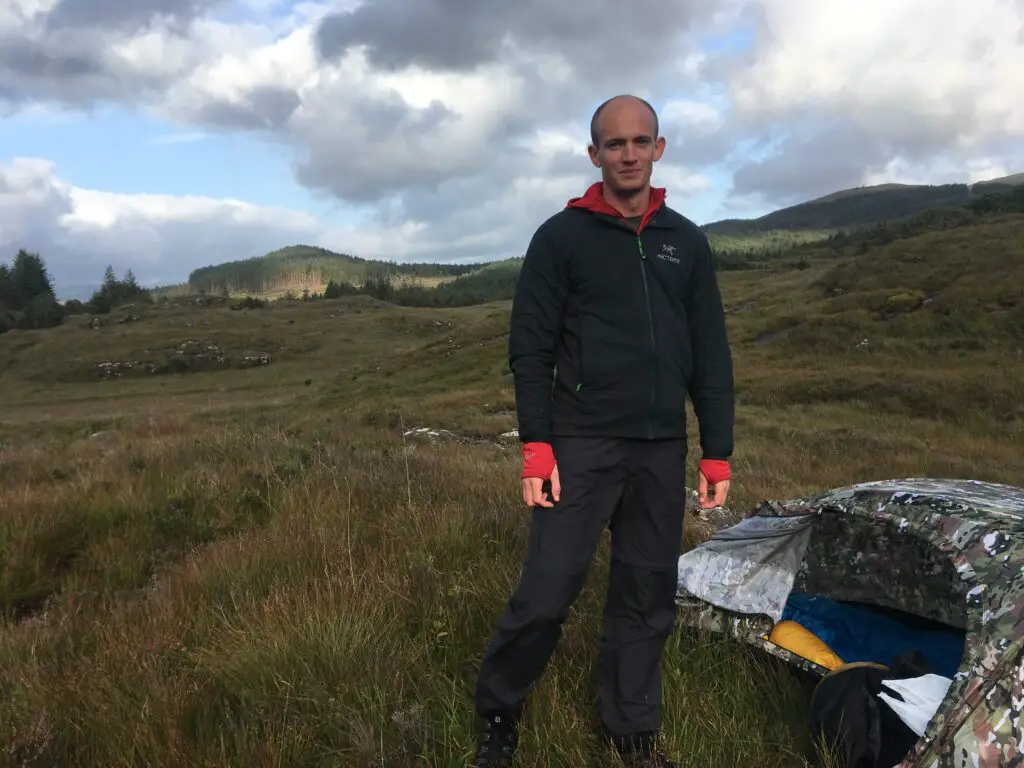 Like the Cirrus Flex, it has side panels for extra breathability, and performs well in a wide range of conditions. In our quite subjective opinion, the Atom Lt is one of the warmest jackets in this roundup and also 'feels' warm and cosy due to the soft, stretchy fabric. The soft feel and lightweight fabric does come at a cost, however, as this is one of the less rugged jackets in the list and prone to damage through carelessness or simply heavy use. It's also the most expensive in the list, by a fair margin in some cases.
Patagonia Nano Air – Best all-round
Read our full review of the Patagonia Nano Air
Weight: 318g (without hood)
Insulation: 60g/m² FullRange®
Breathability: 40 CFM air permeability
Cost (RRP from manufacturer): £180
One of the lightest jackets in this roundup, despite doing away with the light-weight side panels that other jackets use, the Patagonia Nano Air is an impressive piece of kit. Like the Arc'teryx Atom Lt, it does away with obvious baffles or quilting, in favour of a sleeker design, and the soft, stretchy fabric makes it feel cosy and warm to the touch.
The FullRange insulation used by Patagonia is known for its breathability and, even without breathable panels, this jacket manages a remarkable balance of shedding excess body-heat while still keeping the wearer warm and comfortable. Our reviewer found it ideal for skiing, where the DWR coating allowed it to shed snow easily, and the versatile insulation made it equally comfortable whether he was on the slopes, sitting still on a chairlift, or in and out of warm bars and cafes. Overall, although the Atom Lt may be a little warmer, we feel this is one of the best lightweight synthetic jackets on the market today.
Jottnar Jokull
Weight: 335g (no hood option available)
Insulation: 60g/m² synthetic insulation
Breathability: Polartec® Wind Pro® fleece side panels
Cost (RRP from manufacturer): £165
Jottnar is a relatively new brand formed (despite it's Scandinavian-sounding name) by former UK Special Forces soldiers, and with a focus on fairly serious alpine and skiing kit. They have a small but carefully-considered range of technical gear and, as is appropriate for a brand emphasising active use in wet and snowy conditions, some of the best lightweight synthetic jackets available.
Visually sitting somewhere between the Rab Cirrus Flex, with it's sewn layers of insulation, and the Patagonia/Arc'teryx jackets with their flat fronts, the Jottnar Jokull is very close to the Atom Lt in both warmth and weight, although a fair bit cheaper. It's not clear what insulation it uses, and it certainly doesn't have the remarkable breathability of Patagonia's FullRange, opting instead for the fleece side panels that the other jackets use. This is no bad thing, and the jacket can easily be worn all-day in a range of conditions and temperatures, without ever being uncomfortably cold or too warm.
MontBell UL Thermawrap – Best lightweight
Weight: 236g (no hood option available)
Insulation: 40g/m² Stretch Exceloft® synthetic insulation
Cost (RRP from manufacturer): £190
A jacket that inches down into the 'ultralight' category by significantly reducing the amount of insulation, MontBell's offering is unsurprisingly not as warm as others in this list, but is also the lightest jacket in this list by a huge margin. It doesn't bother with reducing the insulation under the arms, and that's probably unecessary given that it's only got 40gm² across the whole jacket in any case. Personally we'd see this jacket as especially suitable for runners or fastpackers, and its weight, packability, and breathability all make it ideal for them.
Buy the MontBell UL Thermawrap at UltralightOutdoorGear
North Face Ventrix Jacket
Weight: 360g (without hood)
Insulation: 60g/m² Ventrix stretch synthetic insulation
Breathability: Ultralight fabric and perforations in back panel
Cost (RRP from manufacturer): £180
Similar to the Atom Lt and the Patagonia Nano Air, this is a soft and stretchy jacket with 60g/m² of insulation and a flat construction with no quilting or baffles. Like the Nano Air it does away with the breathable underarm panels but, in our view, the Ventrix insulation simply can't keep up with FullRange for breathability, and North Face try to make up for this with a lighter-weight fabric and perforations in the back panel. In our testing this didn't quite do the job, especially when carrying a backpack and working hard. This is an undeniably warm and cosy jacket, and performed well in a range of conditions, but its slightly greater weight and reduction in breathability relative to other jackets in this list are minor drawbacks. It also lacks either a stuff sack or the ability to fold up inside one of its own pockets.
Buy the North Face Ventrix at Amazon
Looking for a lightweight waterproof jacket? Check out our Rab Phantom review.