Gear Reviews
Best Down Jacket For Men | Keeping You Toasty In 2022
Weaving your way through the web, searching for the best down jacket for men is no fun. I mean, where do you start? Are you really prepared to pay a premium price in order to save a few grammes in weight? Or does a high fill power tick the right boxes for you?
Down jackets have many uses. Heavier, higher fill power options are ideal for journeys into extreme cold environments. Lighter, easily packed variants are better suited as a thin insulating layer to fit over a t-shirt, or base layer.
Note: most down jackets are not waterproof. In fact, down and rain do not mix will. Just anyone who's ever been caught in a downpour – at some point during the conversation you're likely to hear the phrase, "Smells like wet duck"!
Protecting your mid-layer jacket is as easy as investing in a decent shell layer, like the Montane Alpine Endurance.
What Is The Best Down Jacket?
Tough question, hard to answer without specifics. So, here's my view: the jacket you choose needs to suit terrain you're travelling or working in. Anyone skiing to the North Pole will need a heavyweight option – I've used, and still use, Carinthia G-Loft jacket for my treks into polar regions. Strolling around town on a mild winter's day requires less rugged, less expensive gear.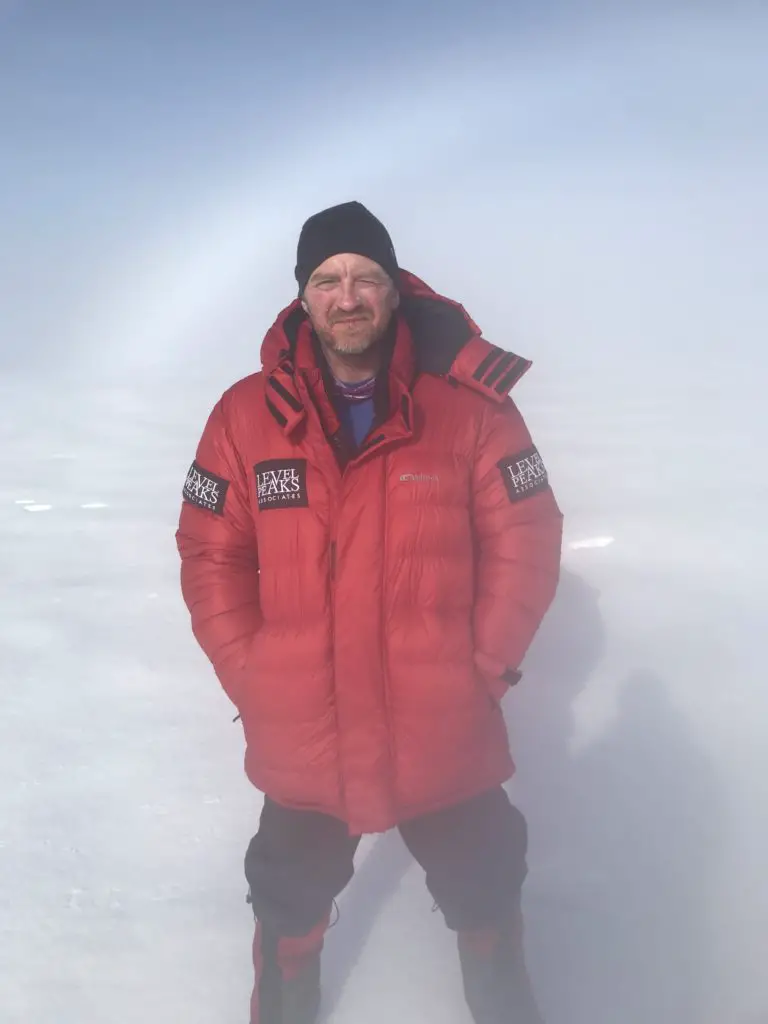 We briefly covered fill power earlier, which is a measure of insulation. Most decent down jackets have a minimum FP of 750, with top of the range models having an FP of up to 1000.
As mentioned earlier, water resistance is an important element. First, I've never found a truly waterproof down jacket. Most will happily suck up any moisture that lands on them and in a very short space of time both your jacket and you will become water-logged. A number of brands now produce what is known as 'hydrophobic down' designed to repel water (and not quiver in fear at the sight of a dark cloud).
There are also treatments you can apply to your jacket to make them at least showerproof (highly recommended).
My Best Down Jackets For 2022
I've been lucky enough to test some of these jackets. A few of the reviews have been supplied by friends because buying gear gets pricey.
Here's my list of the top ten offerings:
Rab Neutrino Pro
OEX Zenon LT
PH Designs Ultra Down K-Series
Jottnar Fenrir
Berghaus Tephra
Rab Neutrino Pro
Price: £258/$270
Weight: 989g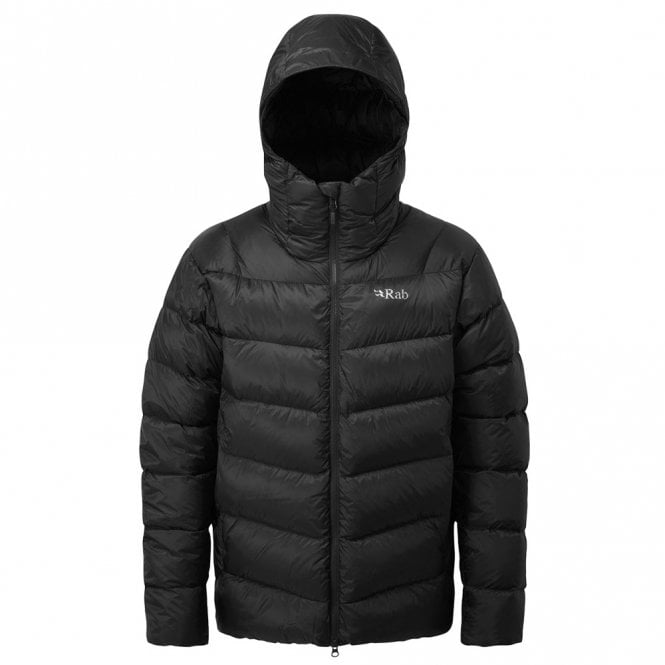 Rab are everywhere! Which isn't surprising when you consider the quality of their gear. I'm the first to admit that, for a very long time, I resisted the temptation to buy anything bearing the Rab logo. Over the years I became horrified at seeing my local town submerged under a tidal wave of an older generation cutting about in their lightweight down jackets.
Eventually I caved in. Maybe it was an acknowledgement that the years were slipping me by and if you can't beat 'em… No, the real reason I plumped for the Rab Neutrino is because one of my friend's gave his jacket to keep me warm on one of my big hikes.
And since then I've been hooked.
At 570g the Rab Neutrino Pro is the heaviest of the down jackets we're going to review today. It's also the warmest of the offerings, even though it doesn't have the highest fill power (800, compared to others offering up to 850 FP).
The down filling, sourced from Europe, is hydrophobic. This means the jacket absorbs far less moisture than traditional down, dries faster and keeps more of the loft when damp.
Made from Pertex Quantum Pro, the shell of the jacket is water resistant and nearly as tough as my old boots. But don't expect it to stay dry for long in heavy rainfall.
The hood of the Neutrino is designed to accommodate a climbing helmet. It's also insulated to help keep your head warm on those extremely cold days.
The Neutrino Pro is ideal for mountaineers and hikers who venture into extreme cold environment. If you're a backpacker trying to keep the weight of your gear to a minimum, then this jacket will keep you toasty and warm on even the coldest of days without breaking the straps on your pack.
Rab Neutrino Pro – Amazon.co.uk
OEX Zenon LT
Price: £85, with discount card (available in the UK only)
Weight: 217g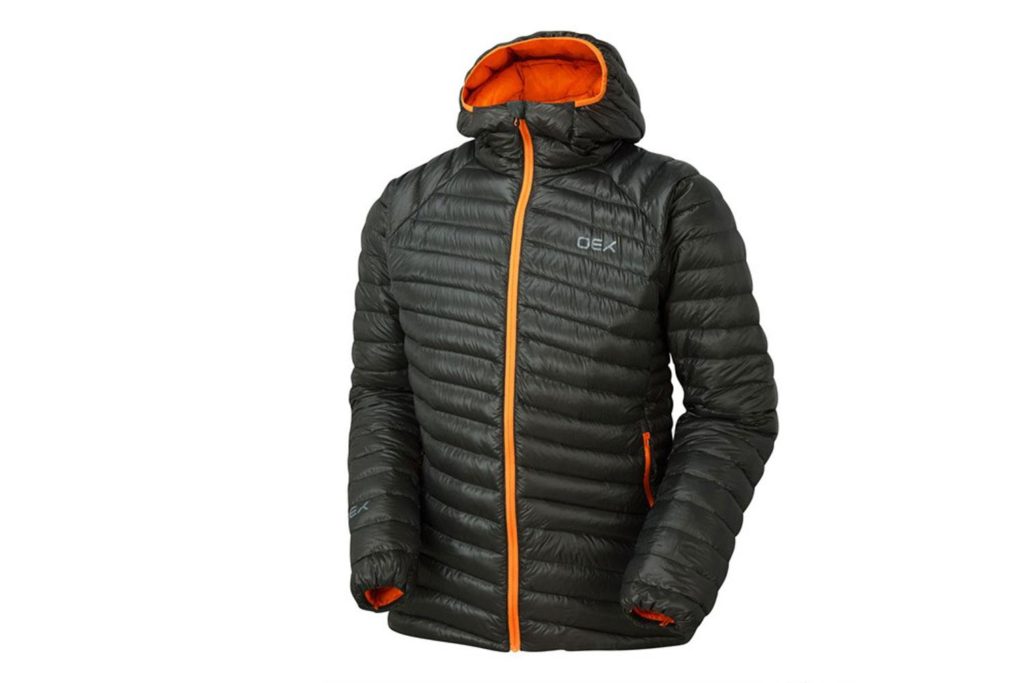 OEX are GoOutdoors own brand of hiking and outdoor equipment. They have a range of gear to suits your needs, at a price you'll like. On a personal note, I own a Zenon LT as well as a Phoxx EV One tent.
With 90g of 800 fill down, the Zenon LT is designed for anyone dipping their digits into colder climates. I've worn my Zenon Ultra LT as an insulating layer when travelling at a slow pace in extreme cold environments.
Don't let the low prices put you off. This jacket is more than capable of keeping you warm and dry, as long you're not caught in a storm. Manufactured from ripstop and coated in DWR (Durable Water Repellent), the outer is showerproof. Coupled the shell with the hydrophobic down fill and you what you get is a jacket that won't leave you cold and wet when it gets damp.
This jacket is aimed at hikers and hillwalkers, rather than mountaineers or seriously cold climates. It is more than capable of handling a jagged blast of Pennine gales, but I can't help but fell it wouldn't fair so well up the side of a small mountain, or hanging off a climbing rope.
PHDesigns Ultra Down Wafer Jacket: K Series
Price: £358 (available in the UK only)
Weight: 240 g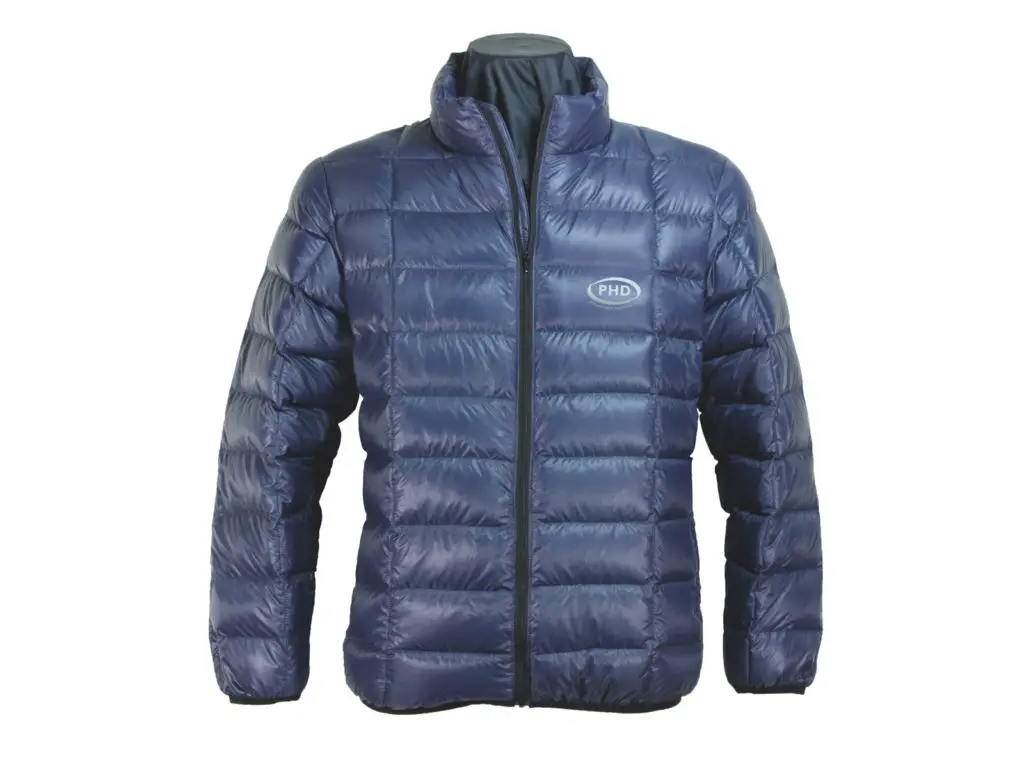 PH Designs down jackets are one of my go to companies when choosing equipment to use in the extreme cold. Of course, anyone who knows PHD will be aware of the vast array of equipment the make. My first serious down jacket was the PHD Hispar which was very snug and kept me warm at temperatures nearing -30C.
And I'm pleased to say the company has continued to improve their gear. Including the K Series Ultra Down jacket. Amazingly, the jacket is rated to 1000 fill power, yet weighs only 240g. That's less than many of the down vests you can currently buy.
Made from ripstop nylon, the Ultrashell outer is windproof. It's also pretty water resistant and is capable of keeping you toasty down to -5C. The K Series Ultra Down jacket is one of PH Designs mid-range jackets, one with the ability to withstand some pretty jarring weather conditions.
At £358, it's not a cheap. Nor is it lightweight. Again, this is another down jacket with a pedigree forged in the coldest places on Earth. But don't let that put you off – the K Series works well no matter where your travels take you. It's a workhorse and it works hard.
Get the Wafer K from PH Designs
Jöttnar Fenrir Down Jacket
Price: £295 (available in the UK only)
Weight: 370 g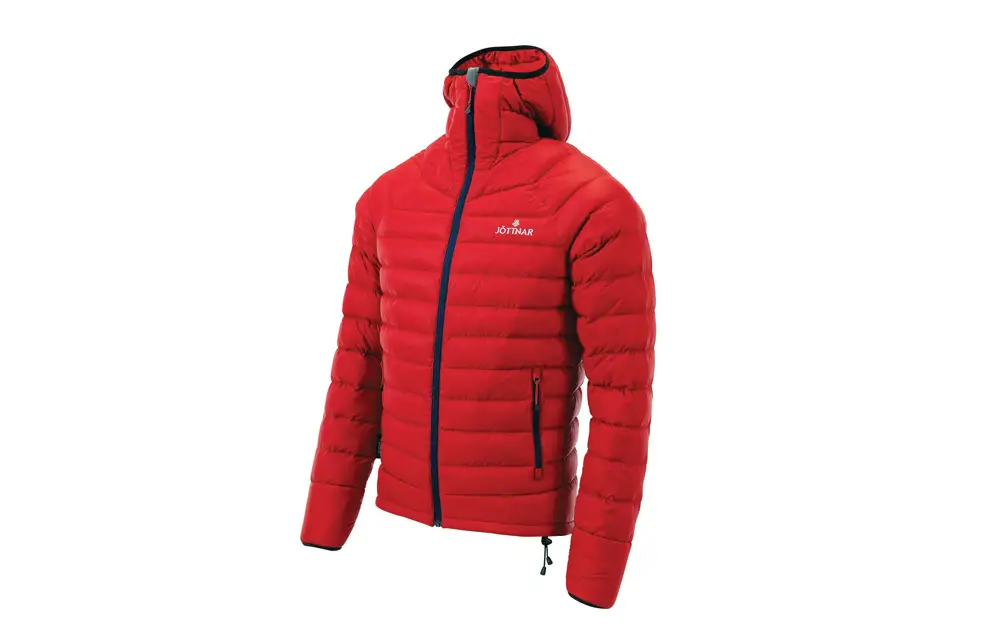 Jöttnar is a young and interesting company. Founded by a group of former Royal Marines, the down jackets they design are the result of very real experiences. The Jöttnar Fenrir down jacket is as tough as old boot(necks). I couldn't resist.
I'm delighted to say that the team at Jöttnar gave me a Fenrir to test out for them. So, I really put it through the mill. And it proved more than capable of handling some pretty full-on weather conditions. A couple of hikes over Dartmoor, including the unplanned 'falling off Hay Tor', were enough to prove the jacket.
Like most of the other rugged down jackets, the Fenrir outer is constructed of ripstop nylon. This is now pretty much an industry standard. Crammed into the jacket is 850 FP goose down which, as you'd expect is hydrophobic.
I'd also like to tip my hat to both the fit and the storage space. Sleek and figure hugging (to the point that it even manages to flatten out my potbelly), the Fenrir fits nicely under a shell jacket. And it's got really big pockets, which is great when you carry lots of unnecessary gear on your hikes.
Berghaus Tephra Stretch Down Jacket
Price: £104/$105
Weight: 474g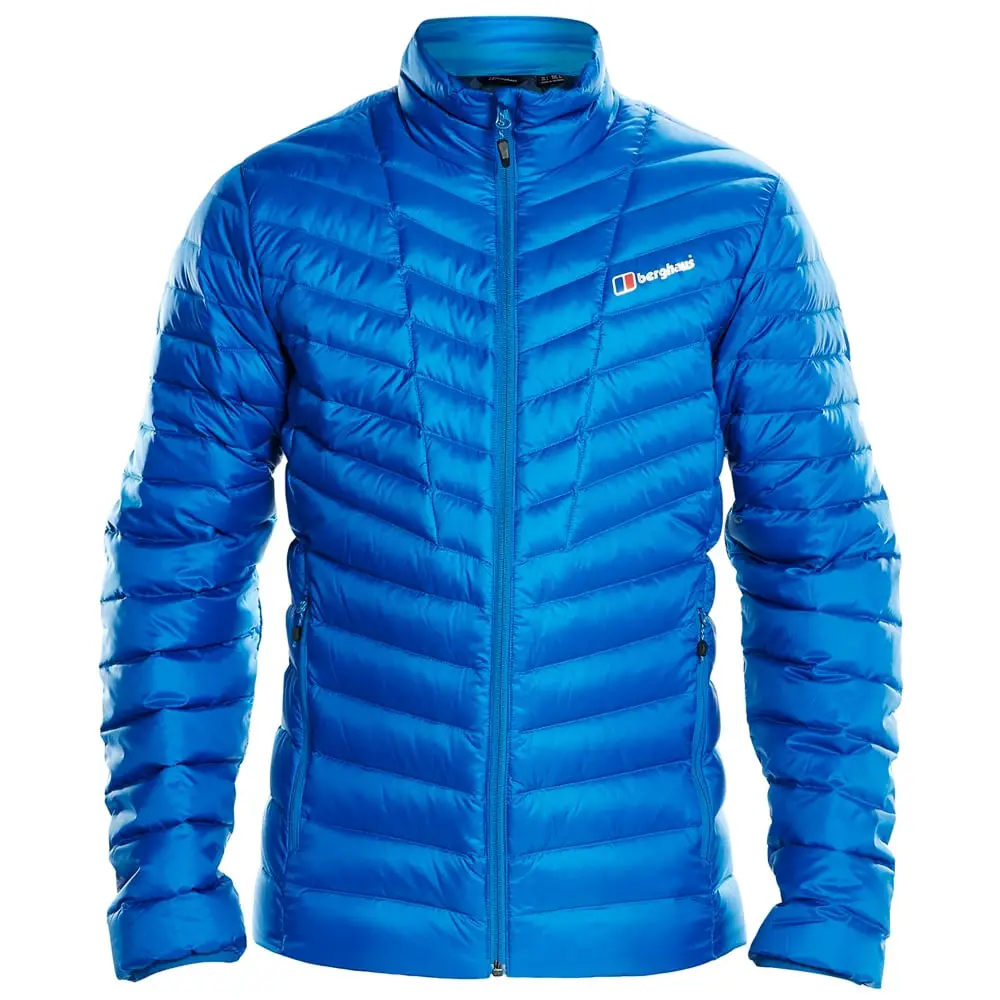 Like the Fenrir, the Berghaus Tephra down jacket is snug, designed to fit with ease under a shell layer. But that doesn't mean you'll feel like a captive to the Tephra as the construction allows for flex and movement.
The jacket is packed with 600 FP down that's been treated with Nikwax to make it what's termed hydrophobic. Considering the apparently measly fill power, it would be easy to think this down jacket doesn't perform as well as other makes. But Berghaus have used reflective panels to offset the need for huge quantities of down.
According to the stats from Berghaus, the reflective nature of the material retains as much as 20% extra heat inside the jacket.
Berghaus's attention goes one step beyond just keeping you dry. Made from Pertex Quantum, the shell is hard wearing and windproof. And when I say windproof, I mean it. There's almost no risk of chilling winds penetrating the outer layer of this jacket.
Best Priced Down Jacket
Without a doubt, this accolade goes to the OEX Zenon LT. The was launched in 2017 and was nominated in the Great Outdoors Awards of the same year. Sadly, it's not available outside of the UK, as far as I know.
Normal retail price is £170, but you can knock this down to as low as £85 with a Go Outdoors store discount card. A bargain, whichever way you look at it.
Which Is The Overall Best Down Jacket?
Without a doubt, it has to be the Berghaus Tephra. It's light, incredibly warm and packs down to tiny dimensions. Although it's a little pricier than some of the other contenders, the cost is justified.
I also need to tip my hat to the Fenrir. A great jacket, very capable. I foresee much more awesome gear coming from the team at Jottnar.
Should You Choose A Down Or Synthetic Jacket?
This is a question of performance. Down jackets outperform their synthetic cousins in a couple of notable ways: they compress more easily and are typically warmer. If space is at a premium on your hikes and treks, then down is the only way.
Whilst down in the preferred option for most outdoor enthusiasts, it does have drawbacks. Compressed down doesn't retain heat well. And when the feathers are wet they lose loft and the ability to retain warmth.
Picking a synthetic option might be a better approach if  you need a jacket geared more towards keeping you warm when it's damp. But this choice will come at a cost: man-made materials do not compress easily and they're heavy.
Down Jacket Care
The rules are pretty fast and loose: store your down jacket uncompressed, give regular treatments with products such as Nikwax's DWR and was at a low temperature (about 30C).
Beyond that, a good quality down jacket (like the above) will serve you well and for a long time.
Wrapping It Up: Which Is The Best Down Jacket For You?
I chose five down jackets to review because bigger lists get unwieldy and make it hard to make a choice. All of the jackets listed above are more capable of keeping us warm in all but the harshest of environments. And they will all keep you dry – up to a point, and only if you take care of them. Especially as they age!
We know that what some call the 'best down jacket' changes from year to year. If you have any thoughts on the reviews above, or want to add in your experiences with these, or any other jackets, then please let me know.