Gear Reviews
Review: WAA 20l Ultrabag – the perfect Marathon des Sables bag
As promised, here are some more detailed thoughts on the WAA 20l Ultrabag we were all given at the MDS expo on Saturday. I don't know if it's fair to really call it a 'review' since, while I have run 23 miles with it, I have not yet used it for its intended purpose – a multi-day ultramarathon. But whatever, here are my thoughts.

First up, I have the third edition MDS version. The 'MDS' bit just means it is yellow and has Marathon des Sables branding, the 'third edition' bit seems to incorporate some subtle changes which I will come onto later. It's also worth mentioning that the pack has two possible front pouches. The one shown in most of the images is larger, with elastic strapping on the front, and the option for bottle pouches on the sides or strapping a bottle to the top. However, at the expo some people received this and some, me included, got the 'lighter' version of the front pouch which is just a small pouch with one holder for a water bottle at the side. In principle, fair enough, but I'm a bit fed up about it as I'm not sure the lighter pouch is going to do the job for me.
The trouble is that at most water stations runners will be given 3l of water, and without the option to strap a 1.5l water bottle to the top of this pouch, I'm not clear what I'm going to do with the water that won't fit into the two 750ml water bottles on the shoulder straps. I may be able to solve this another way, or I may just have to buy the other, bigger, front pouch.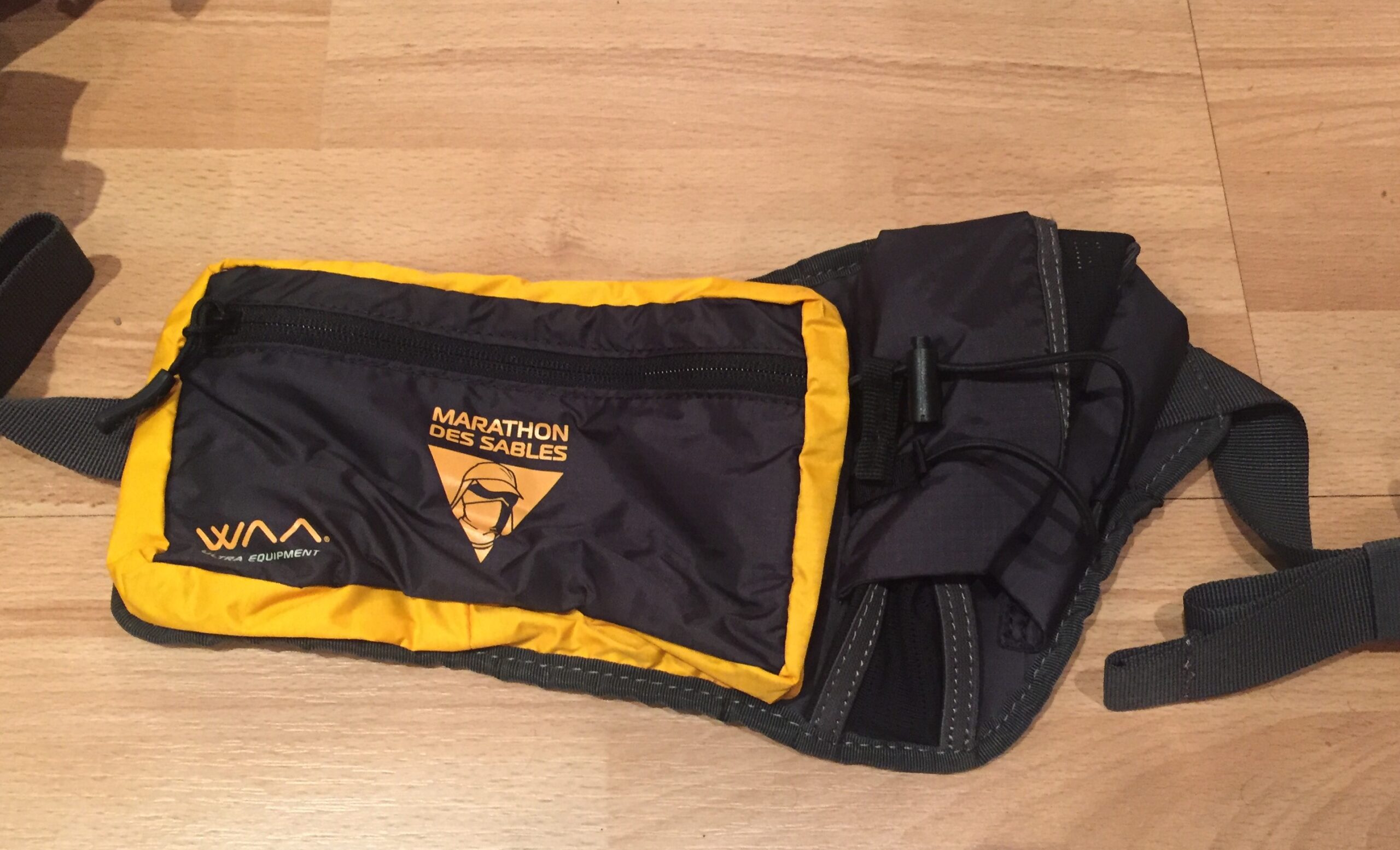 Anyway – other than that, this is a bag that was specifically designed for the Marathon des Sables, and it shows, with lots of features that feel like someone went "if only my bag had a XYZ". In most respects that's a really good thing, resulting in some neat features to make life easier, but the one downside is that it results in a relatively heavy bag. I haven't weighed it yet but I'm told that with all the attachments it comes in at nearly 1kg, around double the weight of other super-light 20L bags. It's all a trade-off, though, and I'm prepared to sacrifice a bit of weight for the ease and convenience of managing my kit that the WAA bag provides.
Layout and features
Starting with the main body, the bag has a very rectangular shape which makes it (some people think) a little ugly-looking, but I suspect makes packing a lot easier, especially if you are doing what a lot of ultra-runners do and packaging everything into separate little bundles that stack together 'like Tetris' as the man from WAA put it. It is extremely compressible, with elastic straps on both sides that can be used to shove kit into or to squash the bag down from its full 20l capacity to around 4l. The point is that as the week goes on and you eat your food, you still want a bag that keeps everything tight and not rattling around.
Inside the main compartment is an elasticated pouch that you can shove a few small items into to keep them secure, and an unclippable water-resistant zip-up pouch. This is one of those features that adds weight but also convenience, allowing you to put either wet clothes into it to keep the rest of the pack dry, or food into it to keep it sand-free when you are putting other things in and out of the bag.
One of the nice features with the main compartment is that it unzips almost all the way around (270 degrees apparently) so that, if you place the bag flat, you can fold the whole back off and see the entire contents easily. That makes it much easier to grab things from the bottom of the bag, as well as to reassure yourself you haven't forgotten anything before you set off each day. Once the compartment is closed, two clips also attach the back of the bag to the top of the shoulder straps – these can be tightened or loosened depending on how full the bag is, and the theory is that they bring more of the weight of the bag over the top of the shoulders and not on the back.
In previous versions there was an option to attach a forehead strap to these clips so you could take some of the weight on your forehead like a Sherpa. In theory that is still possible but as far as I could tell the strap itself wasn't included and it's not really something I envisage using.
On the back of the main compartment are two little elasticated pouches, four points to attach your race number so it is visible from behind, and a long vertical pouch running down the back. Originally this used to be for the mandatory flare, but many people used it for storing foldable running poles, although apparently it was a bit too narrow to easily fit two poles. Anyway, the flare has been done away with this year as all competitors have emergency GPS beacons, so this pouch has been officially made a running pole pouch and has been made a little larger so that it should fit two properly.
The waist strap I found a little annoying – it is a very simple webbing belt with a buckle and adjustors, but with two padded pouches slipped over the belt providing some hip padding and extra storage. That's all well and good, but as they aren't attached to anything they tend to slide around when I'm running which drove me mad on my long run on Sunday. Job one is going to have to be securing them back against the main body of the bag so they are just over the hips and not moving around or getting in the way of my arms.
The chest strap is pretty standard, and like many other ultra-running packs it includes a whistle which presumably eliminates one mandatory item from my list. There are also four more of the race number attachment points here, so you can attach the number over your chest as the rules require.
Finally, on the shoulder straps are the two water bottle pouches and two 750ml water bottles with drinking straws. These aren't bad, although the lack of an elasticated rim around the pouches makes replacing bottles on the move a bit harder than it might be. I also found the straws a bit rubbish – they have drinking tips that can be opened by pulling away from the straw (that probably makes no sense… but it's basically the standard open/close sports drinking bottle type arrangement) but there is no positive click and if you pull too much the whole rubber tip comes off very easily. They also seemed rubbish at getting the last inch or so of water in the bottle, but I guess that may be my fault for doing a bad job of cutting the straws down or positioning them. At any rate, Graeme Harvey convinced me that there are much lighter bottles available so I might look for something a bit different over the next few weeks.
Summary

Overall, this is a brilliant bag for the purpose it's specifically intended – it has a removable pad that makes it pretty comfortable for a lightweight bag, and all the little features make organising your kit easily. There are a few niggles, and I will need to figure out how to best carry and drink my water, as well as experiment more with carrying all my kit and see how it feels at full weight, but as it stands I can't see myself needing to buy any other bag for the race, and afterwards this should do me very nicely for fastpacking adventures.