This is a guest post by Isaac, our US Correspondent.
Anybody who has even briefly considered buying a rain jacket in the last decade has probably discovered the rabbit hole of competing technologies, hyperbolic claims, and unverifiable, proprietary breathability tests.
If you're absolutely new to this discussion, I'll hand you over to a man much more qualified than I am – Andrew Skurka, king of hikers. He doesn't pull any punches.
The short version – that many of you will have suspected or come to realize on your own after years of owning disappointing rain jackets – is that there really is no perfect solution. No matter what manufacturers claim, no single garment or fabric is going to keep you absolutely dry, whether from the inside or out, in all conditions.
The upshot of this realization is to inspire increasing specialization amongst rain jackets. Someone looking to buy something to keep them dry is now faced with everything from the most hardcore, 3-layer bombproof Gore-Tex piece, such as the Alpha AR from Arc'teryx, through to simple 2-layer shells like the Marmot Precip, as well as the soft-shells popular with more active types, and even the minimalist, DWR-treated Nylon wind jackets like the Patagonia Houdini and Arc'teryx Squamish. You'll encounter very serious hikers with long distance trails under their (very rugged looking) belts, who advocate nothing but an umbrella – or poncho, or rain kilt, or something else similarly improbable yet oddly beguiling.
I couldn't possibly help you choose. Or at least, I could, but it would be time consuming and tedious for both of us. Outdoorgearlab.com does an exceptional job of breaking down the many different categories, but ultimately the various compromises you wish to make in comfort, protection, weight, 'breathability', design, quality and versatility are all very personal decisions.
Regardless, despite the above caveats and Andrew Skurka's misgivings, the one item that almost every hiker will end up owning is a hard-shell – by which I usually mean, a jacket that offers excellent, inherent, protection against both wind and rain, bolstered by a DWR coating to stop the fabric wetting out and losing its ability to vent. I am no different – and as a risk averse hiker, even on the most beautiful, unthreatening summer days, you'll find a hard-shell in my backpack where a DWR-treated wind jacket would suffice 99.5% of the time.
Which hard-shell? I own the Westcomb Apoc (the version prior to the current one, which by all accounts improved on the one I own). Westcomb are a smallish manufacturer based in Canada, who make expensive but exceptional outdoors gear – the prices may be justified to some by the fact that their jackets are made in Canada. Personally I couldn't have even considered their prices except for a very fortunate sale, but having owned the Apoc I realize it represents terrific value for money.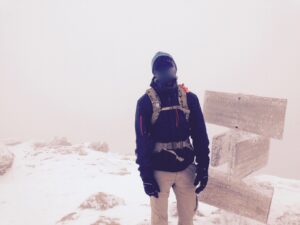 The jacket, although it is a 'hard-shell' lacks many of the characteristics many have come to expect of them – and this is a good thing. The fabric is Polartec's NeoShell, which is neither crinkly nor rustles when walking – even with the hood up, the ever present swish-swash that accompanied the wet English walks of my childhood is almost completely absent.
There is not a multitude of pockets, just a minimalist selection of well-placed, brilliantly sealed and very trim places to tuck away a phone, map or snack. The drawstring system is simple but effective, both at the waist and on the hood – I've never had a jacket before that fits so well, but so comfortably to my face. It doesn't sag forward over my eyes, or funnel water into them. Instead, the little peak stays firm and keeps slanted rain away, and the sides seal well against my cheeks when adjusted right, stopping any rain from coming in and doing the unpleasant, cold, neck-trickle-down. The armpit vents are always a nice feature – and an acknowledgement that no matter how 'breathable' the fabric might be, nothing works as well as simply exposing your hottest, sweatiest areas directly to the elements.
The little touches I've come to especially appreciate are the ultra-soft, microfleece areas at the front and back of the neck, where a rougher fabric would rub against beards, cold mouths, and sensitive skin. The little hoods at the top of each zip do a great job of directing water away from running into any open pockets.
It's been a year now since I bought the Apoc, and I've had a chance to take it on a fair number of hikes in varying conditions.  The Polartec Neoshell is not magical – if you do anything strenuous while wearing this shell then you will inevitably get sweaty. Unfortunately, physics reigns supreme over fabric technology. Is it better than alternatives? No doubt. I own a Patagonia Torrentshell (made with their H2NO fabric) that I use in town, and the difference is stark. The Apoc has none of the instant clamminess that comes with other hard-shells – and I notice that Neoshell is used as the main material in several soft-shells now – a testament to its capabilities.
I don't notice any drop off in wind-stopping capabilities with it, either. Although there surely has to be some compromise somewhere to obtain its well-vented feel, I've never felt anything less than absolutely protected on the top of New Hampshire's mountains in Winter. Perhaps if I were climbing in the Rockies in Winter I might consider a shell more traditionally considered 'bombproof' – but I suspect it would be unnecessary.The rain protection is second to none. Out of the box, the protection was excellent – I was looking out for any weak spots but saw nothing. I've refreshed the DWR coating just once – after six months and 10 or so rain showers I noticed some wetting out on the shoulders, and threw it in the tumble dryer with some new DWR treatment. Ever since, the rain has quite literally flown off the jacket. Seriously – it's impossible to get it wet.
In conclusion – a fantastic jacket that stands out in a crowded marketplace full of options ranging from the very bad to the very good. Although its pricey, when it comes to hard-shells it's actually not even on the highest end. Highly recommended.