Note – TrekSumo's first ever video is a video review of the Rab Skyline Cap. If you're interested in this product, please do go watch the review video and of course we'd love it if you could give it a 'like' and maybe even subscribe to the channel. This text version of the review of the Skyline cap will cover similar ground, but it's not a word-for-word transcript of the video.
In the summer months it's particularly important to me to run wearing some kind of headgear. Given that I'm almost completely bald – and I mostly shave what little hair remains – I'm very keen to avoid burning my head. Even for people with more hair than me, some kind of running cap is a really good idea in sunny weather: the peak helps keep bright sunlight out of your eyes, the cap can wick sweat – keeping it out of your eyes and helping to cool you down, and of course it helps aboid burning your scalp.
For years I've used a Paris Marathon-branded Asics running cap that I bought at the expo for the run. It was pretty cheap, and I'm fairly sure it's basically an Asics Essentials cap which retails for about £7, but honestly it does a good job. It's lightweight, comfortable, with little ventilation panels and a fairly low profile/low volume that means it fits nicely on my head. It is, however, very battered and the peak is rather bent so it no longer fits quite as well as it used to. I thought I'd finally invest in a new one and, as a lover of almost all Rab gear, I looked at what they offer and bought the Rab Skyline Running Cap – part of their Skyline range of trail running kit that includes the excellent Phantom Lightweight Waterproof that I reviewed a couple of weeks ago.
Overview and first impressions
The cap is billed as being lightweight and foldable, so it can be easily stashed in a pack or hydration vest and then pulled on when running in bright sunlight. Unlike the low profile Asics cap, it is styled much more like a 'trucker' cap, with a taller front and far more volume inside the cap than either a classic baseball cap or the Asics cap. For me, this made it sit a little awkwardly, with space in the cap around the top of my forehead even with the peak pulled quite low over my eyes. Like a trucker cap, it also has a fully mesh back, which slightly surprised and disappointed me since 90% of the reason I wear a cap to run is to avoid burning my head, and if the mesh doesn't offer UV protection it's basically useless to me. Arguably I should have noticed this before buying the cap but when I went back to the page afterwards I can see why I didn't. because the one picture of the cap is at such an angle that it's not at all obvious how transparent the mesh is.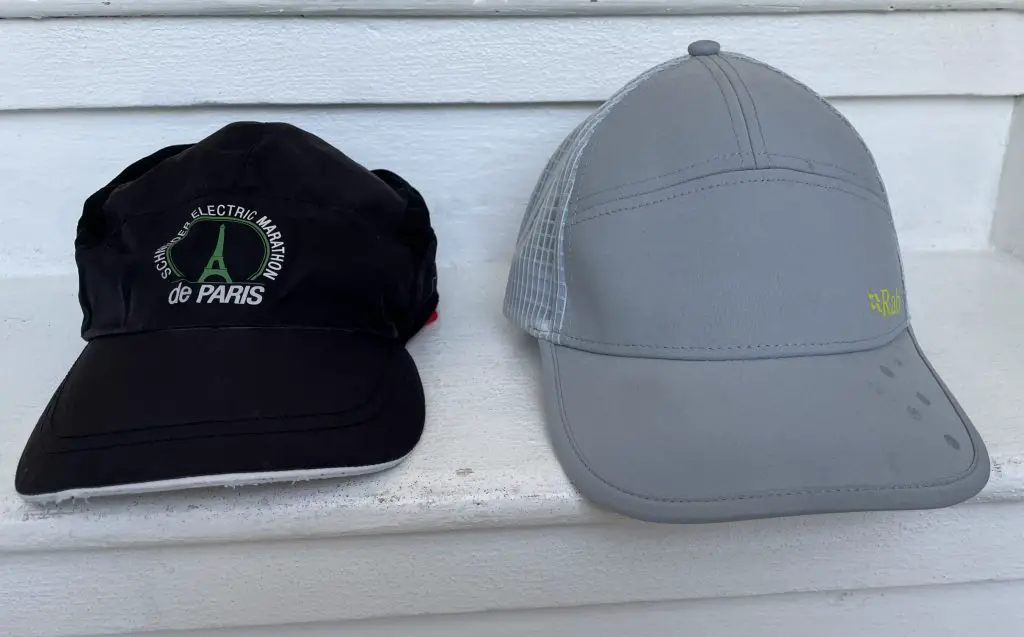 So, honestly, my first impression of this wasn't great – the shape of a trucker cap may be ideal for showing off a logo, or simple as a fashion item, but it's hard to see why you would choose it for a running hat. Similarly, the all-mesh back is certainly great for reducing weight and increasing ventilation, but if it doesn't offer sun protection it's lacking a key feature for me.
Aesthetically, you may or may not like the slightly shiny silvery colour and very minimalist styling (an incredibly subtle pattern on the peak, and a small yellow Rab logo) but for me it's not particularly attractive or interesting.
On the positive side, it certainly is light, and it does appear to fold up fairly easily without permanently affecting the shape – it pretty much just springs back. I'm not sure how it would fare after being squashed into a backpack for hours on end, but I suspect that with a bit of attention you could fairly easily get it back to its original shape.
Features
The Skyline cap is pretty simple really. A foldable peak at the front and a dense mesh back, with an adjustable elastic strap allowing it to pretty comfortable fit any head. Rab says that it weighs 70g, which is honestly just wrong – it weighs exactly 50g. That's certainly light, although my Asics cap weighs only 53g so I'm not exactly blown away by the difference.
Wearing the Rab Skyline Cap on a run
If the review has been quite negative so far, I'll go on the record here and say that the cap is decent to wear while running. The height of it, and the resulting space created at the top of my forehead, did appear to add a bit of ventilation and airflow that made it feel slightly cooler than my other cap. I don't know if that's intentional or not, but it was noticeable and went some way to offset my dislike of the shape of the hat overall. Other than that, it's light and comfortable and was easy to stuff into a pocket at the end of my run.
One minor point, however, is that the light grey colour does really show up sweat, far more than my Ascis cap in its dark blue. You may or may not care about that – sweat patches on kit are a fact of life for runners – but it's something to bear in mind if that's an issue for you.
Summary
It's very, very rare that I'm anything other than completely satisfied with a Rab product. In this case, honestly, I suspect some of my ambivalence about the Rab Skyline cap is partly my own fault for not realising that the whole back of the cap is see-through mesh, and some of it is an entirely subjective dislike of the trucker-hat shape. If those things don't bother you, then this is a great cap – it's comfortable, helps keep you cool, is light, and is easy to fold up and keep in your hydration vest for when the sun breaks through a cloud. For me, I'll certainly carry on wearing it, but it's not a piece of kit I can get especially excited about, and realistically I'll stay on the lookout for something else. And next time, I'll buy it in a store rather than online, so I can try it on first.